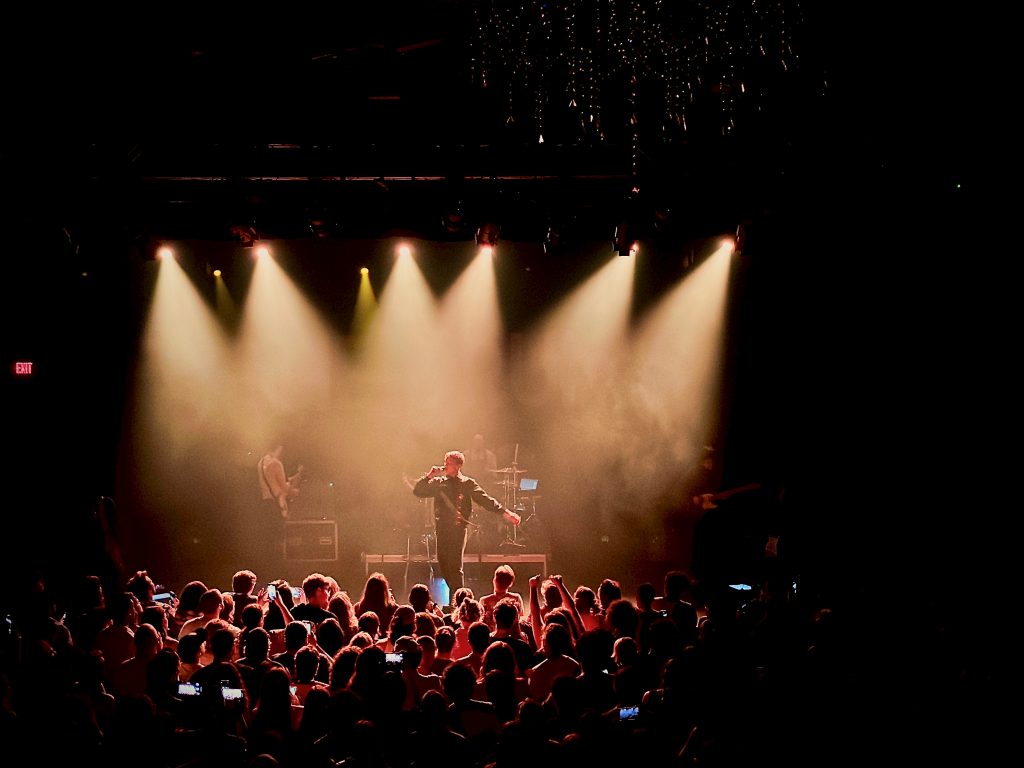 The renowned New York-born indie pop group The Drums headlined Theatre of the Living Arts in Philadelphia on Saturday, July 29. The show featured support from Cold Hart, and promoted The Drums' upcoming album "Jonny," due out Oct. 23.
Since their self-titled debut album in 2010, The Drums have been known for their brand of light, lo-fi, surf-inspired tunes based around simple, staccato electric guitar picking, rapid bass lines and vintage drum machine sounds. Fronted by the singer/songwriter Jonny Pierce, the band began as a four-piece group. However, since the release of their album "Abysmal Thoughts" in 2017, The Drums has become a solo project of Pierce's.
Cold Hart began at 8 p.m., and consisted of singer Jay Quilisadio and guitarist Roman Luna, aka YAWNS. Both artists are part of the influential collective GothBoiClique — co-founded by Cold Hart — which has housed artists such as Lil Tracy, co-founder Wicca Phase Springs Eternal, Horse Head and the late Lil Peep. Cold Hart's sound was dark, moody and melodic, combining elements of rock, hip hop and trap music. While a bit of a sonically odd pairing with the danceable upbeat headliners, it was interesting to witness someone with such rich, underpublicized history perform. Cold Hart's set went for nearly 45 minutes, with a few of the songs performed being "Never," "Decompose," "Big City Blues" and "Me and You," the latter two being collabs with Lil Peep.
At 9:17 p.m. the house lights went down and The Drums' band took the stage. As it consisted of two guitarists (one of whom occasionally switched between electric guitar and bass) and a drummer, lead singer Pierce was able to prance freely across the stage without needing to play an instrument. And that he did, entering to the 2017 song "Are U F*cked" and beginning to feel out the venue. He wore a black jacket with small details and straight black pants. The band followed in theme, wearing either black or white. The stage decorations were minimal, opting for their band name simply projected on the blacking curtain and some stylish, clear circular cymbal shields.
Following a few lesserknown tracks which began the set, The Drums broke into the fan favorites, with the extremely singable melodies of "Days" and "What You Were" getting the crowd vocally excited. This song is from their standout sophomore album "Portamento," which came out in 2011. Only one year prior, The Drums had released their debut single "Let's Go Surfing," which the band pulled out next. As one of their trademark tracks, it currently sits as their second most popular song on Spotify. This back-to-back sequence brought the energy up, and the band continued with a new single from May 11 titled "Plastic Envelope," plus the "Portamento" opener "Book of Revelations."
For some representation of their less popular albums "Encyclopedia" (2014) and "MOMMY DON'T SPANK ME" (2021), the group performed the tracks "I Hope Time Doesn't Change Him" and "I Can't Save Your Life." Another fan fave "Down By The Water" provided a slower moment in the show. The song "I Need A Doctor" was rather off-putting, beginning with the line "You're like a child and I like that." When delving into the lyrics and considering the title, it seems to be very self-aware of the messed-up themes, a common trope in its parent album "Portamento." Still, it's a bit jarring to hear live in a time when controversial content is more likely to be questioned out of fear of an ugly truth.
To round out the set, the band brought out two crowd-pleasers with the buzzing new single "Obvious" and the classic hit "Money," their most popular song. After about four minutes of "JON-NY" being chanted from the audience, the band returned for their encore. They performed the dreamy combo of 2011's "I Don't Know How to Love" and recent single "I Want It All," released April 3. Pierce had switched out his original jacket for a similar one with "Jonny P" written on the back in colorful sequins.
Overall, the show did a great job in highlighting the band's large history as well as the pure charisma and songwriting of their frontman. Even before The Drums, Pierce has brought smaller groups to notoriety. Now at the age of 41, he still puts on a lively show and expresses himself proudly.
The Drums will be touring for the rest of August, and tickets are still available through their website. Their seventh album "Jonny" will be released on Oct. 13.
SETLIST
Are U F*cked
What You Were
Days
Let's Go Surfing
Plastic Envelope
Book of Revelations
I Hope Time Doesn't Change Him
Down By The Water
I Can't Save Your Life
I Need A Doctor
Obvious
Money
ENCORE
I Don't Know How To Love
I Want It All