Everyone must pay for "the privilege to pee!"
This is the premise of Mark Hollmann and Greg Kotis' satirical comedy "Urinetown: The Musical," which will open May 4 at Drexel's Mandell Theater.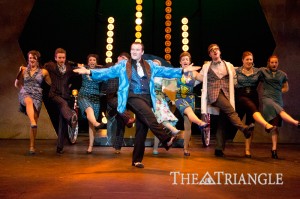 The Drexel Players present Mark Hollmann and Greg Kotis' Tony Award-winning musical "Urinetown, The Musical." The show opens May 4 1 in Mandell Theater.
Presented by the Drexel Players, "Urinetown" encompasses many genres and is famous for satirizing the original Broadway production, which opened in 2001 and ran over 900 performances on Broadway in Henry Miller's Theatre before closing in 2004. It was nominated 10 times at the 2002 Tony Awards and won three (Best Book of a Musical, Direction of a Musical, and Original Score).
"It's a parody of musicals, so a lot of the songs are parallel to other musicals, and there are a lot of parts where we bring elements of other musicals in. Going in, if you know a lot about musicals, it's sort of like a little guessing game to see how many references you can find," cast member Tori Lewis said.
The show tells the story of Bobby Strong (played by Joe Mathew), the assistant urinal custodian of Amenity No. 9, the filthiest urinal in town. A 20-year drought has made individual toilets unsustainable, and it is the job of Bobby and his boss, Penelope Pennywise (Allison Brobst), to ensure the public pays its dues to the Urine Good Company, run by President Caldwell B. Caldwell (Will Poost). Anyone who fails to pay the fee is carted off to a feared and mysterious place known only as "Urinetown." Chaos ensues as Bobby falls in love with Caldwell's daughter Hope (Kristen Tripolitis), and the masses revolt against the Urine Good Company.
"I love the humor," Lewis said. "I love the fact that it pokes fun at musicals themselves while also delivering a really relevant, really scary message about sustainability, which is so important right now."
For the Drexel Players, work on the show began with auditions in early March. Rehearsals commenced at the beginning of spring term and have been running six days a week.
In order to facilitate funding, the Drexel Players' production of "Urinetown" has been the result of collaboration with Temple University's theater department, which produced the show earlier this year. The two productions share a director, Peter Reynolds, and much of the set.
"I don't want to give too much away, but there are a lot of flying pieces and a lot of moving pieces, and it's just very visually exciting," Lewis said.
With musical direction by Ryan Touhey and choreography by Maggie Anderson, the show is sure to please with audience favorites such as "Follow Your Heart" and "Run, Freedom, Run!"
"[Run, Freedom, Run!] is the most exciting number in the entire show, and everybody that goes to see it will have their socks knocked off," Lewis said.
For more information, tickets and showtimes, please visit www.drexelplayers.com.