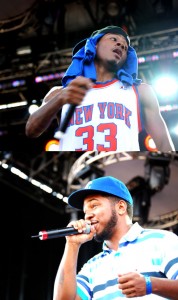 Hip-hop artists The Cool Kids released their debut album "When Fish Ride Bicycles" July 12. The album features Bun B, Killah and Travis Barker on some songs.
The Cool Kids flew onto the hip-hop scene in 2008 with "The Bake Sale EP" and their unique, old school sound. They were performing all over the country and building their fan base city by city. The hype around their debut album "When Fish Ride Bicycles" was growing, but problems with their label held up the release. Now, after three years of struggles with their previous label Chocolate Industries, Sir Michael Rocks (aka Mikey Rocks) and Chuck Inglish of The Cool Kids signed with Mountain Dew's Green Label Sound to release their debut album "When Fish Ride Bicycles."
The Cool Kids are one of few groups in hip-hop to truly stick to the original sounds of the genre. The majority of the album follows the same heavy bass and boom-bap style that was used in the earlier days of the genre, with their own current spin on it. Rocks and Inglish continue to provide a laid-back, head-nodding sound with each project, and "When Fish Ride Bicycles" is no exception. Inglish, who produced the majority of the album, continues to build upon the simplistic sound of "The Bake Sale EP" to add more intricate bass lines, sounds and synchs to the new material.
With c debut albums always popping up in hip-hop, many artist(s) often stray from their original sound to produce content they and the label believe will sell; however, that is not the case here. Instead of changing what they do best, Rocks and Inglish expanded and improved on the sound that has carried them to this point. By doing this, the guys are able to reach out to a larger fan base and grab more attention from their listeners. The Cool Kids have also improved lyrically, which Rocks showcases on "Sour Apples" when he says, "She want me to beg but I beg your pardon? You're Park Place, I'm Marvin Gardens." Any time an artist is able to pull off a great Monopoly reference, you have to give respect where it's due.
"When Fish Ride Bicycles" also has a lot of great additions and features from other artists. The guys were able to team up with hip-hop legends Ghostface Killah of Wu-Tang on "Penny Hardaway" and Bun B of UGK on "Gas Station." They also brought in The Neptunes for production on two songs, "Get Right" and "Summer Jam", Blink 182 drummer Travis Barker for percussion on "Sour Apples" and Asher Roth for a verse on "Roll Call".
Although it took a lot longer to release than The Cool Kids – and their fans – initially expected, Inglish and Rocks delivered a great album for the summertime. With a bunch of head-nodding tracks, a unique, organic sound and a variety of features, "When Fish Ride Bicycles" is a strong debut album.