As college students, we're often the target of cheap kitchen appliance marketing. Anyone remember the Xpress cooker? Or the Ronco Showtime Rotisserie Oven? Just set it and forget it. So easy a college student can do it.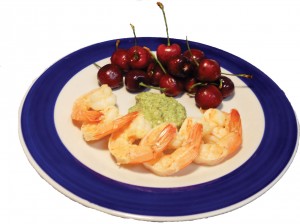 Well, the Nowotniks have unfortunately fallen victim to the smoke and mirrors of several infomercial products, and I've tried out far too many of these gadgets and gizmos to be proud. However, there is one that I swear by: the Magic Bullet.
No, I didn't get a free Magic Bullet or a check from Homeland Housewares to write my column this week. I received the blender as an early birthday present and haven't had anything but good things to say about it. The Bullet grinds coffee, whips smoothies and makes margaritas, along with several other delights. If there was any infomercial product I would recommend spending co-op wages on, it would be the Magic Bullet.
For this week's column I made sauteed shrimp and pumpkin seed chutney with the help of my Magic Bullet.
Ingredients you'll need:
1 bag of frozen deveined shrimp (16-20 individual)
2 teaspoons minced garlic
3 tablespoons olive oil
2 tablespoons lime or lemon juice
For chutney:
8-ounce container plain yogurt
1 teaspoon ground coriander
1/2 teaspoon ground cumin
1/2 tablespoon olive oil
1 fresh jalapeno chili, chopped with the seeds removed
1 cup fresh cilantro sprigs
1 tablespoon fresh lime or lemon juice
1 cup toasted pumpkin seeds
When I worked with the catering company Bella Cucina Maria in high school, the owner made broiled shrimp with pistachio chutney for hundreds of people at a party. Like everything she makes, it was delicious, and I ate far too much of it to forget about it. I found a recipe for the chutney online but substituted the expensive shelled unsalted pistachios ($6.99 a pound?!) for less expensive but equally good pumpkin seeds.
Now let's get crackin'. First things first: Let your shrimp thaw, and then peel off the shells. The shrimp thaw faster and shell easier if left to sit in cold water for a bit. Take off all the shell except the last little tail part on each shrimp. Next, mix the minced garlic, olive oil and lime or lemon juice in a large bowl, then put in the shrimp and let them marinate in the refrigerator for one or two hours.
Now here's where I talk about how great the Magic Bullet is again. First, make sure that your pumpkin seeds are toasted. If not, put them on a baking pan in a 400-degree oven for 10-12 minutes or until they're the cliched golden-brown color. I used my toaster oven, and it worked just as fine but took a few minutes longer.
Next, put the cumin and coriander in a teaspoon of olive oil, and cook the mixture in a pan until fragrant. This should take about five to six minutes if the pan is hot.
Finally, put all the contents of the chutney into the Magic Bullet or your less cool "blender." The mixing can also be done by hand if the cilantro and seeds get finely chopped. Blend the mixture until the seeds are crushed up but not the size of sand grains. The chutney can be made a day in advance if need be.
Next, heat up a nonstick skillet at medium heat to cook the shrimp. Shrimp cook very fast at less than two minutes on each side, so make sure you watch them and flip them as soon as they start to turn orange.
Once the shrimp are cooked, serve them up with some pumpkin seed chutney and fresh cherries. Cherries are in season from June until August and are on sale at The Fresh Grocer. Maybe make yourself a strawberry margarita with your Magic Bullet. Happy summer!
As always, if you have any questions or suggestions, email me at [email protected].