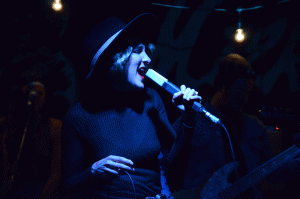 If there is ever a band to go see after you've left your wallet in the backseat of a taxi, it's Tennis. Their airy, upbeat indie pop numbers proved to be the perfect remedy for me as I wallowed in the sorrow I felt for my lost belongings. From the dimly lit yet extremely intimate MilkBoy stage, Tennis delivered a fantastic performance with an incredible energy that few shows these days can create.
Tennis tours as a five-piece band but the heart of the band is the husband-wife duo of Alaina Moore (vocals, keyboards) and Patrick Riley (guitar, keyboards). The two of them have come a long way from their 2011 debut album "Cape Dory." Their most recent record, "Ritual in Repeat," shows just how far the group's sound has come. With help from producers such as Richard Swift and the Black Keys' Patrick Carney, Tennis now has a really polished and mature sound while still maintaining some remnants of their vintage pop influences.
As Riley and the other members of the band tuned their instruments, Moore meandered her way through the sold-out crowd as she made her way up to the stage. After all the gear and monitors were squared away, the band opened with "Never Work For Free" from "Ritual in Repeat." It really got the crowd moving inside of the tiny venue.
It was invigorating to have the floor packed with devoted Tennis fans who knew almost every song, and Moore indicated that she felt the same way in between songs saying, "I don't pander. I genuinely love you guys." Later in the band's set, she even gave one energetic fan in the front row a shaker to play during "My Better Self," jokingly calling him "auxiliary percussion." It was refreshing to see a band interact with its fans like that, showing signs of genuinely wanting to be there instead of just going through the motions.
But enough about the crowd, let's talk about the music. With three albums and an EP to draw from, the set list had plenty of variety. Tracks from the latest album like "Needle and A Knife" and the slinky "I'm Callin'" sounded great and both packed a lot more oomph than the album versions. Then there were older songs like "Marathon" from "Cape Dory" and "Origins" from "Young & Old." The latter was simply amazing to hear live. Tennis has really honed that track into a real tour de force that got the entire crowd moving and culminated with an awesome extended jam at the end.
With nowhere to go before the encore, Moore and company went right into their final song, a rare performance of the demo version of "Bad Girls" off "Ritual in Repeat." It was a beautiful version of the song to hear because it stripped Tennis down to what makes them so great, the chemistry between Moore and Riley. Moore's mesmerizing vocals commanded everyone's attention while Riley accompanied her on his Telecaster. It was the perfect way to end the show.
If you have a chance to see Tennis live, be sure to take it. If you have a chance to see a band you like at MilkBoy, be sure to take it. The combination of a spectacular band in that neat little venue provides a concert-going experience that is hard to beat.