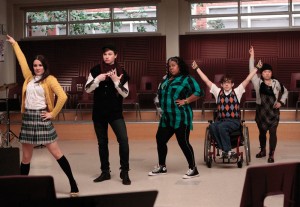 In lieu of recent hits like "Glee" and "Modern Family" embracing gays and gay culture, rather than using homosexuals for the punchlines to bad jokes, it seems as if the major TV networks are ready to "get gayer" with some of their recent pilot pickups. Announcements from NBC and HBO indicate that there will be an increasing amount of guys who like guys and girls who like girls on TV screens come next year.
"Glee" creator Ryan Murphy, who is gay himself, has apparently landed one of the most lucrative deals of the season after selling his new half-hour project to NBC. Murphy will direct and co-write the upcoming show with Allison Adler ("Chuck," "No Ordinary Family"), a lesbian who Murphy has worked with in the past. Deadline's Nellie Andreeva writes that the new half-hour show is a "heartwarming comedy about a blended family of a gay couple and the woman who becomes a surrogate to help them start a family."
The single-camera project is said to be based on Murphy and Adler's real-life experiences with trying to have or start a family. The show will be Murphy's first venture into half-hour programming, as his previous creations (FX's "Nip/Tuck" and the new "American Horror Story") are all hourlongs. Despite the gay characters at this sitcom's core, the sale came after a three-way bidding war in which NBC won out over Fox, the network that already airs Murphy's "Glee," and ABC, the home of "Modern Family."
Also reaching a deal to develop gay-friendly material: HBO and Oscar-nominated lesbian writer/director Lisa Cholodenko. The filmmaker is set to turn her hit "The Kids Are All Right" into an hourlong series for the premium cable network. The show will reportedly follow the continuing story of a same-sex couple, their son and daughter and their estranged sperm donor "father." The film starred Julianne Moore, Annette Bening, Josh Hutcherson, Mia Wasikowska and Mark Ruffalo in those roles, respectively, although sense would indicate that those film stars wouldn't reprise their roles for TV.
Fans of the film version will likely be pleased to learn about the pickup, considering that so much was left hanging at the conclusion of the film (particularly what ultimately became of Ruffalo's character). HBO seems like the perfect outlet for a series version of "The Kids Are All Right" because the film showed its characters' relationships in a stark and raw manner (with plenty of cursing and nudity). Cholodenko has already worked with HBO in the past, directing an episode of "Hung" last year and an episode of "Six Feet Under" during the show's first season in 2001. And HBO is no stranger to gay content, with homosexuality playing a prominent role in some of its hit shows, like "Six Feet Under" and "True Blood."
News like this is a further indication of American TV audiences coming to terms with homosexuality. Unlike in the past, when shows like "Ellen" and "The L-Word" were noteworthy because of their inclusion of gay storylines integral to the plot, simply having a gay character on TV is no longer headline material. Nowadays, the public seems to react in the opposite way. Fans have even championed-on screen affection between gay characters, such as the kiss between Chris Colfer and Darren Criss on "Glee" and the minicontroversy over "Modern Family" gay couple Cam and Mitchell not locking lips at all during the show's first season (a grievance that was amended by the second-season episode "The Kiss").
For 22 years, the Gay & Lesbian Alliance Against Defamation has awarded the television networks and shows that have "outstanding images of the lesbian, gay, bisexual and transgender community," awarding Fox, HBO, and the show "True Blood" last year. Now it seems as if we're approaching an era in which GLAAD's acknowledgement may not be necessary in order to spotlight the LGBT community. As more and more of Hollywood gets behind the idea that the casual American TV watcher is as comfortable watching a gay couple as they would be watching a straight couple, entertainment will continue to become a friendlier place for homosexuals, both in front of the camera and behind it.
Zachary Shevich is the creator and host of "Pretentious Film Majors," a film discussion show that can be heard on WKDU Philadelphia 91.7 FM Fridays from noon to 3 p.m. or via the show's iTunes podcast. Find out more information about the Pretentious Film Majors on their Facebook page at facebook.com/PretentiousFilmMajors.