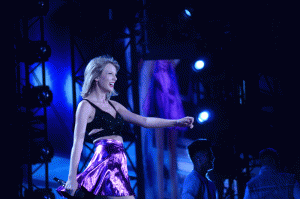 The year is 2015 and Taylor Swift is the biggest pop star in the world. By the ripe old age of 25, the Pennsylvania-native has completed her meteoric rise from country music prodigy to global pop icon with the release of her latest album "1989." Chock full of chart-topping singles like "Shake It Off" and "Blank Space," Swift has expanded her fan base to include practically anyone with a pulse. With her "1989" World Tour in full swing, Swift is moving steadily from sold-out stadium to sold-out stadium, including a special two-night stand in her adopted home town, Philadelphia.
The buzz around Lincoln Financial Field was palpable June 12, as concertgoers streamed towards the stadium's gates. Girls with specially decorated T-shirts mingled with parents holding their children's handmade posters as they all waited in line to ascend the venue's steps to enter Taylor Swift heaven.
A massive stage complete with huge screens and a runway leading into the middle of the floor seats stood on the Philadelphia Eagles' home field as people streamed in, heading to their seats.
Opening acts Sam Mendes and Vance Joy had the daunting task of entertaining a crowd full of Swift devotees bubbling with excitement. Joy put on a solid set that culminated with everyone's favorite song that name checks Michelle Pfeiffer, "Riptide."
After Joy's set, the crowd was getting antsy. Parents worked to stifle their children who were clamoring for Swift's arrival. Some ordered some pre-emptive beers to help them get through the barrage of pop music spectacles to come. Others started the wave to keep busy while behind-the-scenes videos from the making of Swift's albums played on the video screens.
As darkness fell the crowd could sense that Swift was near, and she did not waste much more time. Coming out to the opening synth notes of "Welcome to New York," Swift stood at the foot of the stage and basked in the roar of the crowd and the glowing lights coming from the wristbands everyone was given upon entrance. It was quite the scene.
Going right into "New Romantics," Swift was bounding all over the stage. Going through choreography with her cadre of backup dancers, she sprinted down the runaway all while the crowd sang every word along with her. Stopping only to encourage the 50,000 people in attendance to sing louder, Swift was on mission.
Coming into this show I had no idea of the sheer scale of the modern pop concert. You have the teams of dancers and backup singers, props, scene and costume changes to go along with the video and light cues and even an elevated, rotating catwalk. It's a production unlike most any other concerts you'll ever see. At times, it boggles the mind.
During Swift's clothing changes the video screen played testimonial videos from some of her famous friends, including Lena Dunham, Selena Gomez, the Haim sisters and Victoria Secret model Karlie Kloss. In a way, they were an attempt to humanize Swift, to assure concertgoers that she is indeed a mortal instead of a pop-deity. As a special surprise, Swift invited her friends Echosmith on stage to play their hit song, "Cool Kids." Two more of Swift's pals, "Law and Order: Special Victims Unit" star Mariska Hargitay and model-actress Cara Delevingne, later came out on the catwalk to join Swift during her performance of "Style."
The music of Taylor Swift obviously means a lot to people far and wide. Concertgoers were in tears as they took pictures, recorded videos and snap-chatted everyone in their contact list to prove that they were one of the lucky ones who snagged a ticket to a sold-out Taylor Swift concert.
As the show closed with "Shake It Off," fireworks shot off into the air while Swift and company danced and sang and sang and danced on the big spinning catwalk. It's hard to imagine the show ending in a less spectacular fashion. Whether she wanted it or not, Swift has become the ideal pop-star and we are all just along for the ride.