After pop punk darlings Fall Out Boy announced their hiatus two years back, instead of taking a vacation from their seven-year career, all four members have continued to pursue new musical endeavors. Lead singer and guitarist Patrick Stump began his first tour as a solo artist to Philadelphia, Pa. upstairs at The Trocadero April 8.
On February 22, the 26-year-old released his first solo project: a self-produced, six-song EP titled "Truant Wave," with a full and complete absence of any lead-up, press or promotion. The EP now serves as a precursor to Stump's debut album "Soul Punk," which was supposed to be released in February, but has since been delayed until summer. Still, the singer's largely sold out tour will give fans across the country the perfect indication of what the album will sound like – as does the album's name.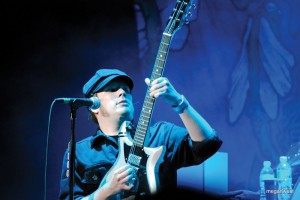 Stump already has his first singles lined up: "Spotlight (New Regrets)" and "Spotlight (Oh Nostalgia)," the latter already equipped with a low-budget music video. Though bright and well produced, it's a little too motivationally cheesy for my taste; I purposefully only listened to that one song before attending the show (as a die-hard Fall Out Boy fan, he could have been humming nursery rhymes and I wouldn't dream of missing it). Unsurprisingly, I left the venue insanely excited over the rest of Stump's set list, which was instantly loveable and seriously unique.
It was apparent, but not blaringly obvious, that some of the sounds and ideologies of Stump's buddies in the hip-hop and rap vein of the industry had rubbed off on him. A number of his songs featured synthesizers playing simple repetitive melodies that could have easily found a home on radio top 40. Crooning about "Cute Girls" and getting paid, Stump amplifies his trademark, soulful ornamentation in his vocals to a degree that would make even Beyonce and Christina Aguilera jealous.
The music itself echoed pop-punk roots and hinted at lyrics containing Fall Out Boy-esque subject matter; yet the overall vibe was a poppy, upbeat R&B mix, seeming quite avant-garde to my ears, which were only too anxious to hear the execution of his self-written, composed and produced brainchild. The tracks Stump chose for Friday evening did not even seem to be conventionally structured, as he and the rest of the band took their sweet time setting up, playing out and breaking down each song, sincerely enjoying every moment and stretching each to last.
It was wonderful seeing Stump take control of the stage to a degree that wouldn't have been possible with Fall Out Boy, given the equal kinship between members Stump, bassist and lyricist Pete Wentz, guitarist Joe Trohman and drummer Andy Hurley. Stump was the perfect entertainer, especially for a small crowd who were largely unfamiliar with the words of the songs. Stump knowingly moved, shook, gyrated and danced along, snapping his limbs to every note with visible passion and enjoyment (and in a manner that reminded my friend and me of Taking Back Sunday's Adam Lazzara).
Rocking a gray fitted suit and black bowtie, Stump surely – though maybe unintentionally – got the chance to show off his newly slimmed figure to all the girls and boys in the audience, inarguably making it onto the master list of heartthrob guitarists. Stump was personable in his actions and modest with his words, waiting until two songs had passed before speaking into the microphone in a friendly tone: "Hi. I'm Patrick." The band, which backed him up, was comprised of a guitarist, bassist, drummer and sax player, most of whom took the lead when Stump started joking around between songs, completing the intimate small-show vibe that carried the performance.
The Trocadero was the perfect setting for a show colored by both new sounds and newfound enthusiasm for this singer gone astray. Far beyond being a most wonderful tease to his musical past, Stump's current tour solidifies his place as a solo act in the industry and pumps up the creativity of crossing genres to a whole new decibel level.