Supporters and non-supporters of art advocacy had their quotations displayed in the Chapman Court of the Pearlstein Gallery for the discussion entitled "How National Arts Advocacy Inspires Local Change." The Drexel Arts Administration Graduate Association held this event May 16 to support the creators and people involved with the Artistic Rebuttal Book Project.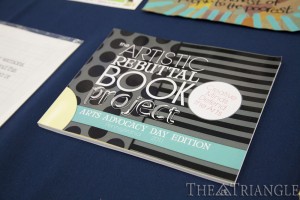 The Artistic Rebuttal Book is made up of a series of graphically designed images on which contributors to the book have imposed a sentence or two on their feelings of the arts. The book was created with the purpose of highlighting the importance of the arts as offered by a wide variety of volunteers with differing experiences and backgrounds – some immersed in the arts since childhood, others only working in some creative capacity.
One such quote displayed in Chapman Court read, "Art is my religion. Creative Minds provide my sermons. I don't feel I need to look beyond this good green earth to find any idea or any person worth aspiring to. Being an artist isn't about creating a silo, it's about critically observing our culture in an attempt to make it better connected and more human."
For this year's Arts Advocacy Day, 19 arts administration graduate students went to Washington, D.C., to fight for the arts and its impact on the world. These individuals met with senators from California, Michigan, Pennsylvania and other surrounding states to try and persuade officials to share their support for the arts, taking the Artistic Rebuttal Book with them.
The reactions from some of the Democratic and Republican offices held a mixed review, depending on the strength of the arts in the legislator's community. The students who attended Arts Advocacy Day were introduced to an eye-opening, empowering experience, and were able to get in close proximity to the people who are making decisions for our country, making a difference for all arts advocates.
Amy Scheidegger, the director of the book, shared that she was overjoyed with the fact that the book has started new projects to support arts advocacy and has inspired countless people to become more involved – all before it has even been released. Scheidegger said that being a part of Drexel's arts administration program helped her project get started, as it began as just one person's idea, but came to fruition because she was able to share it.
Each person who had been a part of the project, or had gone to Arts Advocacy Day, articulated his or her passion for all kinds of art and how important it is across the globe. One of the evening's speakers, Amy Gibbs, expressed that arts advocacy was the place for her to do good inside and outside the classroom.
"Arts Advocacy Day was an incredible event, an accumulation of all these years. Budget cuts are everywhere and after this experience I make sure to make advocacy everyday in my life, and I encourage everyone to," Gibbs said.
Experiences of how art affected their life were brought up when each individual came up to speak. Meredith Sonnen, founder and production manager of Renegade Classic Theater Company shared, "I participated in this project because it was creative and a genuine way to get public opinion. I was very lucky that I had a father who lived in the middle of nowhere Tennessee, that arts and political science were important parts of my life, and he made sure that I would go to a play two hours away or to a synagogue to experience a different culture, even though I was a southern Baptist."
The event was a heartfelt experience of the work the advocates at Drexel University do to save every form of art with today's unfavorable political agenda. The Artistic Rebuttal Book Project is slated for print in early June and will be available for purchase online.