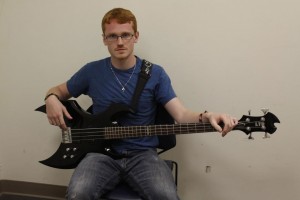 Among the brimming population of students here at Drexel University—over 26,000 as of 2014—a few spend their days, outside of classes of course, practicing art for myriad reasons. To possibly become a professional musician, to relieve stress after studying and going to classes, to entertain for the sake of humanity; whatever the reason, Drexel musical talents are beyond the likes of Chiddy Bang.
In an effort to showcase these talents, The Triangle has sought out students to tell the tale of their musical endeavors.
Drexel University student musician Alan "Mullophant" Deng was the first to be showcased. This week we have another Drexel student by the name of Austin Dean, a pre-junior with a knack for musical talent.
Dean's history in the arts began at a young age when he was introduced to theater. It wasn't until middle school, however, that Dean began trying various instruments including the viola and alto saxophone. Unfortunately, Dean had a condition that prevented him from playing the saxophone. That didn't stop the budding musician from finding a way into the school jazz band.
Around age 17, Dean picked up the bass guitar and continued to play for the school jazz and concert bands. He described a sort of innate sense within him that allowed his playing abilities to develop quickly.
Around the same time, Dean took an Advanced Placement music theory class. After receiving a four on the AP exam, the determined musician thought he could do better, and so he retook the class and earned a five on the AP exam the second time he took it.
This determination and focus has helped Dean build up quite the musical resume. While taking his AP music theory courses in high school, Dean was approached by his theory teacher to compose an original orchestral piece for his high school band.
Procrastination set in for a few months, but somehow Dean managed to write a piece over the winter break that was eventually performed later in the school year. Not many people can say that they composed a piece for an entire orchestra before even graduating high school—Dean can.
It didn't stop there. After hearing Dean's piece performed live at the school band concert, an old music teacher whom Dean had when he was younger approached him to compose an original piece for the elementary school band. Without hesitation, Dean got to work to create a piece for the second time in two years, all while still in high school. Both pieces were considered contemporary classical in style.
Fast-forward to present day and Dean is studying software engineering here at Drexel University. Even though his studies and co-op jobs require his attention, Dean always makes time for music. From practicing on his own to performing weekly open mics with his roommate (who plays the acoustic guitar) in the Creese Student Center lobby, Dean makes music a part of his everyday life and doesn't plan on giving it up. He even plays the pan drum now.
Dean attests his choice of degree to the fact that society and others around him made it seem that a career in music is difficult to get into, unless there's a good amount of luck involved. Nevertheless, Dean continues to play music and enjoy the art form.
The musically inclined engineering major didn't even take a break from composing. This time, Dean approached Wesley Broadnax, Drexel's director of several bands, to transcribe a song he personally liked for the school's pep band. Broadnax granted Dean the opportunity and the two have worked together to transcribe the piece for the band to play this year (Dean is also a bassist for the pep band).
When it comes to listening music, Dean's taste ranges from choral music to indie folk bands such as Fleet Foxes and Boy and Bear to movie soundtracks, which tend to be a huge inspiration for his own compositions.
Since a young age, Dean has had a heart and mind for music. He's been able to use his talents for good and has been able to do things that many other people his age can't say they've done. Dean is a natural, through and through, and the Drexel student will continue doing what he enjoys most.
"I think in my life, music is too big a part of it to just toss, so absolutely it will [always] be on the side," Dean said.