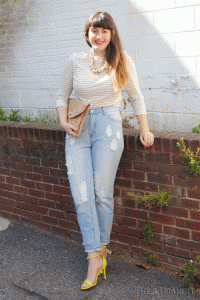 Senior music industry major Lucy Briggs is what some might call fashion obsessed. It's not unlikely to catch her running around the city in sky-high heels and, of course, sporting the latest trends. Her style is a mix of retro, girly and edgy pieces, which come together to create her own unique look. "I love functional looks for the day since I ride my bike to get everywhere in the city. For night, bring on the platforms!" Briggs said of her style.
The online-shopping maven is always on the hunt for a good deal and knows how to look chic while staying on a budget. She looks to stores such as Urban Outfitters, ASOS and local boutique Smak Parlour for pieces to incorporate into her already overflowing wardrobe. Some of her pieces, however, are procured from more unexpected locations. The striped T-shirt she paired with neon heels and boyfriend jeans pictured below is actually a moisture-wicking shirt from The North Face, which she plans to wear hiking on her upcoming trip to Nepal, and the bright neon-green heels are from designer Prabal Gurung's latest collection for Target.
Briggs looks to public figures such as Kate Middleton for style inspiration. Briggs said of her pleated Great Plains Cezanne Paintbox pleated dress, pictured below, "Worn by the duchess of Cambridge, this dress is perfect for spring." Briggs styled the dress with a tweed-detailed tan trenchcoat, suede heels and a vintage Coach purse to complete the look.
Check out more of Briggs' style on her Lookbook page at lookbook.nu/permanentexile.