In her senior year of high school, Rachel Godwin Becker realized she could take her passion for sewing and turn it into a career. After receiving a Bachelor of Fine Arts in fashion design with a minor in fashion marketing from the International Academy of Design in Tampa, Fla., and working in the bridal industry in New York City, Becker moved back home to Philadelphia and created Laundrea, a womenswear line that solves the constant need for dry cleaning. Her machine-washable collection features looks with clean lines, bright colors and soft fabrics.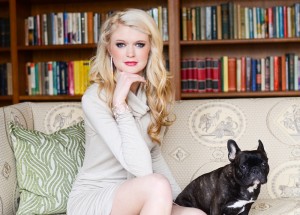 Real women inspire Becker; comfort and wearability are key factors when she is designing. In an interview she said, "I am always studying how women look and react in certain silhouettes, colors, prints and fabrics to see what fits the Laundrea lifestyle! Feeling comfortable in a garment shows, and we love to see the Laundrea woman radiate with confidence knowing she looks and feels beautiful!"
Simplicity is a constant theme in all of the Laundrea collections. This aesthetic is pulled from one of Becker's style icons, Grace Kelly. "Her simplistic yet stunning approach to style made her effortless and gorgeous everywhere she went," Becker said. The Laundrea woman is also effortless and gorgeous everywhere she goes!
This spring the Carnation Peach Print is a top seller. The pattern can be seen on two dresses from the current collection. "It is a colorful yet easy print. It embodies a playful spring-summer piece you can wear to work, brunch or a wedding, all with the switch of a few accessories," Becker said.
As for fall styles, Becker predicted that many women will be wearing "charcoal grays, deep blues, [and] pops of magenta with a splash of Dijon yellow." Hints of these colors can be found in her dress color titled "Rustic Rose." Colored lace, peplums and full lace shift dresses are also on the Laundrea fall trend forecast.
The Laundrea spring-summer 2013 collection can be purchased at local retailers including Sorella in Media, Pa.; Coco Blu in Wayne, Pa., and Stone Harbor, N.J; and Joan Abrams in Rockledge, Pa.