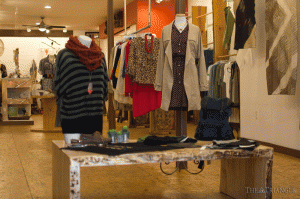 With summer quickly approaching, look no further than Arcadia Boutique for a fresh, one-of-a-kind shopping experience to update your wardrobe. Based in Northern Liberties, the boutique sells a beautiful and unique assortment of clothing and accessories created by independent designers and name brands alike, as well as an uncommon array of vintage and recycled clothing and accessories.
With the plentiful boutiques and stores in Philadelphia, it can be overwhelming to find a store that stands out from the rest. Arcadia owner Ali McCloud, a design and merchandising professor at Drexel, said of her store, "We have a great focus on Philadelphia-based designers as well as products 'made in the USA.' We carry several designers that cannot be found in other Philadelphia-area shops. We also try to be as active in the local fashion and art community as possible with really fun events featuring rotating art exhibitions, trunk shows with clothing and jewelry designers, vintage parties, etc."
When selecting styles to buy for the store, McCloud said, "I focus on my customers and try to have a few of them in mind when I select each item. Of course, we look for a certain style that fits Arcadia's aesthetic and the look we are going for each season, but since we are small we really try to get to know our customers and buy what we think they'd love,"
McCloud was inspired to create Arcadia by her senior project at the Fashion Institute of Technology. When asked about the boutique's beginnings, she said, "I've always loved independent fashion and local boutiques. … When I was in grad school at FIT, I started researching sustainable fashion boutiques and designers in New York City for a final project. This inspired the initial concept for Arcadia, and I loved the idea of bringing a shop like that to Philadelphia."
An inspiring businesswoman, McCloud offered some advice for students interested in following in her footsteps.
"Any small business is a lot of work but can be very rewarding; make sure you are very passionate and not afraid to put a lot of love and hours into your business. Write a business plan —  even if you don't love numbers —  work out a budget and plan," McCloud said. "It is the only way to stay in business. Find people you can trust to help out. If you've done your research and written your plan, go for it. … At some point you have to just do it and give it a shot!"