Disclaimer: I have a gigantic crush on both Emma Stone and Andrew Garfield, which makes my take on "The Amazing Spider-Man" very subject to bias. I am admitting this up front, but you should trust and listen to me.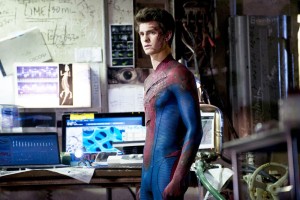 I went to the Rave movie theater July 3 to see "The Amazing Spider-Man" at midnight because that is how excited I was to see it. I left the movie feeling ridiculously pumped for the next (probable) two installments and thinking they had done a wonderful job. I was almost sad to see it end at 2:30 a.m. and wished it had been longer.
I loved the original "Spider-Man" trilogy, despite the fact that I really dislike Tobey Maguire. Starring Maguire and Kirsten Dunst, it was a blockbuster smash all three times around. It captured the essence of Spidey in its humor and action. I thought the villains (at least for the first two films) were terrifying "baddies," and I thought James Franco did a fantastic job with the moody-angsty teen scenes. It was goofy and silly, and it made you happy. However, I didn't realize how much was missing from the original comic book series until I saw Marc Webb's take.
"The Amazing Spider-Man" had the humor of the last series — but more of it. Andrew Garfield had all the geeky-awkward stuff down like Maguire — but more of it. He had the funny charm down too — but more of it. Emma Stone was equal parts gorgeous and witty, while Dunst never did pull off that red hair and was never given any substantial lines.
I read the reviews from The New York Times and The Philadelphia Inquirer, which included criticisms like, "Why did they remake a franchise that had done so well but not even change it at all? At least when Batman relaunched they broke the genre mold. They were slaves to the action."
So maybe it is largely a rehash of the original story — except for the lack of a Harry Osborn, a completely different love interest, an alternative take on the infamous moment when the spider bites Peter, and several other additional components. You know, except for all that stuff.
As for the Batman comparison, I get it: two big comic book franchise relaunches coming out within three weeks are going to get compared. However, to answer that, I will refer you to Spidey himself, Garfield: "We haven't gone for gritty, we've gone for grounded. If we try and make Batman, we'll fail. The new Batman is its own thing, and also in terms of tone, Spider-Man is nothing like that character. Spider-Man is witty, Spider-Man is a kid, Spider-Man wants to have fun. He's a teenager, and he needs to go through first love and piss around." It isn't about despair over the truth of good vs. evil and brooding in a cave.
If you like Spider-Man as a character, go see the new franchise. Garfield shows off his Tony-nominated acting skills and brings a depth of feeling to a character who had, until now, been plain silly (thanks, Maguire). The chemistry between Garfield and Stone (who are, thankfully, dating) is so unbelievable you could almost see the sparks. Even the villain story has more background, and Rhys Ifans definitely plays a more grounded villain than the Green Goblin.
Yes, it's the same general storyline. But it's better. A lot better.