With commencement ceremonies upon us, graduating seniors are looking for ways to celebrate their accomplishments. Sure it can seem a bit cliche, but sparkling wines will inevitably be consumed in abundance at all of these events. They're actually rather perfect for a party — everybody loves a wine that sparkles, and not even your grandmother will judge you for never having an empty glass of it.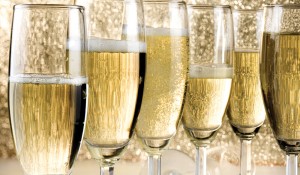 Many people firmly believe that the classiest way to commemorate their undergraduate years is by popping bottles of Champagne, a popular sparkling wine that is often part of special occasions like 21st birthdays or wedding receptions. Everybody knows about Champagne, or at least they think they do. However, the name is commonly misused, generally thought by many young drinkers to be the only bubbly option that exists.
Sparkling wines are produced all over the world. Champagne, which takes the name of a specific geographic region in northeastern France, just happens to be the most famous and coveted. Laws forbid other regions from using the Champagne name for their sparkling wines, which helps keep Champagne glamorous and expensive.
Yes, Champagne is extremely expensive. When you buy Champagne, you're paying a hefty premium for a limited luxury product. The region does not produce large quantities of the wine, and most companies still employ trained workers to oversee its production from grape to bottle. To ensure that what's inside best represents the real thing, you generally don't want to pay any less than $40 for a bottle.
Luckily, there are alternatives for those who are more budget conscious. Two other inexpensive options are cava and prosecco. The always-enjoyable sparkling Spanish cava is made in Catalonia, and the Italian bubbly wine, prosecco, is from the Veneto region.
But you don't even have to leave Champagne's native country to find some of the most interesting and best-valued bubbly wines there are. Beautiful sparklers are made throughout all of France, including ones most similar to Champagne, which will be marked with "cremant" on their labels. Although made outside of the designated Champagne area, this style of bubbly wine has been made using the same traditional method as Champagne — with a second fermentation that is responsible for those desirable bubbles — taking place in the very bottle from which you will eventually pour the wine.
The reason this style is more affordable is because its makers don't have to follow the same strict laws. The sparkling wines of Champagne cannot be made from any grapes other than chardonnay, pinot noir and pinot meunier. However, in bubbly wines from Alsace, Burgundy or the Loire Valley, the use of cabernet franc or chenin blanc is allowed. Unlike the familiar yeasty, bready characteristics of Champagne, these other grapes can contribute livelier floral aromas and fruitier flavors to these lighter bubbly wines. Sparkling wines from other areas of France can easily serve the same celebratory role as Champagne without the big price tag.
When it comes time to open the bottle, be aware of what direction you're pointing it in. Yes, it is entirely possible to shoot out somebody's eye, especially if it's not the first bottle of the night to be opened and consumed. I've found the easiest and most reliable method of opening a bottle of pressurized wine is to hold the cork in one hand and the bottom of the bottle in the other. Twist the bottle, not the cork, and it should open with ease and without any injuries. A bottle of Champagne should open with a whisper and not a bang, as the old adage goes.
In addition to being well suited for celebrations, bubbly wines also are amazingly versatile. While certainly delicious on their own, they also pair well with just about every type of food. You don't have to worry about picking and choosing what's on your plate during graduation parties, and there's no need to be picky about what restaurant you choose to go to after the big commencement ceremonies; these bubbly wines will complement any cuisine well.
Sparkling wines and celebrations undoubtedly go hand in hand. For the graduating class of 2012, the days of playing "slap the bag" with Franzia and sinking ping-pong balls into Solo cups full of wine are hopefully over, and that within itself calls for a fine glass of bubbly.
Recommendations
Alpha Loire Cremant de Loire Belle de Nuit Brut
Loire Valley, France, $16.99
13 percent ABV
With bubbles that last long after being poured, this straw-colored sparkling wine has funky yeast aromas comparable to those of Champagne but has unique floral flavors and a lingering fruity finish.
Michel Sarrazin Cremant de Bourgogne Brut
Burgundy, France, $19.99
11.5 percent ABV
Persistently fizzy, creamy and thick on first pour, this wine has rich, bready aromas with refined acidity on the finish. If you enjoy the unique, yeasty smell of Champagne, you'll love this one.
Chateau Moncontour Touraine 'Tete de Cuvee' Brut
Loire Valley, France, $14.99
12 percent ABV
From the region of Vouvray, famously known for its white wines, this golden bubbly one smells of sweet raisins and honey but has an unexpectedly dry and crisp finish.