Social Distortion performed Nov. 3 to a rollicking Philadelphia crowd. Supported by The Biters and Lindi Ortega, the punk veterans took over the Electric Factory for an indulgent and energetic performance.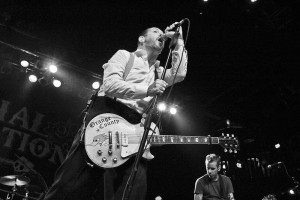 The concert began at 8:30 p.m. when The Biters took stage. With their shaggy hair and tight pants, the band was a shocking sight; one might have assumed each member was zapped here from the '80s. Snarling and shredding through a half-hour set, the Atlanta natives were well received, and even their cringeworthy story about Ortega and a bathroom stall earned a few chuckles. A few of their hometown friends, now Philadelphia transplants, were clearly delighted to see the band make it to their new stomping grounds and promised me that the Biters "were  going to be the next big thing."
Ortega and her band were the direct support for the evening. Ortega is a powerful singer with a charmingly sweet stage presence. Dressed in cowboy boots, a short dress and a sheriff's badge, she projected the confidence of a musician with years of experience, as well as gratitude for this opportunity. Ortega surprisingly still flies under the radar despite having supported Brandon Flowers' solo tour and appearing on "Jimmy Kimmel Live" and "The Tonight Show with Jay Leno." She has a powerful and earnest wail, and she offers a blend of Dolly Parton and Jewel in her honky-tonk blues. Her commanding voice was given heaps of applause, and the audience was left smiling when her set was over.
After a suspenseful wait, Social Distortion took the stage to hoots and hollers from the throng of fans that almost stretched to the doors of the Factory and the crammed balcony above, where the older crowd of tattooed biker types and their girlfriends enjoyed the upstairs bar and the full-stage view. The younger fans, bedecked in their rockabilly best of 1940s victory rolls, leather jackets and combat boots, looked positively gleeful as 50-year-old Mike Ness strode onto the stage wearing a long jacket and a fedora, looking less like a rock god and more like the coolest extra on the set of "Boardwalk Empire."
What is most impressive about Social Distortion is the band's longevity. Though only one original member remains (Ness), the band is now in its 34th year of writing and playing a gritty punk canon of seven studio albums, which is no small feat. Their live energy is nearly unparalleled. I have seen and photographed well over 30 concerts this year, and running in front of the barricade trying to catch up with Ness and guitarist Johnny "2 Bags" Wickersham nearly tired me out.
The first song on their set list, "I Was Wrong," is a personal favorite from their 1996 album "White Light, White Heat, White Trash." The band largely performed its older work, which was a surprise considering that their last album, "Hard Times and Nursery Rhymes," was only released last January. Two songs from their latest album did make the cut: "Bakersfield" and "Gimme the Sweet and Lowdown." The album was considered a triumph for the band, which was still able to sound fresh while turning out a 30-year-old sound, and throughout the crowd one could hear "I love this song!" The next two songs, "Cold Feelings" and "Bad Luck," an audible crowd favorite, were from their 1992 release, "Somewhere Between Heaven and Hell." "Sick Boys" got the audience moving; on all four sides I found a mildly inebriated man waving a fist in the air, shouting the song's refrain. A Ness solo song, "Company C," which was penned for a friend who saw the worst of the Vietnam War, and the emphatic "Ball and Chain" closed the set.
The encore included "Pleasure Seeker," "Don't Drag Me Down" and "Black Magic," a bluesy deep cut that was only released on vinyl. Ness joked that no one in the venue had heard it until that night. Social Distortion closed the show with its beloved cover of Johnny Cash's "Ring of Fire."
As always, Social Distortion put on a great rock show. The band was in top form and seemed to know which songs the audience was there for. Between songs, Ness told some rather ballsy stories of his travels, which the enthusiastic crowd ate right up.