2011 seemed to be the year of taking chances in the music scene, from Florence and the Machine's "Ceremonials" to Coldplay's "Mylo Xyloto." 2012 seems to be getting off to the same start with Snow Patrol's sixth album, "Fallen Empires," released in the U.S. Jan. 10 with Island Def Jam Recordings. The album was released Nov. 11, 2011 in the U.K.
Snow Patrol plunges into a new realm of sounds and lyrics, all while grasping their original sound, delivering satisfaction to fans old and new. In "Fallen Empires," Snow Patrol is clearly out of familiar waters, leaving their pop sounds behind and returning to their rock roots while inviting themselves into the indie music scene. The prodigal band returns.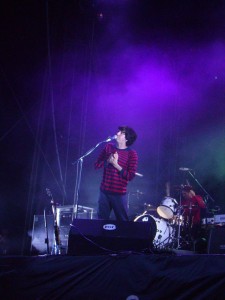 Snow Patrol released their sixth studio album "Fallen Empires" in the U.S. Jan. 10 with Island Def Jam Recordings.
Snow Patrol has been around a long time, having released their debut album "Songs for Polar Bears" in 1998, but the group shot to fame with "Final Straw" in 2003. They have recorded chart-topping hits including the embedded-in-your-brain classic "Chasing Cars," "Chocolate" and "Run." The Scotland-native band consists of lead singer Gary Lightbody, guitarist Nathan Connolly, bassist Paul Wilson, keyboardist Tom Simpson and drummer Jonny Quinn.
"Fallen Empires" is drenched with optimism and anthems of perseverance, starting the album off with "I'll Never Let Go." Lightbody sings of seeing the light in a dark place, never letting go no matter how tough life gets. "I was asking strangers, but no one understood me. I was drenched in sweat when your words came to me. 'I'll never let go. I'll never let go,' you said out loud."
Next is "Called Out in the Dark," as Lightbody's unique voice is accompanied by catchy drumming and electronic melodies that make it impossible to stand completely still. Dancing is required. It is this song in particular that shows Snow Patrol's evolution and growth as a band, singing, "It's like we just can't help ourselves, 'cause we don't know how to back down. We were called out to the streets." Snow Patrol will never go down without a fight.
This album also gets personal with tracks such as "The Garden Rules," a piano-filled ballad alluding to Lightbody's childhood. A piece of album contributor Garret 'Jacknife' Lee's life has a place in "Fallen Empires," with the acoustic track "Life-ning," which is about Lee's children. "To share what I've been given, some kids eventually. And be for them what I've had, a father like my dad."
Moments of lost chances and heartbreak in "New York" will make your heart swell with emotion, and you just might shed a tear or two. This track, consisting of a trembling crescendo leading up to the chorus, will help anyone glue a shattered heart back together. "If our hearts are never broken, then there's no joy in the mending. There's so much this hurt can teach us both."
Snow Patrol really has taken on the role of therapist in "Fallen Empires," especially in the inspirational track "This Isn't Everything You Are," singing, "And in one little moment, it all implodes, but this isn't everything you are. Breathe deeply in the silence, no sudden moves. This isn't everything you are."
Based on the album's content, the album title "Fallen Empires" is very appropriate. Snow Patrol's strength is reflected in this album through their lyrics of the underdog rising from the ashes of hurt and defeat. The album cover is graced with an eagle, representing freedom. That is what this album is all about. Freedom from control, pain and emotional immobility.
If you are open to change and in need of an inspirational push, I highly recommend that you listen to Snow Patrol's graceful new album "Fallen Empires." Their new sound will open their fan base significantly, so don't count on Snow Patrol disappearing anytime soon.