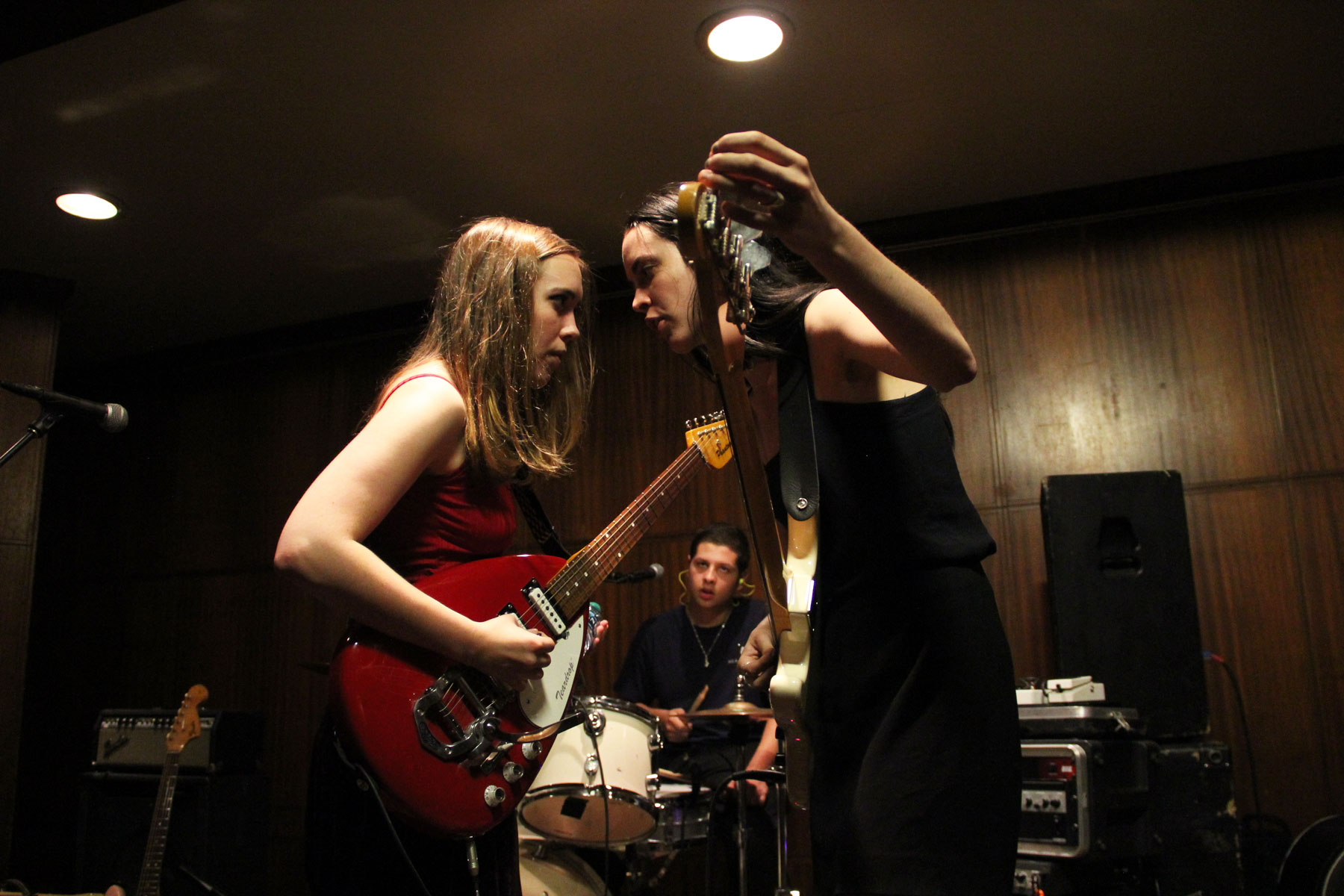 "You can't say indie rock is dead. It's just being taken over by women."
This quote is from up-and-coming indie artist Sophie Allison, better known by her stage name Soccer Mommy. It's a bold assertion, but I believe it to be true — especially after seeing the incredible lineup that played at the First Unitarian Church the night of Sept. 22.
Soccer Mommy and Stef Chura opened for the magnificent and talented Jay Som, which is the musical project of Oakland, California-based songwriter Melina Duterte. Duterte just released her second full-length record under the moniker Jay Som earlier this year. The album, entitled "Everybody Works," was released to critical acclaim March 10 via Polyvinyl Records .
The evening kicked off with a set from Soccer Mommy, a bedroom pop outfit from New York Soccer Mommy just made their major label debut with "Collection," which was released Aug. 7 through Fat Possum Records. As the title implies, it's a collection of songs that were previously written and released on her Bandcamp page, as well as a few new songs. Each song, however, was rerecorded for the album, giving the music a more polished and accessible sound.
The album is full of poppy, "chill but kinda sad" bops that would fit nicely in any of your indie rock playlists. Her heart-on-the-sleeve lyrical style coupled with jangly guitars and shimmering synths make it a solid and promising debut. She's not reinventing the wheel in any capacity, but she writes some damn catchy melodies. Outstanding tracks include "Out Worn," "Allison" and "Try."
Allison and her bandmates played a decent set, but there were some technical difficulties which prevented it from being excellent. The vocals were way too low in the mix, and nobody could make out anything Allison was saying or singing. I was standing right in front of her guitar amp, so all I can really attest to is that she played well. Luckily, Soccer Mommy is coming back soon, headlining their own show at Everybody Hits Nov. 12. Hopefully the levels are better the next time!
The next act, Stef Chura, played a pretty good set too. I wasn't familiar with her music before the show, but she definitely left an impression. I had fun watching her perform with her two bandmates, and although the vocal levels were fixed by this point, I didn't pay much attention to the lyrics. I'll probably check out her Bandcamp page sometime soon, though. As The Rolling Stones once said, "It's only rock and roll, but I like it."
Soon after Chura's set, it was time for the one and only Jay Som to take the stage. Duterte walked out donning an oversized black t-shirt and a majestic pink cowboy hat and her three bandmates followed. Arts & Entertainment Assistant Editor Natasha "Tooney Tash" Hajo and I were so high on life and disoriented from the thrill of the night to remember exactly what order the songs were played in, but I'm sure the opening number was a banger and a half.
"Everybody Works" is one of the best indie albums of 2017. Jay Som crafts the perfect blend of lo-fi rock, bedroom pop, folk and even a touch of shoegaze. "Baybee" and "The Bus Song" are easily the best songs on the album; they are the type of song that you sing to yourself throughout the day and then get home and play on repeat. Make no mistake, though, the rest of the album is also very good front to back.
When Jay Som whipped out the surprisingly funky track, "One More Time, Please," everyone grooved along. For real, that song SLAPS. Jay Som has a truly eclectic style, keeping her music from ever getting too monotonous or boring.
Other songs such as "1 Billion Dogs," "Turn Into," "Remain" and "Everybody Works" were particularly shoegazey in a live setting; the guitars seemed to fill every square inch of the room with their huge sound. She didn't play one of my favorite Jay Som songs, "Rush," but I won't hold it against her.
Jay Som is an extremely talented musical act, and both of her albums are worth checking out. If you ever get the chance to see them live, you should do it. They are on the rise and I wouldn't be surprised if they become a household name like Mitski or Mac DeMarco.