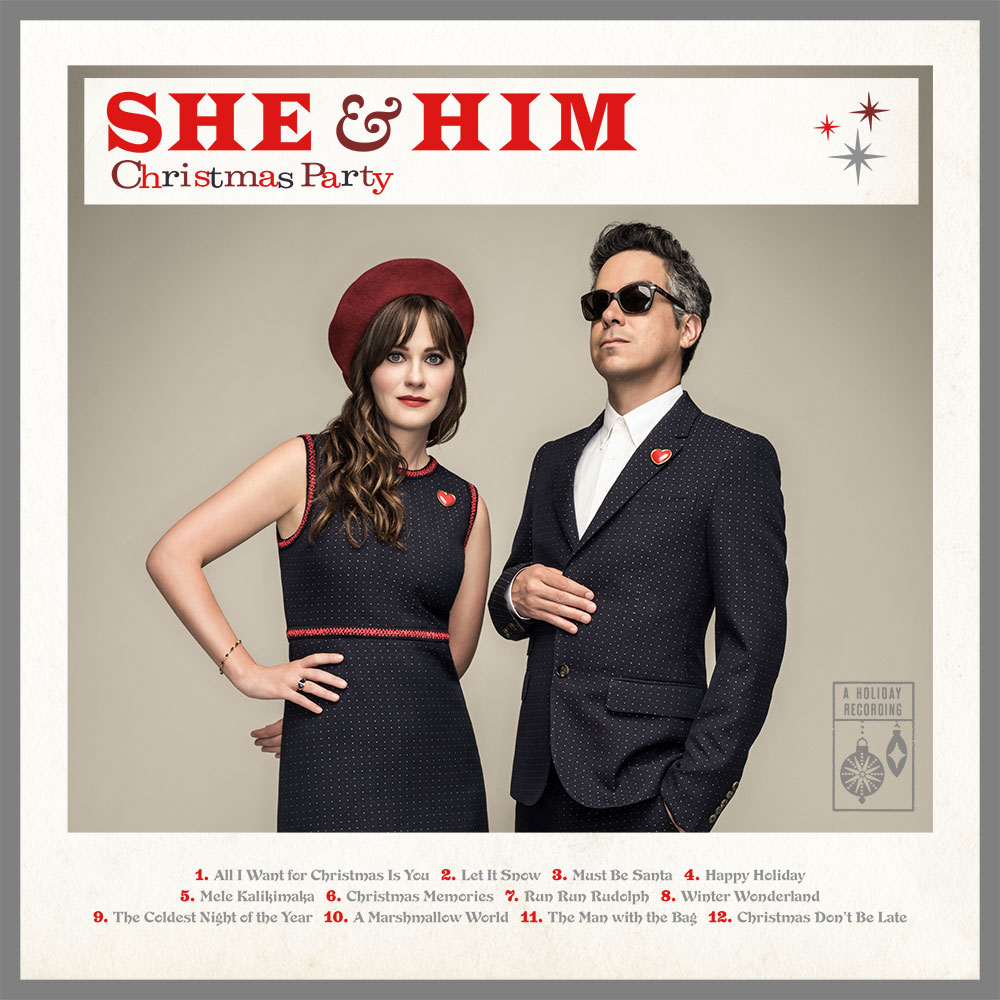 I'll say it: I'm a sucker for Christmas music. I don't trust people who don't like it. I'm also a sucker for Zooey Deschanel's cheesey indie duo with M. Ward, She & Him. She & Him incidentally just dropped an album full of Christmas covers entitled "Christmas Party" Oct. 28.
Now, your eyes are probably rolling into orbit at the thought of a Christmas album review in the beginning of November. Trust me, there is no bigger proponent of the "no Christmas music until December" rule than I am. However, these sort of albums are typically released around Halloween to ensure top sales performance, so let's just get this out of the way now.
She & Him are no strangers to the Christmas music game; in fact, they released another collection of holiday hits, "A Very She & Him Christmas," in 2011. I was a big fan of "A Very She & Him Christmas," so "Christmas Party" had some big boots to fill.
"Christmas Party" started on a foul note, with their cover of Mariah Carey's classic "All I Want for Christmas Is You." Yikes. Nothing will trump Carey's original, so you might as well just stay off that turf. She & Him didn't even do a bad job with it, it's just a sacred, untouchable recording (imagine a band trying to reinvent "Don't Stop Believin'"). The only time I remember liking a cover of "All I Want for Christmas Is You" was when I was 13 years old and heard My Chemical Romance's pop punk-infused version.
I breathed a huge sigh of relief when I heard the next tune, "Let It Snow." This track is easily the best on the album. She & Him have a very distinct style, which I think they use as sort of a "filter" to apply to every song. On this particular one, it happened to work really well but evidently, it does not work on every song.
The only other great song on "Christmas Party" was "Winter Wonderland." Pretty much everything else on the album was filler.
She & Him used up all the good songs on their first Christmas album, which was glaringly obvious with pathetic picks such as "Must Be Santa," "Mele Kalikimaka," "A Marshmallow World" (what?) and "The Man with the Bag." Ouch.
Let's talk about "Mele Kalikimaka" for a second. Who thought that cover would be a good idea? The whole point of that song is that it brings warm, island vibes to Christmas music. She & Him manage to make it as nondescript and boring as they possibly can, which hurts the song in a big way.
"Christmas Party" was pretty underwhelming. But how could it not be when "A Very She & Him Christmas" had all the best songs? It had "The Christmas Waltz," "Baby, It's Cold Outside," "Rockin' Around the Christmas Tree," "Silver Bells," "Blue Christmas," "I'll Be Home for Christmas," their wonderful rendition of "Have Yourself a Merry Little Christmas" and "Sleigh Ride," which everyone knows is the best Christmas song of all time.
If you're looking for some quality covers this holiday season, go check out their first Christmas album, "A Very She & Him Christmas." It may not knock your stockings off, but it's full of lovely, stripped down holiday classics graced by Deschanel's lovely, enchanting vocals.
As for "Christmas Party," I'm thinking they should have just went for a single or an EP this holiday season, because it is far below their typical level of quality. I love She & Him, but when you are at the point in your career where you're recording covers of "Run Run Rudolph," it's probably time to reassess.