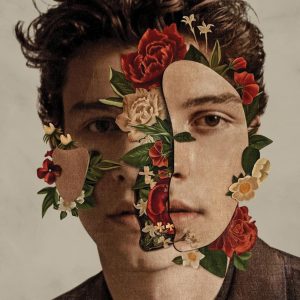 The Vine star has outlasted Vine. Shawn Mendes is arguably the biggest star to cultivate a following on the now-retired social media app. Over a year after the service that gave him his start shut down, Mendes released his third album, which has the potential to cement his place in the pop music world.
It's become a trend for artists to delay the use of the self-titled album. In recent memory it has been done by the likes of Demi Lovato, The Neighborhood, Shakira, Beyonce, TLC and Fifth Harmony. I think that going self-titled is often a lazy marketing choice when artists choose to do it for their debut album. But when an artist saves it for a later album, I feel like it makes the material on the album feel more personal.
Shawn Mendes released his eponymous album May 25. This is the singer-songwriter's third at just 19 years old.
Mendes' first two albums were guitar-centered pop music. While the second album, "Illuminate," hinted at maturity, it mostly sounded like a mere extension of the first. Despite being a little underwhelming, it was still full of well-crafted pop songs and pushed Mendes further into the mainstream pop atmosphere.
The new album is different. The lanky boy with the acoustic guitar has looked around the studio and discovered synths and vocoders. Within 14 songs Shawn Mendes experiments with new genre influences and heightens his amazing songwriting with impressive production. He tries on arena rock with "In My Blood," he throws in some funk on "Nervous," pumps in some soul vocals for "Fallin' All in You" and expands into some R&B with "Particular Taste."
Mendes steps up as executive producer on this album. This is his first time being credited as a producer on songs, and to act as executive producer on the full project shows that he was truly invested in getting this album right.
Though the sonics of the album veer off in different directions, Mendes is able to keep the body of work cohesive. He relies on his personality and the connections between the stories to tie the songs together.
The album opens with the lead single "In My Blood." When it was released it received instant comparison to Arcade Fire. It is also one of Mendes's most honest songs to date. Within the track he confesses his anxieties, but it's an uplifting track about refusing to give in.
"Nervous" is a Julia Michaels co-write that echoes Selena Gomez's "Bad Liar." The song is situated on a slick bassline and features a chorus of falsetto Shawns. It's flirty and fun in a way that Mendes hasn't explored before.
Julia Michaels also co-wrote "Like to Be You" which she features on. The John Mayer-produced track is short, but so grabbing. The two singers duet as a couple trying and struggling to communicate with each other. It is reserved but manages to pull your attention.
The other song with a feature on the album, "Youth," has the ability to be the anthem for a generation. Shawn Mendes and Khalid, who is the featured vocalist, performed the song at the Billboard Music Awards with students who survived the school shooting in Parkland, Florida. It was a deeply moving performance, and the song is stirring as a recording too.
"Where Were You in the Morning?" is Mendes' favorite track on the album. It's an expertly written, longing ballad about a one night stand. The song shows the young artist's new maturity and is one of his most impressive vocal performances.
Though he is experimenting with a lot of new genres, the old Shawn Mendes does shine through in a couple tracks. "Mutual" could have made itself at home on "Illuminate." "Queen" has the vibrant handclaps and energy of his debut album.
The album closes with "When You're Ready" which feels most like the Shawn Mendes we've heard before, and that's not a complaint in any way. It reminds you how he got here in the first place: the songwriting. He captures his longing and love so vividly in less than three minutes.
"Shawn Mendes" is likely to lock in Mendes' career. He gracefully transitions from teen to adult on this album, and there are multiple potential hit singles for him to push to radio. I wouldn't doubt that this could be the record to get him his first Grammy nomination either.