The minute you walk into Seasons, the newest addition to the beautiful Papadakis Integrated Sciences Building, you feel like you've left behind Drexel University and have stepped into a New York City cafe.
This small eatery has a very urban atmosphere to it, with large windows spanning an entire side of the rectangular space. Currently there are two small tables on one side and bar-like seating that overlooks MacAlister Hall and Drexel's bookstore — making Seasons centrally located. Personally I thought it was a great place to do my reading and relax with friends.
The people who work there are very friendly and patient — we took at least five minutes to decide on our entrees! They didn't seem to know too much about the food and the ingredients yet, but they were very open about their opinions on the food, which was helpful.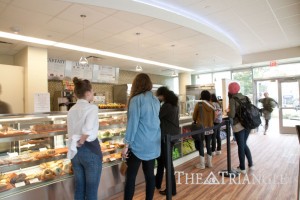 Drexel's newest on-campus restaurant, Seasons, is located in the Papadakis Integrated Sciences Building. The menu is limited but includes soups and quiches that change daily, as well as sandwiches, salads and exciting desserts.
The food, as you've probably heard from some, is actually worth the money. Their entree selection is pretty limited — four sandwiches and a couple salad options — but what they do have is very tasty. They also feature soups (which change daily), bagels, quiche (which also change daily), numerous desserts spanning from muffins to fruit tarts and gelato. During the span of our two visits, we tried numerous items from the menu and decided that their entrees are much better than their desserts.
Seasons' bagels are great to grab on the go, but the real attraction is their spreads. My roommate is absolutely in love with the apple cinnamon and still talks about it. We also tried the Mediterranean salad and the chipotle chicken sandwich — both of which were incredible. The only downside, aside form their limited entree selection, is that the food isn't made to order. Everything seems to be pre-packaged and put out in the cases. This could cause a problem for those with special dietary restrictions or food allergies.
The food that is offered is definitely healthier than that offered at Northside Dining Terrace, but the fact that it's packaged takes away some of the nutritional value. Another negative is that the desserts are overpriced and definitely don't taste as good as they look. The only desserts we liked were the fruit tart and the chocolate croissant. Everything else just seemed like it was thawed and served.
One of the oddest things that we noticed was something that might seem unimportant to some people but stood out to us as ironic. As environmentally friendly as the new building is, there is no recycling in the cafe. We felt weird throwing away our napkins and containers that were clearly recyclable.
Seasons is only open Tuesday through Friday. When it is open, though, it's a great place to visit whether you're alone or with another person. Just remember to keep your dietary restrictions and food allergies in mind and to bring along your dining dollars because, thankfully, they accept them!