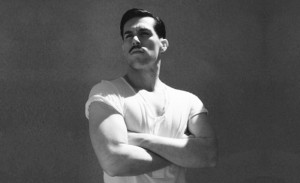 Sam Sparro, the Australian musician whose electro-funk hit single "Black & Gold" made waves back in 2008, visited Philadelphia for the first time April 23 to perform at World Cafe Live in front of a small but enthusiastic crowd.
Sparro rocked an ivory coat, retro wayfarers and his finely groomed mustache during the performance, which he kicked off with the new track "We Could Fly Away" off his forthcoming album "Welcome to Paradise."
His soulful voice glided over the often-bombastic arrangement of the new songs as his backup singers belted out colorful melodies. Accompanied by a full band, Sparro danced his way around the stage, moving and grooving to his own tunes.
The set list included a generous sampling of tracks from "Paradise" as well as the occasional song from his self-titled debut album. A highlight was "Yellow Orange Rays," a visual and sonic journey that Sparro suggested in a phone interview will likely be his next single.
The concert was just the fourth date of the East Coast leg of Sparro's first U.S. mini-tour. His fans seemed to have no problem getting into some of his new songs, dancing right along with him as he sang. Sparro's impressive falsettos and soulful charm captivated the crowd as he poured his soul into "I Wish I Never Met You."
The song is a powerful, searing breakup jam and a true standout from some of his other work. "I can't get out of my bed 'cuz I'm trying to get you out of my head," he crooned.
The track is the first single from his upcoming album, and the accompanying music video was released the same day of the concert. I briefly spoke to the artist before a sound check for his D.C. show, and he described the process of shooting the video.
"It sort of felt like an acting job more than a music video job. It was one of the first videos where I came up with the whole concept and was really involved in the whole process myself," he said.
A whopping five songs were performed off "Welcome to Paradise," a large chunk of new music for an artist who isn't overwhelmingly well known stateside. But Sparro couldn't be happier with the crowd's reaction.
"The crowds have been amazing, like really responding well to the new material as well. New York was amazing, and Philly was really fun, too," he said.
Sparro has been working hard on "Welcome to Paradise" for the past two years, spending time writing and composing in London, New York and Los Angeles.
"[The album] just sort of emerged as this tribute to the soul and funk and disco music of the late 70s and early 80s, but through my own life experience. The songs are all about my life over the past few years," he explained.
Later in his set, Sparro transitioned into a mashup of "Sick" and "Pocket" from his first album. The latter is one of my personal favorites, a catchy pop anthem that advises you to "keep your friends close and your enemies in your pocket."
Sparro divulged privileged information about the genesis of the track, explaining that its metaphors reference disagreements between the artist and his first record company, Island Records.
"It was one of the last songs I wrote on the album. I started to feel like I didn't really trust certain people that were around me and felt like I was being manipulated a bit."
For his most recent project, Sparro drew inspiration from Chaka Khan, Curtis Mayfield and Prince, among other defining artists of the soul genre. Thematically, he compared "Paradise" to the New York nightclub scene of the early 80s.
Rounding out his Philly set was the career-defining song "Black & Gold," a powerful hit that questions the existence of God in a compelling package. The song was certified gold in Britain and has been famously covered by Adele and Katy Perry.
This particular arrangement relied heavily on the beautiful saxophone melodies of one of Sparro's versatile backup singers. At this point in the set, the whole crowd was dancing and singing along. Then, with what would have been a more than satisfying performance, Sparro exited the stage, thanking his Philly fans.
He returned shortly for an encore, singing the popular song "21st Century Life," another highlight of the night.
Sparro is a very busy man. After finishing up his tour in the U.S., he will travel back to Europe to perform at various shows and festivals, including RockBox in London. He will be promoting his album throughout his tour, which will lead him to Australia and Japan and eventually to the U.S. for a second time.
Hopefully "Welcome to Paradise" will do for Sam Sparro what "21" did for Adele. Regardless, the record will surely cement his status as modern king of funk.