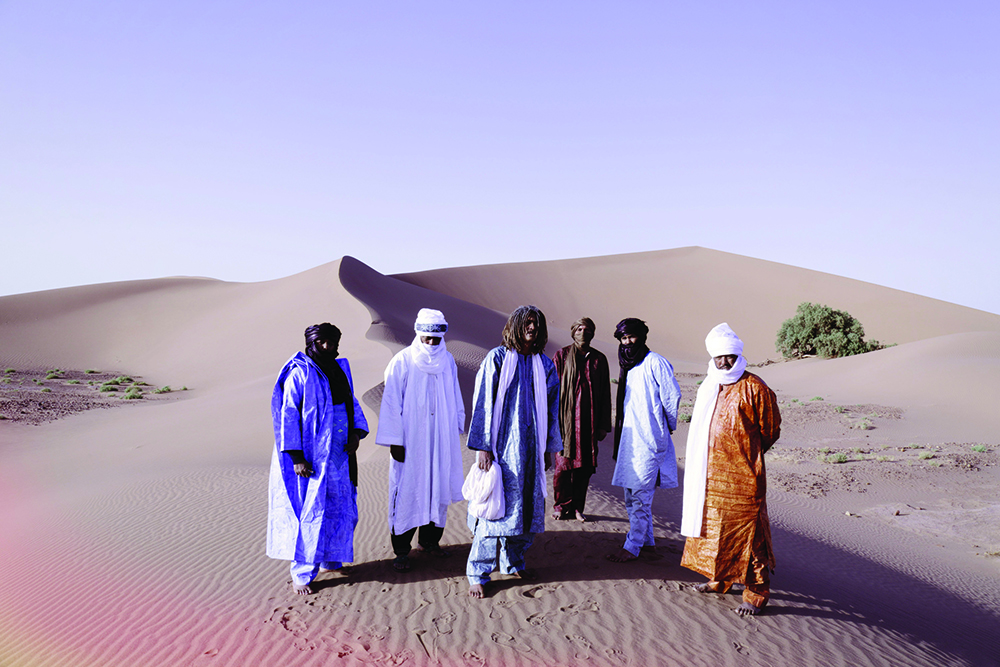 I was in for a big surprise when I agreed to venture out to see Tinariwen — a band I had never heard of — on a Tuesday night. My only exposure to the band before I heard them at the concert was a vague descriptor of  "funky." I figured that meant it was a small undiscovered indie band and headed over to the venue.
Union Transfer is a great venue and allows all ages. Despite the venue allowing all ages, it's definitely more enjoyable for guests 21 and older due to the setup of the venue. To even enter one of the three bar areas, which is placed near the entrance and exits, you have to be of age. It is definitely easier to navigate the venue when you can access all parts of the space. Nevertheless, the balconies and bar setup created a vintage look that accentuated the experience.
A large crowd gathered around the main stage, gawking at the foreign band from both the center floor, bars and balconies. The music has a mysterious, West African style, which is interesting and very danceable. The sound, which reminded me much of the desert, turned out to be quite relevant because the band is from a Saharan mountain range that is currently in a conflict zone. Although the music is not sung in English, it is still comprehendible that it is about their homeland.
From Tinariwen's Facebook page: "Tinariwen are poet-guitarists and soul rebels from the Southern Sahara desert. Their music expresses the aspirations of their people, the Kel Tamashek or 'Touareg' of the southern Sahara desert. The guitar is their weapon. Simplicity is Freedom."
Tinariwen is one of those bands that truly has something to say and sing about through music. The band's unique sound arrived from inspiration of moroccan rebel music and western rock and pop. Moroccan meets rock — you don't hear that everyday. Tinariwen is a globally recognized band that is enjoyed around the world. I highly recommend giving Tinariwen a listen. It is certainly not the average track heard around campus, but it's a rarity to find musicians this passionate who can successfully translate their rebellion in their music. Again, it may not be in English, but it is abundantly clear what their music is about.
They played a legendary concert that filled the space with worldly music and attracted an exceptionally friendly crowd that danced together, friends and strangers alike. If you see this band come around to Philadelphia again, know that they don't come to the U.S. regularly, so take advantage of their visit.