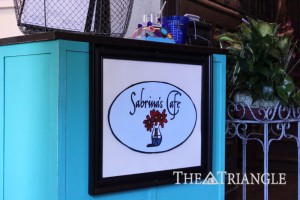 Sabrina's Cafe opened a new location adjacent to Ross Commons on the corner of 34th Street and Powelton Avenue. This is their first location in University City.
Additional reporting by Alex Mandel.
On a beautiful Saturday morning or when class is just a few hours away, Drexel students roam the campus trying to decide between the familiar and the same-old.
On a campus where the food market is dominated by pizzerias, cheesesteaks and fast food indigestion, Sabrina's Cafe is Pepto-Bismol relief for the well-cultured restaurant patron. The well-established Philadelphia breakfast, brunch and lunch cafe recently opened its third location at Drexel University on the corner of 34th Street and Powelton Avenue. Adjacent to most Drexel dorms, the old Victorian Ross Commons lends a charming, although less-than-perfect atmosphere.
Upon arrival, expect to be seated right away in a cramped space never intended to accommodate a restaurant of any kind. The small tables have only enough space to satisfy one plate; as your food arrives, you'll quickly notice and fear the possibility that the entire presentation could end up in your lap at any moment.
Despite obvious space issues, the atmosphere does prove to be quite charming and of traditional Powelton Village style. For example, the hanging plants and French-style trim found in the wraparound porch area help create a modern-antiqued, homey atmosphere.
Sabrina's menu, however, is nothing short of impressive. It is unique and creative, like those found at the cafe's other locations in the Italian Market in South Philadelphia and Fairmount. Inside, you'll find their famous breakfast dishes, including the challah French toast and the apple and Wisconsin cheddar omelet. The challah French toast, as an example, is a unique take on traditional French toast, stuffed with farmer's cream cheese and topped with bananas and vanilla bean syrup. And for lunch, be sure to try Mel's Chicken Cutlet, as described in the menu, "cornmeal encrusted chicken topped with spinach, marinated long hots and melted provolone cheese."
Sabrina's also has a fantastic selection of "vegetarian-friendly options," including the roasted garlic hummus and vegetarian Philly cheesesteak. The hummus is served on warm pita bread and topped with peppers, olives, cucumbers and feta. The steakless cheesesteak includes seitan, onions, extra-hot peppers and good ol' provolone cheese.
However, despite all these tasty options, this location differs slightly in that the dinner section is currently missing. The cafe is open Sunday and Monday from 8 a.m. to 4 p.m. and Tuesday through Saturday from 8 a.m. to 10 p.m. If the sit-down restaurant is open until 10, surely its dinner menu will make a fine addition, should it ever arrive. Still, the food that we did try was delicious — even after a few service issues.
A very friendly hostess seated us right away. We had to wait a while to order and received another table's check. They were out of bagels, which our waitress explained was simply due to the fact that they arrive fresh each day. "We aren't sure how much we're going to need each day, just yet." Even though the initial service wasn't up to Sabrina's standards, it's comforting to know that the ingredients are ordered fresh daily. We chalk it up to a hectic first week, and are confident the slip-ups will subside.
Kudos to the cooking staff, however, who were flawless. They presented us first with our appetizer, a beautiful plate full of soy sauce-garnished vegetable spring rolls. Perfectly crisp, the spring rolls contained flavorful vegetables, all of which were fresh and in season. Next, we sampled the Tuscan chicken sandwich. The chicken was seasoned with rosemary and basil, giving it that Italian flavor. There to fill out the sandwich were the sundried tomatoes with a subtle Asiago cheese all served on a crunchy Sarcone's roll.
The bacon and bleu cheese frittata, a classic Italian dish, was delivered with fresh American ingredients. The presentation alone was a sight to see: it almost made us forget we were at Drexel. The frittata was complemented with country toast, chewy bacon and potatoes sauteed in caramelized onions. It was not enough that the technical cooking was perfect, but the arrangement, too, elevated this dish beyond expectation. The sugary onions worked to balance out the sharp bleu cheese, hitting that perfect equilibrium between bitter and sweet: a great combination whose flavor and tastes complemented each other perfectly.
Even in the spirit of being picky and annoyingly meticulous, it was difficult to remember what we didn't like about Sabrina's once the food was in our mouths. And even with minor irritations, all in all Sabrina's Powelton location is a great take on the classic American brunch restaurant with slight Spanish and Italian persuasions. Putting an elegant and creative twist on American classics, offering a sensational menu with freshly delivered ingredients, Sabrina's is a welcomed addition to our community.