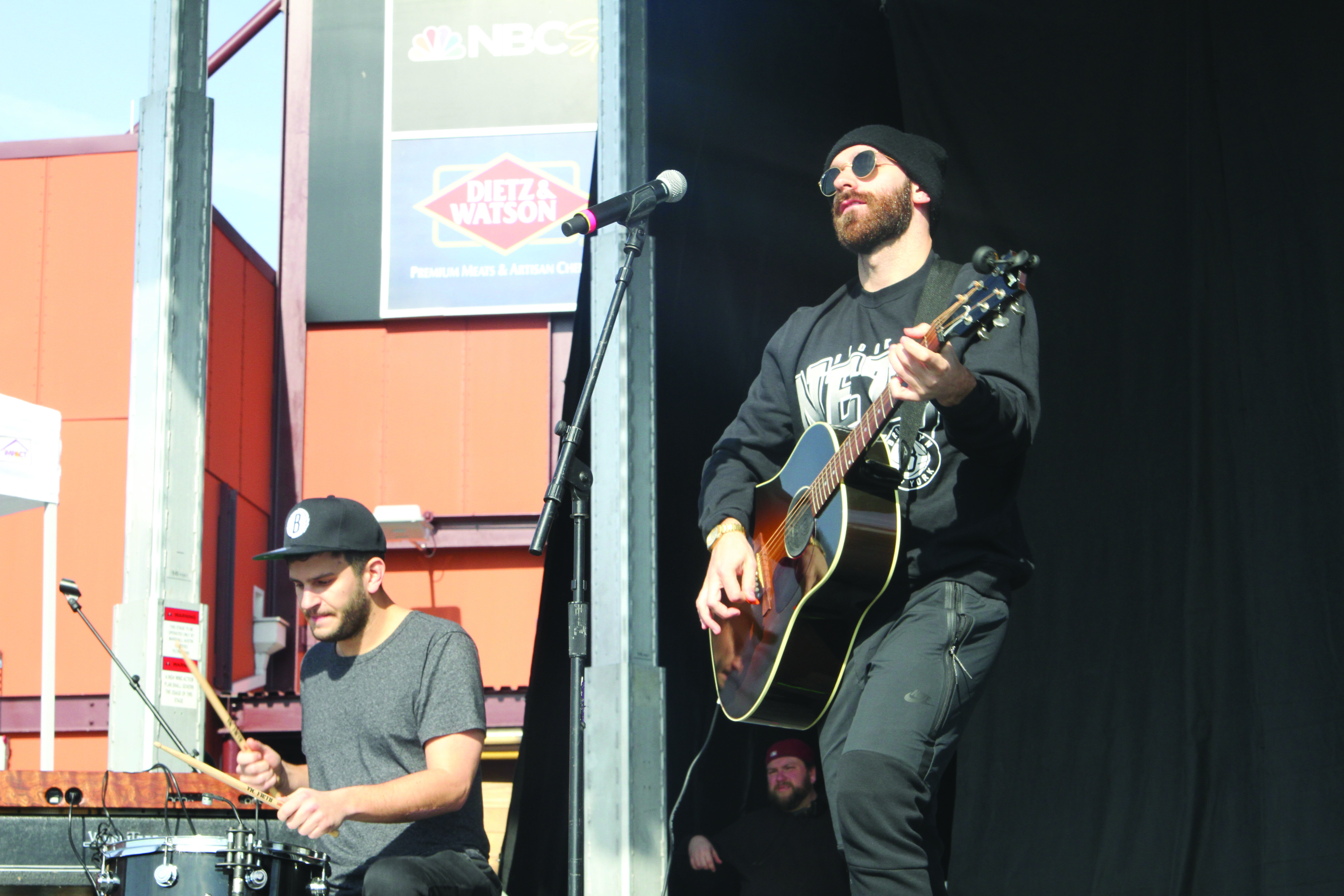 Radio 104.5 is the best thing to come out of Philly since the Philadelphia cheesesteak. Philadelphia cheesesteaks are one of a kind. They are found on menus across the nation as recognizable hoagies that, while delicious, can never measure up to those snagged from a food truck in their native city. Radio 104.5 is no different. The alternative-style radio station holds six free concerts every year with many fans hoping other radio stations to follow suit. Drexel students may wonder "What is a free concert?", considering students are expected to pay $10 to see random artists like Schoolboy Q, Trinidad James, OK GO! and occasionally a good artist like Wiz Khalifa. However, every winter, the radio station gets together some of the most relevant indie bands to to play at their Winter Jam. Last year, participating artists included Cold War Kids and Walk The Moon. This year, fans got to see Coleman Hell, Nathaniel Rateliff and the Night Sweats, Elle King and Andrew McMahon (formerly of Jack's Mannequin).
If you don't follow the indie music scene, you have likely never heard of any of these artists, but you have definitely heard their music. Coleman Hell is well known for their country-EDM-inspired song "Two Heads," Nathaniel Rateliff and the Night Sweats are known for their jazz-infused folk song, "S.O.B.," Elle King is known for her pop-song currently sweeping the country ("Ex's and Oh's",) and for her father, Rob Schneider, and 10 years ago Andrew McMahon was the frontman of the ridiculously popular bands Jack's Mannequin and Something Corporate. McMahon is currently the frontman of Andrew McMahon in the Wilderness, best known by their "Cecilia and the Satellite." Local bands American Dinosaur, Summer Scouts and The Cold Fronts were also in attendance. Even if you haven't heard of any of these artists, just give it a try because the show was totally free, the energy was incredible and it was something any music fan should want to attend. Not to mention, it was at Xfinity Live! which is one of Philly's nicest bars.
Coleman Hell's set was great, however it was clear that that the audience just wasn't too into the music, seeing as the band only has one six-song EP. Between Hell's set and Rateliff's set, X Ambassadors made a surprise appearance to play a single song.
Rateliff's set was also great, but as expected, the audience really only knew his one popular song "S.O.B.." The band had a lot of energy and interacted with the crowd on an almost personal basis, at one point even stopping the show to introduce themselves and continue their song right back where they had started.
King was the least kid-friendly part of the show; in between songs she would proclaim how drunk she was and start swearing vulgarly while describing why she loved Philly. King was not very lady like. It was almost as if she were raised by an animal (which makes sense because Rob Schnieder, her father, starred in "The Animal," a film in which he plays a man-animal hybrid). She angrily yelled about her guitar not working properly, started to play her banjo, jammed out to "Ex's and Oh's" and then left the stage without ever announcing she was finished. The entertainment value was off the charts, but most fans at this point came to see headliner Andrew McMahon in the Wilderness.
Although they are currently touring the ten year anniversary of their album "Everything in Transit," Jack's Mannequin took the night off for frontman Andrew McMahon to show off under his moniker Andrew McMahon in the Wilderness. McMahon's project has only released a self-titled album but the audience knew every line from every song. What's better is fans erupted to hear the live band play songs "Dark Blue" and "Holiday From Real" which are 10-year-old classics from Jack's Mannequin. The fans also erupted when McMahon claimed there weren't enough crowd surfers, leading at least 100 audience members to crowd surf at some point during the show. The highlights of this include fans at one point lifting up a trash can and letting it crowd surf, as well as McMahon himself "catching the wave" during his song "Cecelia and the Satellite," a song written about the artist's daughter. At the song's conclusion, confetti cannons exploded, sending down a rain of different colors which gently covered the outdoor venue's parking lot. The band played one more song before leaving the stage and thanking the fans.
Radio 104.5 put together a stellar lineup of indie artists writing some of the most creative and powerful lyrics. Though the lesser-known acts didn't have the same respect as an act like Andrew McMahon in the Wilderness, they brought the same amount of energy, love and appreciation for the audience to see. If you're a lover of music, Radio 104.5's free concerts are a gift and a wonderful thing to be at.