Comedian Rob Delaney generously took the time to talk to The Triangle on the phone March 6. Delaney made a name for himself on Twitter with his descriptive and often vulgar humor. To some, his name is synonymous with the website. In fact, Delaney may not even have had the comedy career he has today if it wasn't for Twitter. He was crowned the "Funniest person on Twitter" by Comedy Central in 2012 and recently crested the 1 million followers mark. Don't let all that background information fool you; Rob is not a one trick pony. In fact, he is now a best-selling author, lends his name to a board game, writes screenplays and starred in a television pilot. I caught up with Rob to see how he manages to do it all.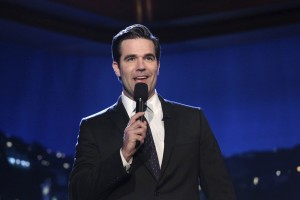 A jack of many trades, Delaney said that performing stand-up comedy is still his favorite thing to do.  He described it as the "main event" and said that it is the "best way of self-expression" that he can find. In 2013, Delaney released his first comedy special, "Rob Delaney Live at the Bowery Ballroom," on his website before it eventually made its way onto Netflix to be streamed by thousands. When asked about the comedy tour he was about to embark on, Delaney said that the material would be "totally new" from what was on "Live at the Bowery Ballroom." Delaney's upcoming tour is relatively short, a three-day stretch at the end of March and about a week in the middle of April. When asked why he does not embark on longer tours, Delaney described how he "never goes out too long" because although doing the live shows are great, he said simply, "Travel sucks." Delaney lives in Los Angeles with his wife and young children and said that an extended tour would keep him away from home for too long. It's very understandable when you consider how much time and energy it takes to crisscross the country telling jokes, crashing in hotels and motels along the way.
On March 28, Delaney will be performing at the Trocadero Theatre in Philadelphia. Delaney said he "loves Philly" and sounded excited to be coming back to town. I asked whether he would be looking to pick up a famous Philly cheesesteak while he is in the city, and he replied, "Maybe, I like this place called Rangoon." Rangoon Burmese Restaurant is on North 9th Street near Chinatown. Check it out sometime!
I had a chance to discuss Rob's first book, released this past November, titled "Rob Delaney: Mother. Wife. Sister. Human. Warrior. Falcon. Yardstick. Turban. Cabbage." It is a memoir of his days growing up in Marblehead, Mass., studying theater at New York University's Tisch School of the Arts and his personal struggle with alcoholism. The book is painfully honest, exceptionally funny and is definitely worth reading. Delaney described his book's reception as "fascinating because people are actually reading something that I wrote." He repeatedly stressed how hard and often lonely writing a book can be. When talking about his writing style, Delaney said that he would do "about 2500 words on a good day" and that he would usually "write in the mornings and try to be done around 1 [p.m.]" Some authors that were influential to Rob as he wrote include Margaret Atwood, author of "The Handmaid's Tale," and Herman Melville, who wrote a book many are familiar with from high school English class, "Moby Dick." Delaney said that he wouldn't count out writing a second book, but that it would probably be a collection of essays or short stories rather than another memoir-style offering.
I closed by asking Rob whether he had any advice for young college students who may be trying to become stand-up comedians. "Being a comedian is difficult. It's a big undertaking. You need to keep writing. You need to do it so much, get on stage all the time. You have a be a dreamer and a hard worker," Delaney said. He ended with a line that can apply to any college student trying to find a worthwhile career: "You better love it."