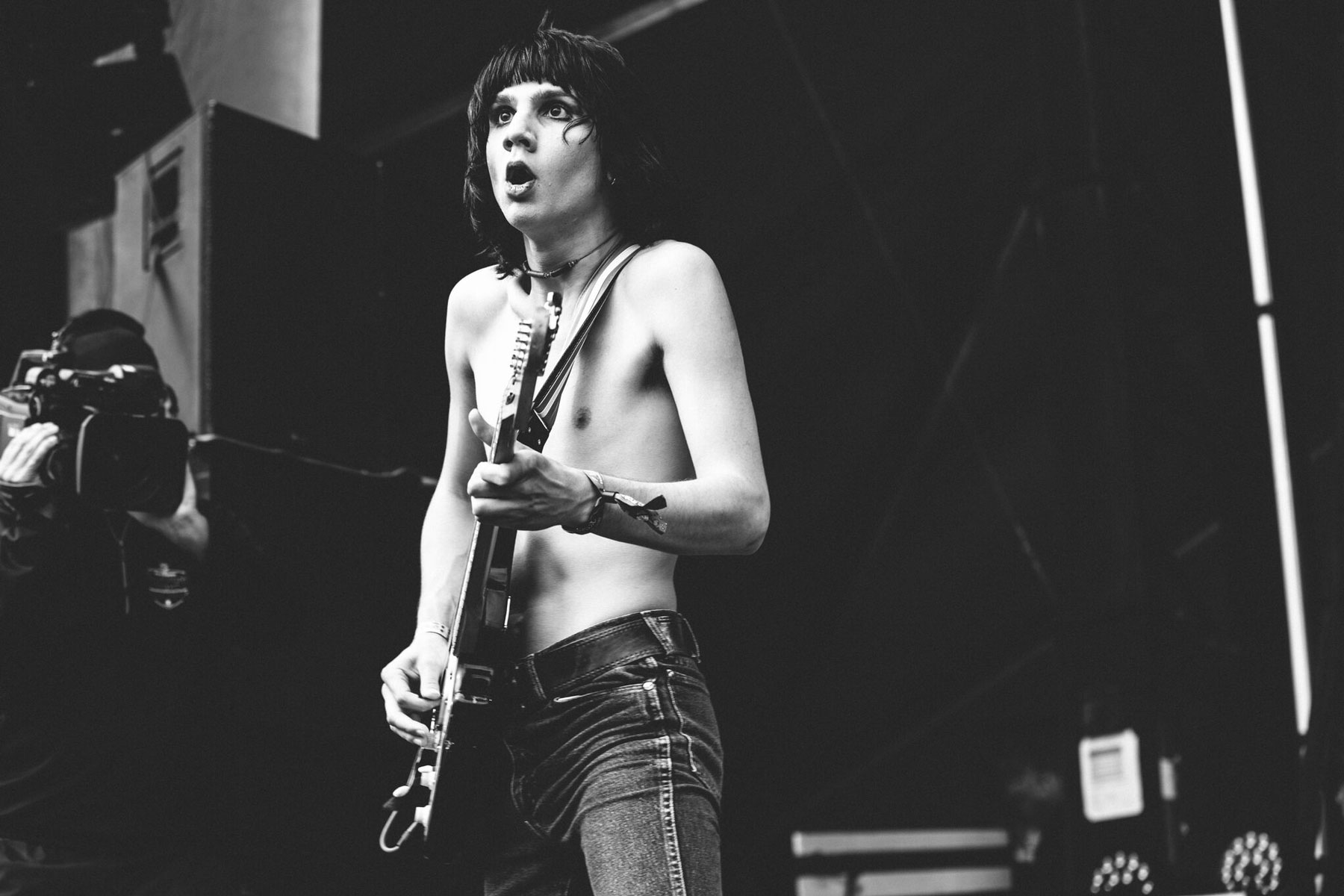 Chicago's Grant Park was the place to be Aug. 3-6.
Lollapalooza, Chicago's most well-known annual music festival, is known worldwide as somewhat of a tastemaker and a start for up-and-coming rock, pop and hip-hop artists, as well as featuring a host of great headliners for their many stages.
This year, Lollapalooza's headliners included Chance the Rapper, Muse, Arcade Fire, Justice, Rae Sremmurd, Zeds Dead, The xx, Mac DeMarco, Kaskade, The Killers, Blink-182, Crystal Castles, DJ Snake, Lil Uzi Vert and Lorde. I can't emphasize enough how huge this festival is, to be able to accommodate so many great headliners.
The festival runs each day from noon to 10 p.m., with various bands and artists performing throughout the day on the eight stages. There are tons of local vendors and charities that have booths set up all around the park, as well as refreshing stations and bar tents.
The first day of the festival included some great sets from Temples, Migos, Cage the Elephant and Kaytranada. There was also an incident on Day 1 during Liam Gallagher's set where he was allegedly having issue with the vocals, and he walked off about 20 minutes into his set. Some speculate (maybe jokingly) that he got angry and stormed off because one concertgoer was holding a banner that said "I love you, Noel" (Gallagher's brother, with whom he is famously on bad terms).
Unfortunately, the city was also plagued with rain on this particular day, which proved to pose a problem for the festival-goers later on. No more than a few songs into Lorde's set, the festival was called off due to the impending danger of the storm. Muse, Lil Uzi Vert and Porter Robinson were also cut off early due to the rain. Despite the setback on Thursday, things shaped up more nicely for the rest of the weekend.
Friday, Day 2, hit the ground running with Chicago-native punk band The Frights. Their energetic performance got everyone at the Tito's stage amped and ready to start another day of Lolla. Towards the end of their set, they played a punked-out rendition of Tom Petty's "American Girl," which incited madness among the moshing fans.
At 12:45 p.m., Philadelphia's own indie rock group The Districts performed on the main stage at Grant Park, the very same place where The Killers would play just hours later. Their newest album, "Popular Manipulations," has just been released Aug. 11. While I'm admittedly not a fan of their newer work, it was a real treat to see them play some of their older songs live. They have good stage presence and typically get good energy out of crowds.
Another standout act from Friday was The Lemon Twigs, who played the Lake Shore stage at 3:45 p.m. Comprised of two brothers Michael and Brian D'Addario (neither of whom are even old enough to drink) and two backing musicians, they released their debut album "Do Hollywood" in 2016 to much acclaim. They put on one of the best shows I saw all weekend, switching instruments, jumping and kicking the air on almost every beat and playing tighter than a band that young should be able.
At 7:45 p.m., Chicago indie rock band Whitney graced the Pepsi stage. They played most of their debut album "Light Upon The Lake" as well as a couple covers, including "Magnet" by NRBQ. During their instrumental track "Red Moon," they brought out fellow Chicagoan rapper Joey Purp to freestyle over the beat. It was awesome. They also brought out a small string section to embellish for the last few songs of the set.
At this point, the sun was down and the people were clamoring to see some headliners. Luckily, they had some options. Blink-182, The Killers, DJ Snake and Crystal Castles were all performing at the same time. I started out with Blink-182, which I figured would be a fun time. I wasn't wrong; Blink's set was essentially a huge singalong with thousands of people who also went through a "Blink phase" in high school. While Blink-182 isn't as tight as they used to be, being a part of the crowd was a fun experience.
The Killers' set was everything Blink's wasn't. It was refined, structured, well-mixed and well-performed. It had a much softer edge and made for a more relaxing experience while Blink-182's set was a more energetic experience. It was great to hear banger after banger (The Killers just have so many of them).
The next day was probably the biggest day out of all four in terms of crowd size. The sun was finally out, the day was hot and the acts were hotter. Kicking us off in the early afternoon, Philly rocker Ron Gallo played at the BMI stage. He played some great straight-up rock 'n' roll songs off his debut record "Heavy Meta," including "Kill the Medicine Man," "Young Lady, You're Scaring Me" and "All the Punks Are Domesticated."
Canadian dream pop band Alvvays played a great set at the Bud Light stage at 3 p.m. They performed most of their 2014 debut self-titled album as well as a few new ones off their new album "Antisocialites," to be released Sept. 8.
At 4:15 p.m., psych pop band Glass Animals played a wild set at Grant Park. Their tropical visuals and psychedelic music made for a very enjoyable middle-of-the-day performance. At 7:00 p.m., The Head and the Heart played a beautiful set at the Bud Light stage. They do the indie folk sound really well, especially on their 2013 album "Let's Be Still." Their third album, "Signs of Light," veers closer to a mainstream rock sound, but it still has some good songs. Their harmonies and lush acoustic song arrangements were fantastic live, especially the more textured songs like "Another Story," "Shake" and "Rivers and Roads."
Chance the Rapper's headlining set was easily the most packed performance of the entire weekend. It was nuts. He played a solid set, playing many hits from his recent mixtape, "Coloring Book." Although it was a good set, I heard some complaints that he didn't deliver in his promise to make this hometown performance special; apparently he mostly stuck to old tricks.
Also headlining on Saturday was Mac DeMarco, who played a stellar set at the Pepsi stage. His trademark reverb-soaked stoner rock sound had never fully pulled me in until I saw his live show. Hits such as "Ode to Viceroy" and "Chamber of Reflection" really came to life in a live setting.
To kick us off on the very last day of the festival, Chicago's own indie rockers The Walters played a rambunctious set at 12:50 p.m. These hunks have been releasing music independently for a couple years now, and have garnered a decent amount of attention (and rightfully so). These guys really know how to rock. You only need to see them perform "Hunk Beach" once to see what I mean.
Next up, Machine Gun Kelly took the stage at Lake Shore. I was drawn in when he played his recent hit with Camila Cabello, "Bad Things," which was a lot of fun to see live. I don't know any of his other songs, but I ended up watching his entire set. It was a lot more entertaining than I had expected; it was trashy fun. Who knew MGK had those guitar chops?
Immediately after on the main stage was Maggie Rogers. Rogers, who very recently blew up when a video of Pharrell Williams listening to her song "Alaska" went viral. She is very young, and so full of talent. Her modern pop style and folk songwriting tendencies create a unique and interesting sound. She is also just such a beautiful person — I couldn't bring myself to look away as she hypnotized me with her music and charm.
When she left the stage and the spell was broken, I made my way over to the Bud Light stage to see Car Seat Headrest. Will Toledo, the creative force behind Car Seat Headrest, makes sad white boy music, but it's sad white boy music that rocks pretty hard. "Drunk Drivers / Killer Whales" may have been the best singalong I was a part of all weekend. He shredded away on the guitar, extending most songs with additional solos and breakdowns.
At 6:30 p.m., R&B singer Sampha played an incredible set at the Pepsi stage. Him at the piano and his backup musicians at their respective percussive instruments, they all sported white jumpsuits. He played many songs off his 2016 album "Process," as well as a few older songs and his recent song with Drake, "4422."
Closing out the night at the Perry's stage was Zeds Dead. It's a wonder the Perry's crowd, most of whom rave all day each day, were still standing to see Zeds Dead perform. That's the power of lots of uppers, I guess! Zeds Dead played a very energetic set, giving a satisfying end to this year's Lollapalooza festival.