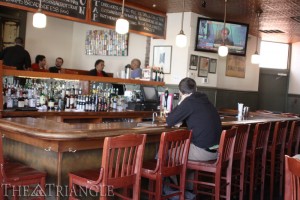 First things first: Keep a watchful eye when looking for Resurrection Ale House. My companions and I learned, the hard way, of course,, that the establishment is tucked into a street corner much like a dive. Indeed, the South Philadelphia neighborhood in which married owners Brendan Hartranft and Leigh Maida opened RAH, their third restaurant together — following the debut Memphis Taproom in Kensington and succeeding Local 44 in West Philly — is itself tucked away. Aside from the Naval Square that happens to be directly across from the restaurant, the surrounding streets feature rows of townhomes with little space for much else, including parking. So, after passing the restaurant, making a U-turn under a highway passing and parallel parking into a spot that seemed only accommodating for a big-wheeler, we finally sat down for one of the best meals I've ever had in Philadelphia.
RAH specializes in craft beers, offering 12 beers on tap — including an option from Victory, a brewery close to my hometown of King of Prussia, Pa. — and one from its state-of-the-art beer engine. However, the restaurant does not pigeonhole itself with its alcoholic selection; it also specializes in uniquely crafted food. To be honest, it's hard for me to keep a critic's stance when reviewing this restaurant — my meal was just that good.
I ordered the lamb burger, and it was quite possibly the best burger I've eaten in the city so far (in a close running with the House Blend Aged Beef Burger from The Dandelion Pub). The meat was beautifully cooked, indicated by the juices dripping down my chin and fingers. It was perfectly complemented with harissa mayonnaise, sweet onions, arugula and feta cheese (it costs extra for this, but trust me, it's worth it). The platter also came with a side of hand-cut fries. Although an odd, nitpicky complaint, they were a bit too small in length for me — they were more like nubs rather than strands of potato. Again, it's a fussy critique that can be overlooked, especially because the curry ketchup accompanying the fries was out-of-this-world delicious.
That being said, the cranberry farro risotto fell short. For starters, it wasn't a traditional risotto but instead seemed to have a base of barley or some other denser, larger grain. Then there was a lack of any real sauce — I tend to imagine a creamy one for risotto — which left the dish quite dry. Furthermore, I'm not sure if there were even cranberries in it! Based on the flavor, which was fairly muddled because of the overwhelming graininess of the "risotto," I would think not. On a brighter note, the roasted acorn squash added an appreciated texture and taste. All in all, though, I'm glad I didn't forfeit my lamb burger for this meal.
If I were to return, there are many other dishes to try, and interesting ones at that. Although RAH is known for its twice-fried chicken with honey and a buttermilk biscuit, most of the options take an innovative twist on classic bar food. For vegetarians, the mushroom banh mi (banh mi being Vietnamese for "baguette") will certainly surprise the palette, being topped with toasted nori (otherwise known as seaweed), pickled vegetables, mushroom pate and a chili mayo. As a bonus, all of the sandwiches come with fries and stellar dipping sauce. Also, if you're like my companions and me — we require a first course in order to make it to the second one without eating each other — there is a variety of elevated bar snacks to hold you over. I can personally suggest the Resurrection wings, which are drenched in a sweet barbeque sauce rather than the typical hot buffalo. Although I prefer to ignore health consciousness when dining out, the menu features healthier appetizers as well, including Brussels sprouts (I'm kind of cheating here; they come with apple butter and pancetta — yum), warm romaine heart and a cheese plate. But again, for those of you who are like me, I'd recommend the crispy pork belly or white bean and cabbage gratin.
My dining partners and I also like to indulge in dessert, so naturally we requested a dessert menu. It seems they are seasonal, or at least rotational, because the waitress didn't have a menu but instead simply told us our options. No matter, because when it came to sweets and treats, we gave our full attention. Unfortunately, and rather devastatingly, they didn't have any more of our dessert of choice, deemed "milk and cookies" (the name says it all). Granted, it was only around 6 p.m., seemingly too early in the dinner rush to have already run out. Needless to say, we were disappointed. However, stopping by Insomnia Cookies on our way back to satisfy our cookie craving, we were able to reflect on the night. Overall, the lamb burger alone will have me going back to Resurrection Ale House. I also look forward to a chance to try that dessert!