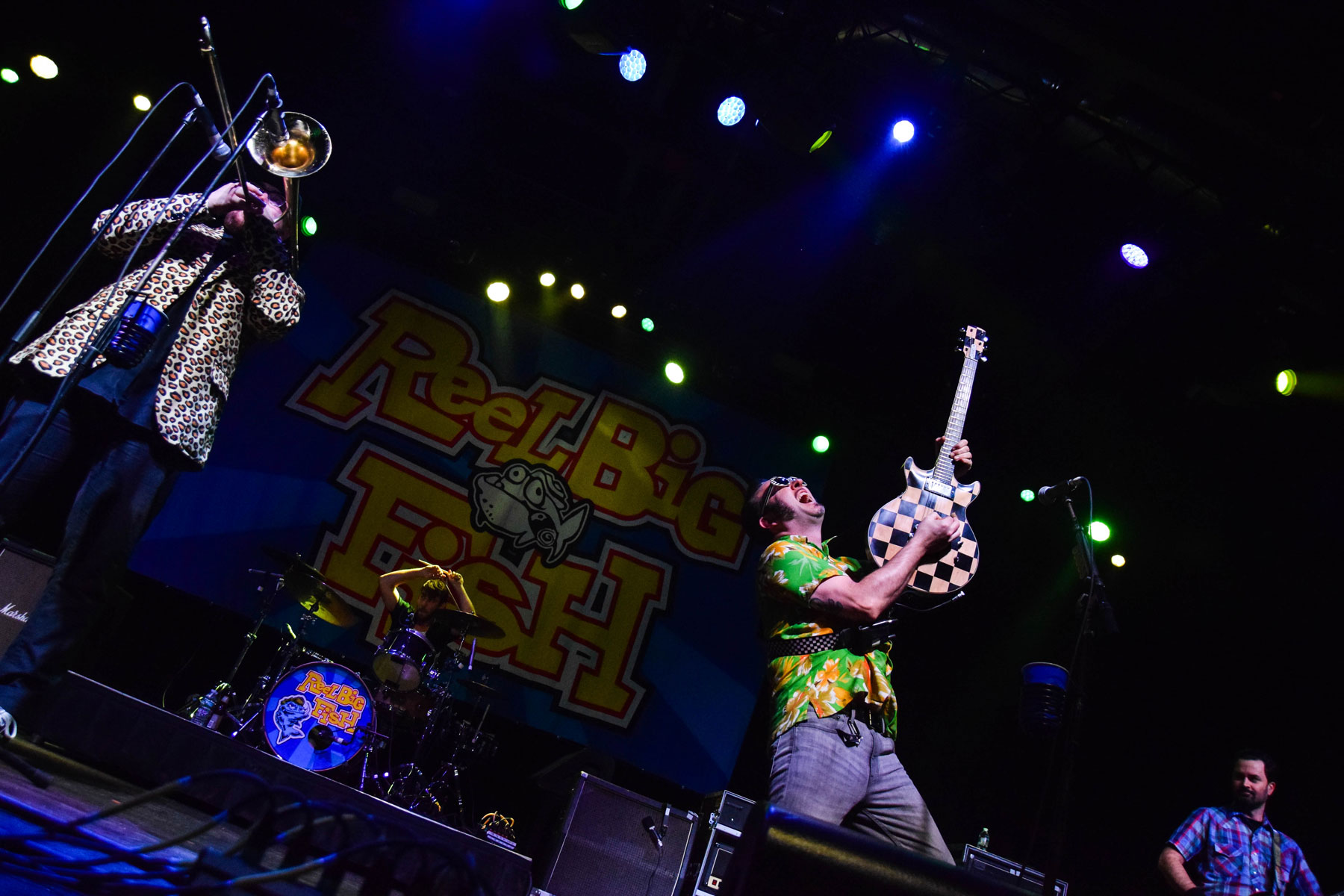 No matter what some people may think, punk truly isn't dead — and that includes all of its subgenres. Staple ska-punk band Reel Big Fish made a splash at the Fillmore Jan. 19, supported by Anti-Flag and two additional openers: Ballyhoo! and Direct Hit!.
Reel Big Fish has been around for years now, earning early recognition for their hit "Sell Out" in 1997. Since then, they've been around for all the different waves of ska. The band continues to tour without being signed to a major label, and easily draws a crowd of remarkably punk fans. They have been a recurring act on the largest traveling American tour, the Vans Warped Tour, including this past year on the Journey's Left Foot stage.
Direct Hit! opened the show at the Fillmore with a few songs that were good, but displayed mostly generic punk with little diversity. It was clear that their music wasn't for everyone. Ballyhoo!, however, came out unexpectedly with a killer set that got the crowd hyped.
Ballyhoo! boasted a mix of high energy pop, rock, punk and ska that made me feel like I was in a Californian summer flick. Their West Coast-inspired pop punk reminded me of the Offspring's 2012 single, "Cruising California (Bumpin' in My Trunk)."
Of all the acts that performed, though, Anti-Flag were the ones to make a statement. Often times, the most memorable experiences at a concert are the band's interaction with the crowd. Anti-Flag delivered nothing less than an amazing set with a message.
The punk movement has been attributed to anti-government and political activism, so it's no surprise political issues were addressed (especially considering the band's name). Anti-Flag brought more to the show than their political views. They focused on the power of music and emphasized that in that room; there was no judgement or separation — only unity — for at least a few hours.
One of the most memorable moments was when lead singer and guitarist, Justin Sane, remembered a fan in the crowd from the night before and pointed him out during their set. It is this kind of connection and interaction with the audience that really sets a band's set apart from others.
"What got me into punk rock was realizing this was a community of people that gave a f— about something more than themselves," Sane expressed towards the end of their set.
When Reel Big Fish finally took the stage, the crowd was ready for some feel-good ska-punk. The band's cult status was evident by their diverse and packed Fillmore crowd. Fans ranged from young kids to grown up punks that never really grew out of the so-called "phase."
They opened the song with "Ole," a traditional cover fans were expecting. It was my first time seeing them live, so I didn't know what to expect when they walked onstage, trumpets and all. Reel Big Fish really put in the time to create an all-around exciting show, rather than just a typical performance. Their Hawaiian shirts and beachy attire were both entertaining and theme-fitting.
The crowd was wild with excitement when the band played their hit, "Sell Out," as the fifth song of the night. The 2,500-capacity room was sparse when I first arrived, but by the end of their set it was packed to the back.
It's worth mentioning that the tour is currently supporting several charitable non-profits. During Anti-Flags set, two speakers were briefly brought on stage to discuss the Love Hope Strength Foundation and the environmental protection organization Sea Shepherd Conservation Society. The Love Hope Strength Foundation travels with bands to shows, encouraging fans to sign up as bone marrow donors, with a motto many people have heard before, "punk rock saves lives." Sea Shepherd does the work the government can't or won't do, saving oceanic wildlife and gaining donations at each show they tour with.
The diverse musical lineup of Reel Big Fish, including a trumpet, saxophone and trombone, adds an interesting dynamic that has kept them alive for several years. It is rare for a ska-punk band to survive this long and fill a room as an independent. Fans proved that they are dedicated and will continue to come out until Reel Big Fish finally decides to stop touring, whenever that may be. I'm excited to see what they do going forward, and the same goes for Anti-Flag and Ballyhoo!.