Scott Terry of the Ohio startup band Red Wanting Blue spoke with me last week about his past experiences on starting the band in 1996, being independent for 14 years, signing with the Fanatic Records label, and his new tour which started Oct. 3.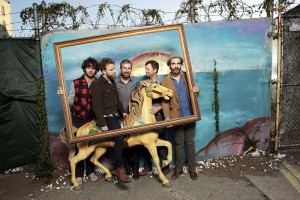 The Triangle: So you guys have the Dime Store Circus Tour kicking off tomorrow, and I'm sure you are excited to be out on the road again. Could you tell me something about the tour?
Scott Terry: We've been touring for the last year and a half off of our record "From the Vanishing Point," and this is going to be our last national tour before our new record coming out next year. We have gotten a reputation for having a kitschy knick-knack style stage setup; we guard our stage with thrift store souvenirs. I mean, you saw at Bunbury a very, very small bit of that, like the Lite-Brite and bubble lights and chandeliers and fun stuff like that. So when we have our new record out, we will probably do a little bit of a change. One of the things that has given us a reputation has been our setup, and I know that this is the last ringing of the bells for the setup before we move into a new phase and do something else.
That's kind of why the name is appropriate for the tour — the Dime Store Circus Tour. I mean, we've been touring since God knows when, collecting knick-knacks from Salvation Army and thrift stores, and they've been our little keepsakes and mementos, and we like putting them onstage with us. Probably [a] more appropriate [tour name] could have been Thrift Store Circus Tour — but we like the idea of the five-and-dime, and our stage always comes along with us like a big gumball machine. We try to make it as fun of a show as we can.
TT: I also see that [on the Dime Store Circus Tour] you are doing some shows with Will Hoge and Swear and Shake.
ST: Yeah! Yeah, those guys are becoming good friends of ours. Will we've known for years, and he is an outstanding singer/songwriter and performer, and if you've never heard him before he's wonderful; to give you an idea, one of the songs he wrote was for the first episode of the TV show "Nashville" and [the one] that [the] Eli Young Band is known for on the country charts. He is a great writer, so we're really excited for that. He's also a bit of a troublemaker on tour. He likes to pull pranks and whatnot, so it's always exciting. You kind of feel like you're at summer camp with him, tricks like getting your car covered in confetti and balloons and stuff when you're not paying attention.
Then Swear and Shake is a band that we met through touring on The Rock Boat, which is a floating music festival hosted by Sister Hazel and Sixthman (who do most of the big concert and music festival cruises), so we got to meet them last year, very cool, very cool people, so we're excited to be playing with them this fall too. We're going to be playing some new music this tour that we're premiering this weekend, some of the songs off the new record; we're sort of chomping at the bit.
TT: Speaking of the record label, in 2010 you signed with Fanatic Records, and before that you were independent for basically the entire existence of Red Wanting Blue, so you said it changed the production of the new album. What else did it change for you guys?
ST: Yeah, [we were] completely independent before, and, well, it's changed the landscape of what we do pretty dramatically on some levels, but on some levels nothing has changed. We've always been a do-it-yourself organization, and Fanatic is a very mom-and-pop record label. Although it's under the umbrella of Capitol and EMI, they like the way we do things, so they are very involved in our careers; they make a huge difference.
We heard a lot more horror stories than success stories of bands getting signed, you know, so my experience with it was more of trepidation, like, "Uck, I don't know if I want to do that." … I think because we did it the real grassroots way for [so] long, we found ourselves sort of hiding in plain sight. … Other record labels and people knew who we were, but we did well enough on our own, … and we had plenty of small offers early on, but we just kind of continued to do our own thing. Then Fanatic came around and said they really wanted to help us continue what we're doing, so we took a chance [with] them because it was a new label with new ideas.
It didn't seem like we were signing on to be band "No. 8,672,000" in a chain of all these [other] bands. … We hear a lot of stories like that, so the fact that Fanatic really believed in our band and … wanted to share in our vision was why we went with them. [I]t was a really good decision because from that we wound up rolling into a top management company that represents us now, a top booking agency that represents us now. We got to be on national television … so things have been rolling in our favor as a result. I hate to sound like a guy who was too scared to gamble for 10 years, then I finally gambled and I won. So we're really happy about it.
TT: Before, when you were an independent band trying to get a grassroots following, was it difficult to tour and produce the albums without the label to back you?
ST: Oh absolutely … when you're coming up with all of the funding yourself and doing it yourself, you really are doing it yourself. … Basically record labels are banks — they help you, they pay forward for what you're going to do; but when you are on your own you have to prepare for that. We've always been a band that's tried to, pardon the expression … "piss with the big boys." We've always wanted to do touring the way that big bands tour and the way big bands release records, so it's taken a lot of careful consideration on our part on more than one aspect of our careers. … It's such a circumstantial situation; some people have great stories and some people don't. I would say for us … our relationship with Fanatic has been kind of "good things come to those who wait."
TT: I saw you at the Bunbury Festival, which was right before you went back to Columbus to start working on the new album, yes?
ST: Yeah, that was almost a year after David Letterman, and then that fall we played VH1, so this last year and a half  has been pretty awesome for us. … I think having a proper team behind you helps open doors that otherwise might have been difficult to open on our own. It's something for me that has been awesome; it's been a real joy to have such great additions to the Red Wanting Blue family because they've been able to help get us — in the last couple of years — a lot closer to where we wanted to be.
TT: So, Red Wanting Blue was founded way back in 1996 at [The] Ohio [State] University. I was wondering if you could tell me a bit about how it got formed and why you guys started the band?
ST: I grew up not far from Drexel. I grew up a South Jersey kid, and I sang for my whole life in choirs and in high school had my own bands and went off to college. … It was probably more important to me to form a band than it was to graduate or do well in my major. … I've always loved music and it was the first time where you're independent and you're on your own, you're away from your family. I think those moments are precious to a young adult because that's where you're beginning to viscerally define who you are. … I think that's why colleges are such hotbeds for bands
TT: You're playing here in Philadelphia Oct. 19 at World Cafe Live, and I'm excited because I'll see you guys perform there.
ST: It's [going to] be great. … I grew up 20 minutes from you [at Drexel], so for me it's a homecoming whenever I get a chance to come to Philadelphia. … I get really nostalgic … thinking, "Will there be time to run down to South Street and get a cheesesteak from Ishkabibble's side window?"
Check out Red Wanting Blue Oct. 19 at World Cafe Live.