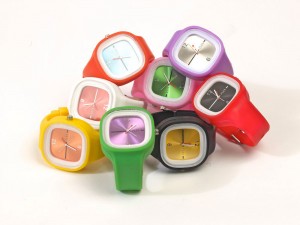 MTV's "The Real World" typically consists of the three ingredients that make a reality show great: partying, drinking and fighting. This past season premiered Sept. 28 and was set in San Diego. Out of the seven roommates, one cast member in particular added an extra charitable element that was unique to the show.
When we first met Nate, he had all the attributes of a regular frat guy. He loved drinking and partying and was a self-proclaimed womanizer. As the season progressed and the audience got to know Nate further, the Missouri native surprisingly revealed that his best friend during high school had committed suicide. This life-changing event encouraged Nate to become an advocate for suicide prevention and to find a way to reach out to troubled teens.
While Nate was at a bar, he met Trevor Jones and Travis Lubinsky. These two men founded and work for Flex Watches, where Jones is the chief executive officer and founder and Lubinsky is the chief operating officer. Based in San Diego, Flex Watches is a company that strives to inspire change with their watches and slogan, which is "10 colors | 10 charities | 10 percent." The company sells 10 different color watches each representing 10 different charities that gain 10 percent of the company's net profits for various causes that include breast cancer, suicide prevention and Hurricane Katrina survivors, among others.
"Their most important goal is to raise awareness for the charities they are paired up with. The company organizes local events and national events, gets their products out to local retailers, and relies on campus representatives to spread the word," Alyssa Avallone, the Drexel University representative for Flex Watches, said.
"Flex watches are silicone watches with interchangeable faces and bands," Avallone said. The colors, which include orange, black, green, etc., are bright and vibrant in order to grab the attention of others. This opens up the opportunity to explain that each watch stands for a good cause and not just a fashionable accessory.
If you decide to purchase the blue watch, that particular color is associated with Nika Water. According to the Flex Watches website, "Nika Water strives to end the cycle of poverty and create awareness and knowledge to get people involved in bringing clean water to poverty-stricken countries."
A relatively new company, Flex Watches has since expanded from their original 10 charities and colors. "The company added an 11th watch, the Gray Watch, representing Imerman Angels, an organization matching a cancer fighter or survivor with someone who has fought and survived the same type of cancer," Alyssa revealed. "The charities they have chosen make up a pretty diverse group, representing everything from clean water for Third World countries to Parkinson's disease to helping those with spinal cord injuries," Avallone said.
Being featured on "The Real World" gave Flex Watches the opportunity to become a familiar name and really expand on their mission of helping others. "After all of the publicity Flex Watches received, their orders increased so much that they had to turn off the ability to purchase items on their site in order to catch up on filling and shipping orders," Avallone said.
"By wearing the watch, they help raise awareness for organizations they are passionate about. Each watch has a story behind it, which people can share with others and hopefully get them interested in buying a watch that has meaning for them. You get a cool watch for yourself, and you know that you're really helping people who need it the most," Avallone said.
And here I thought "The Real World" only endorsed partying.
For more information or to purchase a Flex watch, visit www.flexwatches.com.