One constant in country music is that country artists manage to stay relevant in the scene while sticking to their roots. We saw that this year with Tim McGraw's most recent album, "Emotional Traffic," and Carrie Underwood's recent single, "Good Girl." Underwood's album "Blown Away" has an expected U.S. release of May 4. This week, however, the spotlight is on the anticipated comeback from the multiplatinum-selling trio Rascal Flatts, who released their eighth album, "Changed," April 3 in the U.S.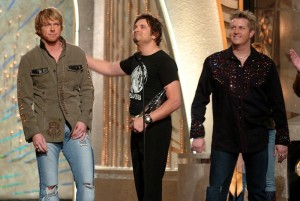 Country group Rascal Flatts released their eighth studio album 'Changed' April 3 with Big Machine Records. The album includes the single 'Banjo,' which was released Jan. 17 2012. Other songs include 'Hot in Here' and 'Hurry Baby.'
Rascal Flatts really put its mark on the country-pop market with "Changed," while still including ballads like "Let It Hurt," "A Little Home," and the title track. These ballads are similar to some of the band's chart-topping songs from previous albums. They also please their fans by adding their own flavor of the country genre in the album's debut single, "Banjo" (which has the No. 10 spot in iTunes' Country Singles chart).
Rascal Flatts has been around since 1999, providing No. 1 Billboard hits like "Bless the Broken Road," "What Hurts the Most" and "Here Comes Goodbye." This Ohio-originated band consists of second cousins — lead singer Gary LeVox and bassist and pianist Jay DeMarcus — and their friend, lead guitarist Joe Don Rooney. Both LeVox and DeMarcus provide harmonizing vocals in their songs.
Since the beginning of their career until 2010, they were signed under Disney Music Group's Lyric Street Records. After the label closed in 2010, they released their previous album, "Nothing Like This," under a new contract with Big Machine Records. "Changed" is Rascal Flatts' second album under Big Machine Records. The trio produced some of the songs on "Changed" themselves while still working with their longtime producer, Dann Huff.
With all of the changes the band has gone through, the album's title fits perfectly.
"Changed" is right behind Miranda Lambert's "Four The Record," landing the No. 2 spot on the iTunes Country Album chart. "Banjo" is staying in the top 10 in the Country Billboard charts for its 12th consecutive week, jumping up from No. 7 to No. 6.
The lyrics throughout the album don't really have the theme of change (aside from the title track of course), which may upset some fans and critics who were expecting something different.
This album seems ready to tackle competition and flood radios across the country, as the focused trio really did work to enhance their instrumentals and overall sound. Out of all of the albums they've released thus far, they really put a stamp on their genre with "Changed." This seems to be one for the guys to sing to the ladies, depending on one's situation. It jumps from the guy trying to show he changed to songs that talk about going to a special place that "ain't on the map" with her. Overall, the album gives the message to hold on to who you have, be cautious, and not take your loved one for granted.
I highly recommend this album if you've been a fan of Rascal Flatts or maybe just the country genre in general. It's fun, relaxing and it sends your mind running. I guarantee that you won't be able to escape this Grammy-winning trio for a while.