Teen rapper Daniel "Diggy" Simmons does it once again! Diggy stopped by the Tower Theatre Feb. 18 for the Life of the JetSetter tour. This is the second time, but definitely not the last time, we'll see him here in the Philadelphia area, with his career just taking off.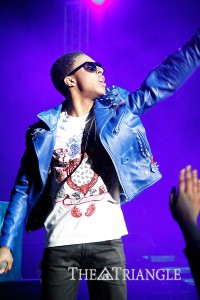 Life of the JetSetter, which is the second leg of Scream Tour: The Next Generation, featuring up-and-coming rapper Star Mike, rap duo TK-n-Ca$h, R&B singer Jawan Harris, the OMG Girlz, and Jacob Latimore opening for Diggy.
According to ScreamTour.com, the Scream Tour concert series is "dedicated to highlighting individual artists and helping to bring them further into the spotlight and their popularity more into the mainstream." With past Scream Tour performers including Bow Wow, Omarion, Chris Brown and Ciara, future artists are more than likely to explode in the music industry.
Prior to Diggy taking center stage, opening acts Star Mike and TK-n-Ca$h warmed up the crowd. The duo of Tevin Thompson (TK) and Derrin Townsend (Ca$h) performed "Loving That" and several other crowd pleasers.
To get the audience involved, they created a friendly competition between both sides of the theater, asking, "Who's better, TK or Ca$h?"
During set changes, two enormous projectors displayed a "Safety First" video. Taking a cue from the theme of Diggy's album, the video suggested "passengers" do the opposite of what would take place on a normal flight. The instructional video encouraged the crowd to make as much noise as possible and take videos and pictures on their cellular devices.
Then, 15-year-old Jawan Harris took the energy level up another notch. Harris, who gained popularity on YouTube by singing "Encourage Yourself" by Donald Lawrence, serenaded the front row with his voice and choreography. Every move he hit made performing seem effortless, but he said backstage that he wasn't always much of a dancer.
"I'm actually just now catching on to choreography. Before, I was not a great dancer. I had no rhythm, and I had to rehearse about eight hours a day," Harris said.
He expressed how grateful he was for the opportunity to be part of the tour, giving thanks to Michael Mauldin, the creator and founder of the Scream Tour.
He performed some of his most popular songs, including "Girlfriend," "Keisha" and "Another Planet," which features Chris Brown. Harris says he looks up to Chris Brown and highly respects his musical talents.
With the show just beginning, it was time for The OMG Girlz to hit the stage. The all-female group, which recently signed with Interscope Records, consists of Baby Doll, Beauty and Star.
"We were all crying tears of joy when we found out we were officially signed. With labelmates like Madonna, Lady Gaga and Mindless Behavior, we hope to have a long-lasting music career," Baby Doll said.
Because they have not released an album, they performed covers of "Talk That Talk" by Rihanna and "Party" by Beyonce. They hope to have an album for their "Miss Guiders," a term of endearment for their female fan base, by the end of the year.
They closed their segment of the show with "Gucci This (Gucci That)," their first single, which has been climbing the top-10 countdown on BET's "106 and Park." They are currently debating which single to release next.
"It's either going to be 'So Official' or 'Baby Baby,'" Beauty said.
Next came 15-year-old Latimore's time to shine. Latimore, who opened for Diggy during the first leg of the Scream Tour, said, "The fans have a lot more energy and are definitely a lot hyper. Last year was a lot more of Mindless Behavior fans. Now, I have lots of fans that are coming out to see me..
"We added an old song of mine that I recorded when I was 10 years old, so a lot of my fans that have been with me since the beginning know it. Changed the intro and spiced it up since we stopped at the same cities last year," Latimore continued.
He also performed Usher's smash hit, "DJ Got Us Fallin' In Love," to thank the Grammy winner for recognizing his hard work and dedication.
"I met Usher when I was about nine. Did an audition for his mother's record label, JPat. So [Usher] always kind of known my name. He decided to tweet me, and now he's following me on Twitter. It's amazing! We felt like the show was a little slow, so we added 'DJ Got Us Fallin' In Love' in tribute of him," Latimore said.
Latimore hasn't released an album yet, but he said if he had to choose a title right now, it would be "Unstoppable." His debut album is set to drop later this year. In the meantime he's acting on Fox's new spinoff show of "Bones."
Then the moment we had all been waiting for arrived. Before saying a word, girls went crazy. The Atlantic Records artist, Diggy, decked out in shades, black jeans and a royal blue leather jacket, was elevated from backstage. The 17-year-old, whose stage presence spoke for itself, rocked out to hits like "Copy, Paste" and "Do It Like You" featuring Jeremih, with the help of his tour disc jockey, DJ Spinking.
Throughout the show, he took us down memory lane, reminiscing on some of the pivotal moments that defined his career. He mentioned AT&T's commercial pitch, the first time he connected with Latimore in the studio, and how several critics doubted his first mixtape.
After the show, he tweeted, "What makes me happy is when y'all are happy and having fun. Everything I do is so my jet setters have enjoyable, memorable experiences."
Now that he has completed the tour and received an NAACP Image Award for Outstanding New Artist, Diggy has much to look forward to. "Unexpected Arrival," his debut album, will be released March 20, 2012 and is sure to take his music career to new heights.