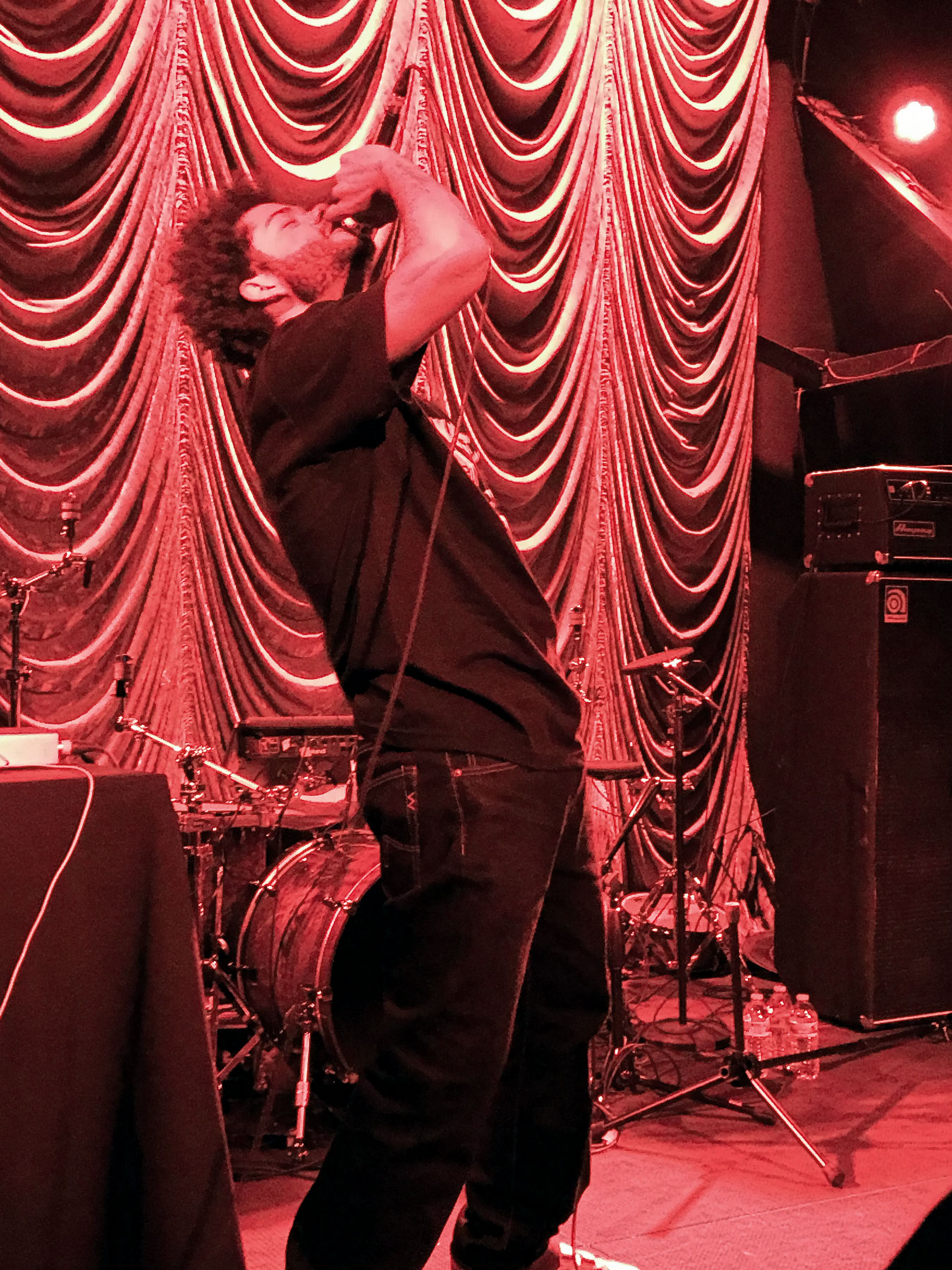 Arriving at the dim ambient space at The Foundry the night of June 6, I didn't know what to expect.
I had never been to this venue before and I was going to see an experimental rap group called Injury Reserve, at a show where they weren't even the headliners. I had been listening to them for about a year now, but the group still has a mysterious shroud around them to me. I had seen videos of their shows here and there, but they really haven't played that many shows and this was their first one in Philadelphia.
For those who don't know, Injury Reserve is an experimental hip-hop group from Tempe, Arizona, consisting of rappers Stepa J. Groggs and Ritchie With a T, along with producer Parker Corey.
The trio, signed to Las Fuegas, got much exposure after music critic Anthony Fantano reviewed their debut album, "Live From the Dentist Office," in 2015. This past December, they released their follow up project, "Floss," which featured appearances from Vic Mensa and Cakes da Killa.
It was around 8:30 p.m. when the first act came up on stage, Soul Glo, a local band.
As soon as they came on, my friend pulled out ear plugs and I started making fun of him because I didn't think the music would be that loud. Well, they proved me wrong.
Soul Glo said very little on the small stage, but to say the sound was deafening is putting it lightly, at least from the front row where I was. Their set filled with heavy distortion and relentless screaming was enough to make my ears ring far into the next day. As far as the music goes, it certainly wasn't something I was interested in, but probably has it's audience. For me, and much of the audience, we just wanted to see Injury Reserve.
Regardless, they finished the set and gave our ears some reprieve before Injury Reserve would step out. After about 20 minutes, the room went dark and a faint piano track started playing.
The group, absent Parker Corey, then jumped on stage performing the opening track from their recent project, "Oh Shit!!!," whose hook sounds even better in person. Ritchie and Groggs came out of the gate with high energy and within a minute Ritchie was standing on the barrier right in front of me. After jumping between the stage and the barrier a few times, pushing and pulling me back and forth, Ritchie decided that the barrier was "such trash," since it was separating him from the crowd.
After the ominous autotune outro on the song he said, "Well, we have this fake-a– Mexican border here, how are we supposed to have any fun with that?"  He then proceed to hop over the divider into the crowd, where he would stay for a majority of the show, while Groggs quickly hopped on the divider.
After a really cool subtle interlude transitioning to the next song, something which was present throughout the night, the next track "Bad Boys 3" really got the crowd going. After the drop the crowd started moshing, and people were getting pushed around left and right.
Energy like this was norm for the most of the set, and while it had its ups and downs, it was something interesting for a rap show. For a small crowd to have that much of a reaction is a testament to the show Injury Reserve puts on.
The performance from both of the guys throughout the night was fantastic not only vocally, but physically as well. Their voices sounded clear, there weren't any hitches in the set at all, and the autotune sections of tracks like "Keep on Slippin" by Ritchie sounded great in person. They were also very commanding on the stage and in the crowd, doing all in their power to get the audience into it — whether that meant moshing with the crowd, hanging off the divider or laying on the floor they were giving it all they had.
Other standouts from the night included songs like "ttktv," that while they may have seemed mellow on the recording, took a different context in the show. A lot of other rap shows suffer when they go away from bangers to slower material, but Ritchie and Groggs keep the vibe alive with these songs.
After about 45 minutes, their set came to a close with the lights coming up a bit and much of the crowd being pretty beat. Ritchie and Groggs then proceeded to hang out at the merch table immediately after greeting fans, taking pictures and signing merch. I greeted them quickly, complemented them and then left, but there were still probably a hundred people waiting to see them.
The strangest part about this was this great performance by Injury Reserve wasn't even the main act. Never had I been to a show where the openers were more anticipated than the headliner. I kind of felt bad for the headliner, Ho99o9 (pronounced Horror), because many people, including myself just left after Injury Reserve finished up.
Despite that strange organizing mix up, Injury Reserve still put on a fantastic show and I really hope to see them headlining their own tour in the future. They already have great material, and will look to add to their impressive catalog soon with an EP they announced for this year.
If you haven't checked out Injury Reserve and you like hip-hop, please do so and go see them live if you ever get the shot.