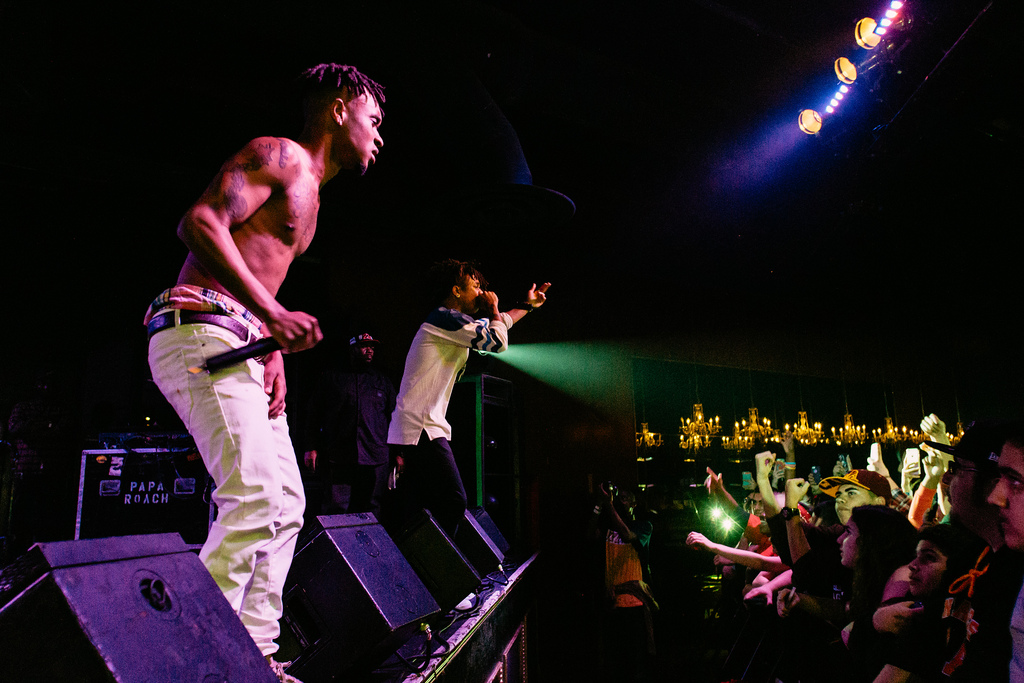 I was at the Electric Factory last Friday to see James Blake. It was fantastic, but this weekend I wanted something a bit more lively. So I went back to the Electric Factory Oct. 7 to see Rae Sremmurd, a band comprised of two brothers from Mississippi. Boy, did I get what I asked for.
Rae Sremmurd ("EarDrummers" backwards, which is also the name of the label they're signed to) is the hard to pronounce duo behind recent hits like "No Type," "Black Beatles," "Throw Sum Mo" and many more.
I arrived there an hour late because Rae Sremmurd had four openers. Four gosh darn openers! Who do they think they are? Bruce Springsteen? The openers I missed were BoBo Swae, Eearz and Impxct. Thank the lord I missed all of that.
I did see Lil Yachty, the only opener I recognized. His set was chaotic, and not in a good way. He spent the better portion of the show mixed in with the crowd, yelling for them to get off of him and then to form a mosh-pit, neither of which happened. He made his way up to the balcony, grabbed a girl's drink and threw it into a crowd before starting a new song. I couldn't tell what the song was, but I liked it a lot. He wrapped up the show with crowd-favorites "1 Night" and "Minnesota," and then hopped off the stage with his gang of jolly good fellows.
A disc jockey climbed on top of a large screen and started to play some of Rae Sremmurd's songs, which was odd. Then Rae Sremmurd came on! Swae Lee was dressed in a tank-top that was both too long and too tight. Slim Jxmmi wore a fur coat with no shirt underneath. These guys were certified "pimps."
The duo has released two albums so far, "SremmLife" and "SremmLife 2." The first installment is filled top to bottom with party tracks. It has gone platinum and nearly half of the individual songs have charted. Their second album, which this tour is in support of, was released Aug 12, 2016.
Rae Sremmurd has so many popular songs that they all just started to flow together. Nothing built up to a big hit, because every song was a big hit. The crowd bounced around and shouted back every line to the brothers. Fights broke out, people grinded and all hell broke loose. Was this heaven or hell? Or some fine line in between? Swae Lee pulled out a pineapple and performed with it, not eating it or anything, just holding it.
The set felt surprisingly short. Within about 45 minutes, both brothers had lost their shirts and were rapping their final salvo of hits with as much energy as their first songs. "Black Beatles" was certainly a hit, as well as "Look Alive" and "Throw Sum Mo." The whole "SremmLife" crew was on stage at this point, as well as Yachty and his crew, and Swae Lee was holding that damn pineapple again. And with that, the boisterous duo exited the stage and I was left wondering what the heck I had done that night.