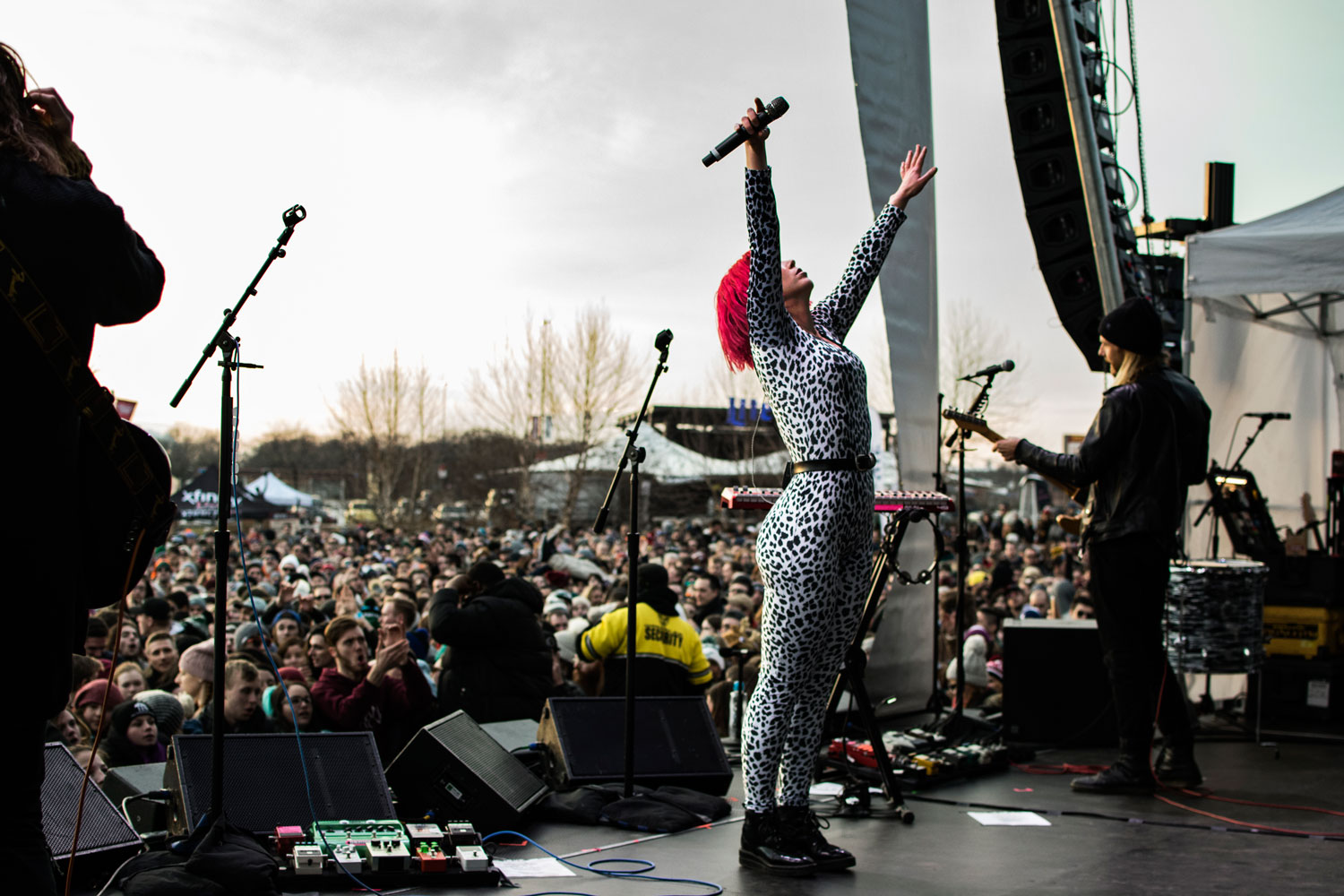 Radio 104.5, Philly's alternative music station, held its seventh annual Winter Jam festival Jan. 15. Radio 104.5 is known for its free outdoor "block party" concerts, held once a month each summer, but every winter the station hosts one additional show.
Winter Jam is a wonderful time, where alternative fans come bundled up from all over to huddle together and hear some of their favorite artists play outdoors in the freezing weather. Some years the weather does not cooperate and yet the show goes on — one year fans came prepared with a large bedspread to protect an entire group from the snow.
This year's Winter Jam (unnecessarily referred to by the station as "Winter Jawn" as of a few weeks ago) featured headliners Grouplove, Phantogram, Capital Cities, and Judah and the Lion. Several local and smaller bands played as well, on a second stage.
Local alt-rockers Andorra opened the main stage, warming up the crowd with their loud, energetic music on such a cold winter's day. In between main stage sets, the second stage featured performances from Civil Youth, LP and Run River North.
This year's Winter Jam, held at Xfinity Live for the third time since its change in location from the Piazza at Schmidt's in 2015, boasted a packed crowd with hundreds of young concertgoers.
"This has got to be the drunkest parking lot on the east coast," observed Grouplove frontman Christian Zucconi at one point, looking out onto the sea of effervescent teens and 20-somethings.
Main stage openers Andorra could be described simply as a "guitar band:" a tried-and-true, back-to-basics style of rock that harks back to the early music of Foo Fighters or Queens of the Stone Age. Some of the highlights from their set included "Indian Queen," "Ain't It a Shame" and their oldest song but newest release, "Habits."
Nashville folk rock band Judah and the Lion played next on the main stage, playing mostly songs off their recent 2016 release, "Folk Hop 'N' Roll." They also performed a cover of the Killers' 2004 smash hit, "Mr. Brightside," to the excitement and delight of everyone in the audience.
The next main act, Capital Cities, were the underdogs of Winter Jam. A "one hit wonder" of sorts, they made a splash in the mainstream five years ago with their synth pop hit "Safe and Sound," but never really had any other hit songs. I, along with others around me, was skeptical about their set.
Luckily, they proved me wrong.
Capital Cities had one of the most fun sets out of all the performers. Frontmen Ryan Merchant and Sebu Simonian looked genuinely pleased to be there, as they bounced around and beamed at the crowd through every song. Their synth-infused dance pop style was perfect for the event, as the songs were not particularly memorable but were catchy in the moment. They had the entire audience singing along to the choruses of "One Minute More," "Kangaroo Court" and "I Sold My Bed, But Not My Stereo," even though most of us had never heard the songs before.
No surprise, they ended their set with "Safe and Sound", which was a lot of fun since everyone knew it. As the song ended, they continued pumping up the audience before launching into an extended remix of "Safe and Sound." It was incredible, the total "Safe and Sound" time was probably close to 15 minutes. I respect them so much for leaning into the one-hit-wonder thing; they knew exactly what their audience wanted to hear and they delivered.
Next up was electro-rock band Phantogram, who released their third album "Three" Oct. 7, 2016. The band had a few hits, including "Fall in Love" and "You Don't Get Me High Anymore."
Many fans were clamoring to hear Phantogram perform live, since their studio work boasts such a unique style. Their recorded material is like a blend of electronica, trip hop, alt rock and psych rock.
Unfortunately, I was unimpressed with their set. Their deep sub bass came through too loud and sounded distorted, and the vocals were almost unintelligible. I enjoy the studio version of their single "Fall in Love," but live it fell flat. The album version is glitchy and features heavy use of samples. It's an electronica song, and for them to try and perform it with a more traditional rock band setup did not translate well.
Maybe it was just a case of a bad mix, which is not at all uncommon for outdoor festivals, but I did not enjoy Phantogram's set. Luckily, they were followed up by the main headliner, Grouplove, who did not disappoint.
Grouplove played a healthy mix of songs from their debut "Never Trust a Happy Song," 2013's "Spreading Rumors" and their new album "Big Mess." They opened up with "Colours," and the crowd immediately started moving. Zucconi and singer Hannah Hooper had fantastic onstage dynamic, feeding off each other's energy and using it to rally the crowd.
Fans were crowd surfing and sitting on each other's shoulders constantly throughout the set, which is basically a staple of Radio 104.5 block parties. Some concertgoers were displeased at the more rambunctious fans, but as long as Grouplove were on the stage, everyone was having a good time.
Grouplove closed their set with a cover of the Beastie Boys' single "Sabotage," marking the second time the song had been covered at a Radio 104.5 Winter Jam concert (the first being Winter Jam 2014, covered by Switchfoot). They came back for a short encore, ending the night with their hit single, "Welcome to Your Life." It was a rowdy time, but Grouplove proved that sometimes, a "big mess" isn't such a bad thing.
All in all, Winter Jam 2017 — Winter Jawn, if you will — was a huge success. It was a lot of fun and honestly, you couldn't complain even if you wanted to since it's totally free. In my mind, no Winter Jam will ever live up to their 2013 show, when they had Twenty One Pilots and Walk the Moon as opening bands, both before they blew up into the mainstream. However, this one was a lot of fun nonetheless.
It's awesome that Radio 104.5 continues to organize these free events with such big names in the alternative music scene. The quality of these concerts show just how dedicated the staff at Radio 104.5 is to its fans, and to the love of music.