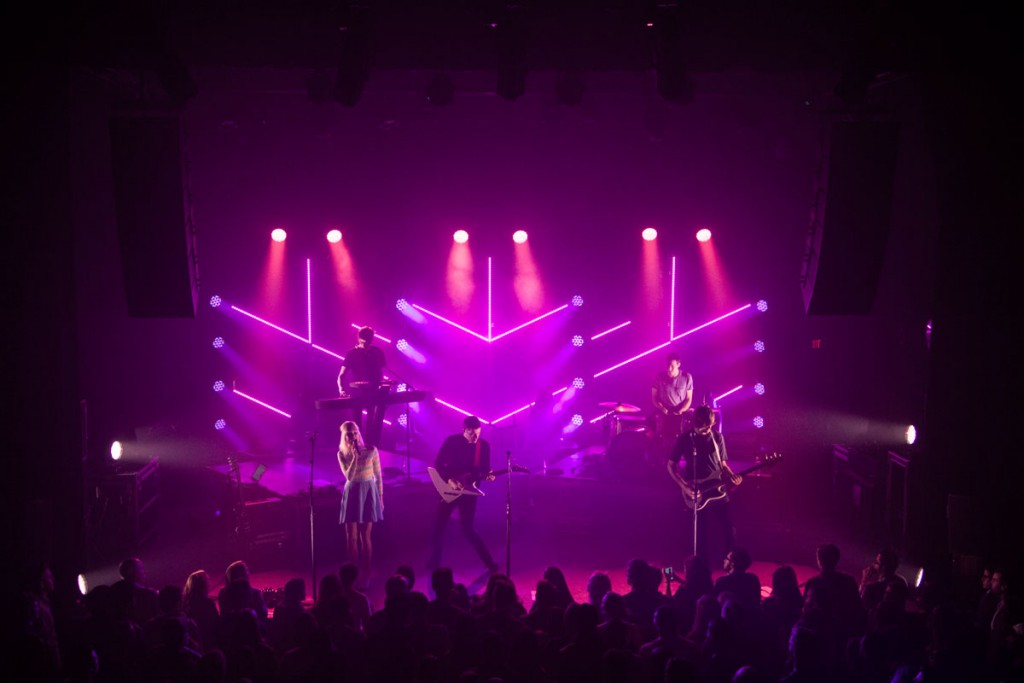 Pausing and awkwardly turning toward the audience, RAC frontman Andre Anjos said, "That's the beauty of live music." RAC drummer Jeff Brodsky must have accidently turned on a loop, because the percussion was pounding and bouncing all over the room and being played out of time. The members of the band turned in unison to look at their drummer as Brodsky tried to figure out what was happening. RAC still managed to finish playing the stellar remix of Odesza's "Say My Name." That is the beauty of live music.  And that is the beauty of how RAC puts on an implausibly good live shows.
When most bands play another artist's song, it's referred to as a cover. When RAC does it, there is no denying that it is a remix. RAC, an acronym for Remix Artist Collective, is Andre Anjos' solo project. Originally beginning his career "remixing seriously" in college, Anjos wanted to create remixes that diverged from the typical loud music that traditionally was played in clubs. "It was pop music, it was stuff that I wanted to write," Anjos told The Triangle in an interview.
"I wanted a new challenge… I think it was in 2011 that I got bored of remixes and wanted to do something different," Anjos said. "I hit up Tegan and Sara, I hit up Bloc Party and Edward Sharpe and just tried to build it from there," he continued.
In 2014, RAC released an album completely composed of originals entitled "Strangers," partly named after all of the artists Anjos had collaborated with. "Working with all of those artists; they weren't really people I had met before. I didn't really know any of those people," he said.
Between his original music and his remixes, Anjos took RAC on tour. Despite remixing, RAC plays together with a live band bringing his music to existence. The live band consists of Andre Anjos, his wife, Liz Anjos (also of Pink Feathers), Troupe Gammage (also of Speak), Jeff Brodsky (also of Yacht) and Karl Kling. Together, the live band takes away the DJ element of Anjos' music and creates a lively, indie pop plethora of remixes and original music. Anjos told The Triangle, "It didn't make sense to DJ songs live. Especially the slow songs, people would be like, 'What is this?'"
After openers Pink Feathers, Filou, and Big Data played their sets, RAC as a whole took the stage, opening with a distinct remix of "Tongues" by Joywave. The crowd was ecstatic, clearly loving the funk-pop inspired remix. Most of the songs blended really well together, as they all have Anjos' creative elegance. Transitioning from "Tongues" to his original "Ello Ello" then to Two Door Cinema Club's "Something Good Can Work," RAC played together flawlessly. Even more impressive was the band switching around on instruments, as Liz Anjos, Kling and Gammage switched around constantly between piano, bass and vocals. The band was completely in sync while frontman Andre Anjos laid down lively tunes on his guitar.
Most of the songs, despite being remixes, truly took on a life of their own when played in front of an audience. Anjos said this is because he wants his music "to be poppy but [not] to be stupid. I don't want to add to the noise that plagues most of the pop music. I want to be better than that." Paired with the beautiful LED lights behind the Union Transfer stage, RAC's pop music was an exhibition. The set list included remixes of Foster the People's "Houdini" and The Cranberries "Dreams." Original Songs included "Hollywood," "3AM," "Repeating Motion," "Cheap Sunglasses" and "One House," which Gammage claimed during the show that he wrote about Philadelphia (do you say that to every city, Troup?).
"[Playing live is] actually my background." Anjos said. "I always played in live bands… When RAC took off, I was suddenly a DJ. I missed the side of live performance, like, playing an instrument on stage. It's a completely different kind of performance. I missed the instrumental connection with the audience where it's more hands on and textile. There's that more human element where you can mess up at any moment and it could sound horrible, like, the pressure is on." It's funny that Andre had even mentioned this to The Triangle before the show. The human element was absolutely on during his Nov. 9 performance, but Brodsky's mess up did not sound horrible. The band played through it and demonstrated why live music is the best way to enjoy music. The RAC screwup sounded human; that is the beauty of live music.