It all started in 2002 when Clipse flew into the hip-hop scene with its debut album "Lord Willin'," produced entirely by The Neptunes. Two brothers, Pusha T and Malice, teamed up and became one of the most highly regarded rap duos of all time. Their three albums are critically acclaimed and created a lane for conscious street-rap music. Now the brothers have split up and gone their separate ways. Malice, who now goes by the name of No Malice, is now an author, having written his first book in 2011 titled "Wretched, Pitiful, Poor, Blind and Naked." Pusha T, on the other hand, has remained in the rap game and has reached incredible success since working with Kanye West and his label G.O.O.D. Music in 2010. Collaborating with West and his team on songs including "Runaway," "So Appalled," "Mercy" and "New God Flow" have put Pusha T among the most recognizable rappers in the game today.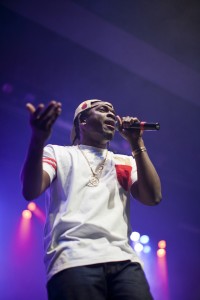 Pusha T released his latest mixtape, "Wrath of Caine," Jan. 28. The mixtape is short but sweet. It's just 37 minutes long but is filled with powerful songs and big names. Pusha was able to pull Rick Ross, French Montana and Wale for features along with production from Jake One, The Neptunes, Young Chop and West.
The mixtape opens with "Intro," in which Pusha T unleashes a series of killer bars at his competition, including, "You laptop hot, just Internet warm, down low for downloads, don't get caught up in my storm. [Expletive] n—- you just Internet porn, now we don't gotta fake it no more, the line's drawn." Pusha makes it known from the get-go that he's an elite rapper getting ready to unveil another classic with his debut album, "My Name is My Name," dropping later this year.
"Wrath of Caine" continues with "Millions," featuring Rick Ross and co-produced by Southside and West. "This s— sound like God, don't it," Pusha states repeatedly over one of the mixtape's stronger tracks.
Oftentimes, autotuned hooks sung by rappers such as French Montana are painful to listen to and quite annoying. But somehow, on "Doesn't Matter," French is able to pull it off before Pusha rips apart his competition and how little their opinions matter as he continues to become a star in the game.
The project's lead single, "Blocka," produced by Young Chop, known best for Chief Keef's "Don't Like" and Lil Reese's "Us," delivers another strong track for Pusha's "Wrath of Caine." The excellent production continues on "Road Runner," with Harry Fraud behind the boards, followed by "Revolution," produced by The Neptunes.
The mixtape builds and becomes stronger as you listen along. "I'm just bringing you my lifestyle," Pusha says as he opens up "Only You Can Tell It" featuring Wale.
The weakest track of the mixtape is "Trust You," featuring Kevin Gates, which is an incredibly awkward ode to trusting a woman. "Take My Life" gets the project back on track, as Pusha T rolls over the incredible Jake One production before Philadelphia native Ab-Liva gets his chance to shine on "Re-Up Gang Motivation."
"Wrath of Caine" comes to an end with "I Am Forgiven," produced by Bink. This track brings the project to a wrap in climatic fashion, just as "Alone in Vegas" did with Pusha's last mixtape, "Fear of God."
Across the board, the production on Pusha T's "Wrath of Caine" is incredibly impressive. Every track provides a different sound but the same energy that Pusha T is known for delivering. If this truly is an appetizer for "My Name is My Name," everyone is in for a big treat when Pusha releases his debut album.