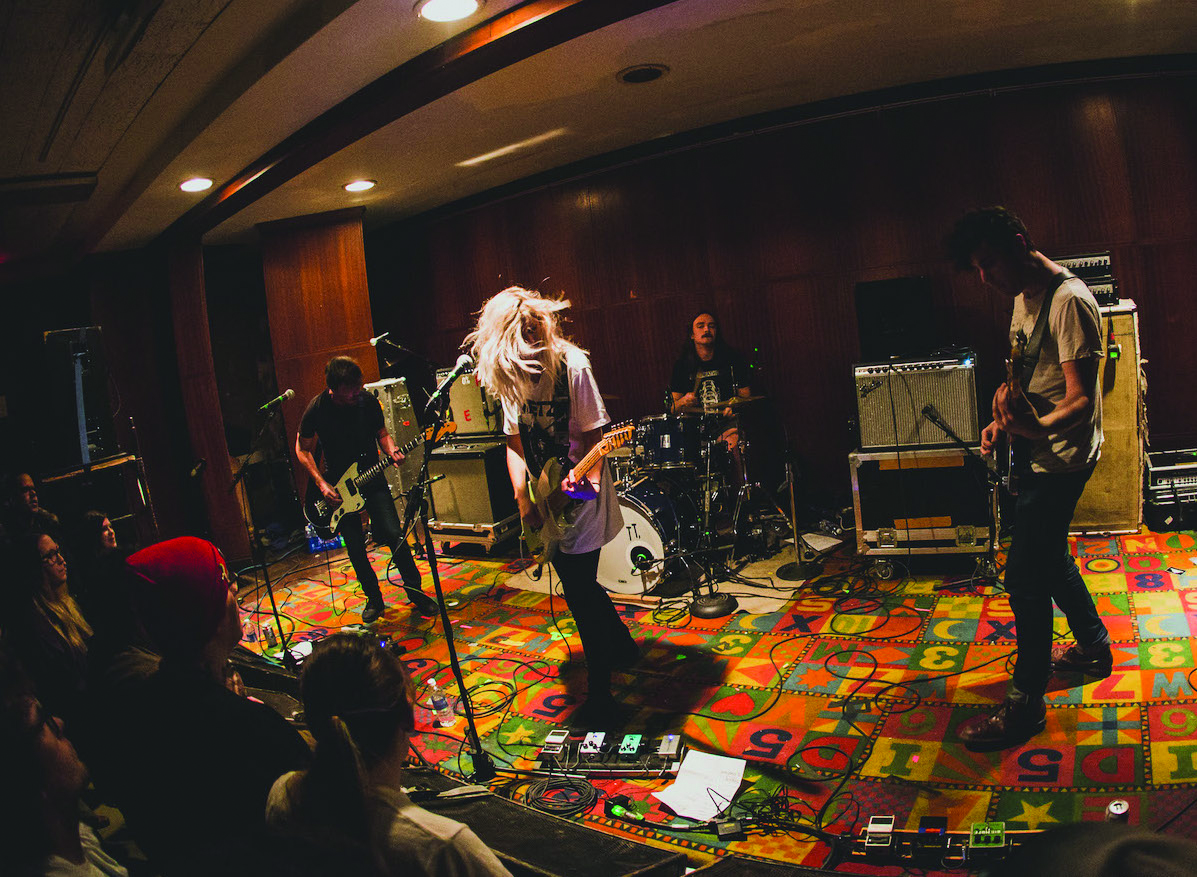 A couple of months ago, I heard a song on 88.5 WXPN that absolutely rocked my socks off. After screaming at my girlfriend to Shazam the song for me, I learned that it was Bully's single "Trying." Fronted by Rosemount, Minnesota native Alicia Bognanno, the indie rock band Bully released their debut album "Feels Like" last summer and have risen to prominence so fast that their only concern should be getting the bends. Currently on a massive U.S. tour, Bully made their most recent stop at the First Unitarian Church Jan. 12 with headliners METZ.
The venue is literally in the basement of an old church, but First Unitarian surprisingly delivers in terms of sound quality. A lot of punk and hardcore bands make stops there, so I figured the sound would be very loud and rough but it actually sounded better than some of the more up-scale venues I have been to. There may not have been any colorful lights or flashy decor, but the humble basement of the church provided an excellent setting for indie rock bands.
Bully was met with a roar of applause as they walked onto the stage, Bognanno sported a METZ T-shirt and messy blonde hair that screamed punk rock. Bully launched into their first song, "Bully," from their 2014 EP of the same name. Each song was as energetic as the last, with uptempo guitar riffs that reflected elements of punk and grunge rock. Bognanno's vocal performance was incredible; both her singing and screaming abilities were spot-on. Bully pulled no stops as they barreled through great songs such as "Milkman," "Too Tough," and "Brainfreeze."
One of the most notable moments during the show was in the middle of the set when they played "Trash," during which Bognanno really turned the screaming up to 11. It was clear that she was pouring everything she had into the performance and the audience responded with equal energy. In between songs, she thanked the audience for being so energetic and noted how everyone must be really excited for METZ. In response one fan shouted out "I'm here for Bully!" to which a large number of fans roared in agreement.
Near the end of the set, they played my favorite song, "Trying," which for me was the high point of the night. The band members were still as animated as they were at the beginning of the set. When it comes to songs that rock as hard as "Trying" does, the studio recording can only do so much in terms of overall power. To hear it performed full volume in a room full of fans screaming along was amazing and it was a great example of how seeing a band live can take your favorite songs and elevate them to the next level. They closed with "I Remember," which was the perfect end to an amazing set.
After a short and much needed break, METZ took over the stage. Somewhere between hardcore punk and noise rock, the Toronto-based trio played in support of their second album, aptly titled "II." There was no doubt that this band knew how to work a crowd, as everyone started to mosh after only one or two songs. Their energy was sky high — I thought for sure frontman Alex Edkins was going to break his guitar with the amount of swinging and jumping. The show ended pretty early (some time around 10:30 p.m.), but I'm sure many of the fans would not have been able to go much longer than that anyway.