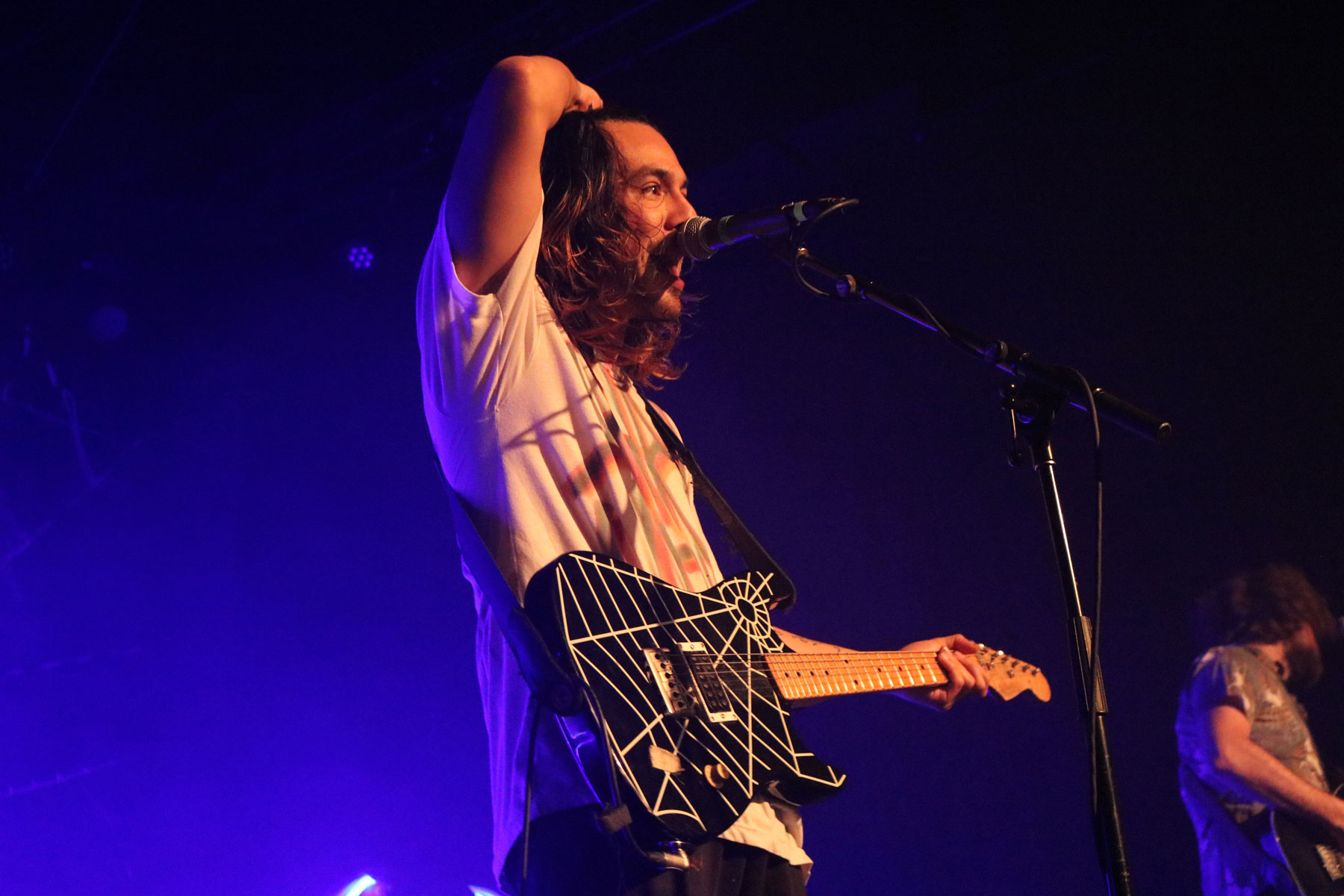 I always think about the fact that I never fully appreciated the luxury of having my parents drive me everywhere as a kid. When they dropped me off at Union Transfer for a show after grabbing dinner this past weekend, I was reminded of all the reasons why.
Unaware that I've become one of them, my mother voiced her worries about all the ragtag kids standing in line for the show. I was given a lovely speech about not doing anything stupid before finally being asked, "Who are these guys anyways?" Well, if you're reading this mom, it was The Frights, SWMRS and FIDLAR and they melted my face off the night of Nov. 12.
This show was a big deal for me due to the fact that both openers, The Frights and SWMRS, are near and dear to my heart which is a rare occurrence. Seeing the bands go from playing at the rinky-dink Fire last year to a sold-out Union Transfer show felt like a personal triumph of sorts.
The Frights were first on the bill, which was a great call — frontman Mikey Carnevale's stage presence alone is enough to get the people going.
The surf punk band kicked off with one of their most popular tracks on "You Are Going To Hate This" called "Kids." The rest of the set included songs from this album in addition to some songs ("Crust Bucket" and "Cold") off their debut album, "The Frights."
One of my favorite things about this band other than their personalities is their knack for picking the perfect songs to cover at their shows. The Frights chose to sing the renowned Weezer song "Say It Ain't So" this time around which had every person in the venue bellowing out the lyrics each time the chorus started up.
They ended their set with this cover leaving the fans wanting more while still being amped for SWMRS to take the stage.
Soon after, frontman Cole Becker appeared on the stage sporting a handmade "F— TRUMP" shirt with a long, brown, polka-dot skirt. The crowd started cheering at the sight of him and the sound only escalated when Joey Armstrong (drummer), Max Becker (guitarist) and Sebastian Mueller (bassist) piled onto the stage.
SWMRS started with a hard-hitting cover of Fugazi's "Waiting Room," giving their fans a peek of what the rest of their set would entail. They rocked on, playing punchy renditions of songs off "Drive North" like "BRB," "Uncool" and many more.
The highlight was when SWMRS played "Miley," an ode to the ex-Disney star who they consider to be a "punk rock queen."
After playing "Figuring It Out," Becker stopped to give a moving speech about the recent election results and thank the fans for making the show a "safe space" and "supporting each other and taking care of each other in the face of a very dark stain on our country's history."
Just when I thought the night couldn't get better, it was time for FIDLAR to bring the house down, which they rightfully did. The band ambled onto the stage while the Star-Spangled Banner played and the fans roared solely at their presence. They gracefully transitioned into their famous cover of "Sabotage" by the Beastie Boys followed by "Cheap Beer."
I have to give credit where it's due and those FIDLAR fans really know what they're doing in a mosh pit. The security guards couldn't catch a break with the amount of crowd surfers — there were at least three people crowd surfing at any given moment. Some of their faces became familiar while others, like the fellow in a banana suit, were memorable from just one attempt at reaching the stage.
It was hard to keep cool when my favorite FIDLAR songs like "40oz. On Repeat" and "Sober" were played but this was no issue as no one else in the crowd seemed able to keep their cool either.
Aside from me and the 7-year-old standing to my left, every person in the venue knew just about every word to every FIDLAR song. The band played around 17 songs off both "Too" and "FIDLAR."
The set ended with "Cocaine" before an encore was demanded. FIDLAR treated their fans with one last jam, "Wake Bake Skate," and bid their farewells for good this time.
All in all, this punk rock frenzy was an incredible experience. I learned that it is, in fact, possible to mosh for four hours and that you're never too young to go to a punk show. The Frights, SWMRS and FIDLAR are all bands worth checking out for anyone into punk or rock music.