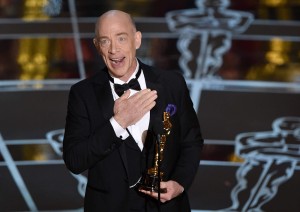 As the outside world has frozen around us, the Oscars are supposed to provide a glimmer of hope, a safe refuge from the bitter cold for just one Sunday evening. Being broadcast live from sunny Los Angeles in glorious high definition, with hours of red carpet coverage before the actual ceremony begins, the Oscars are there to make an otherwise commonplace February Sunday into something memorable. This year that would not be the case. This year I just couldn't wait for the 87th Academy Awards to be over.
I'm mad at you, Neil Patrick Harris. How dare you try to bring your Tony Awards-esque sh-t to the Oscars. People go to the movies because plays, musicals and the rest of their ilk are unbearable. No one watches the Tony Awards for a reason, Neil! Joke after joke, bit after bit, pun after pun, all bombed so horribly I mistakenly thought Ted Kaczynski had taken over hosting duties. Alas, it was just Harris, eroding away at the foundation of good will that he had previously built up with the television- and movie-watching folk of America.
J.K. Simmons (voice of the yellow M&M, also featured in "Whiplash") unsurprisingly brought home the award for best supporting actor and then gave a real nice speech encouraging everyone to contact their parents and, "Tell them you love them, and thank them, and listen to them for as long as they want to talk to you." I quickly texted my mom, "J.K. Simmons told me to tell you I love you!" She immediately responded with a brisk, "He said call." Got me there mom! I am a terrible listener.
A fellow poor listener is Pawel Pawlikowski, Polish director of the best foreign film, "Ida." A true hero, Pawlikowski continued to deliver his acceptance speech though a solid minute and a half of the much despised orchestral send-off music. I thought that the orchestra would have cut him a little slack with English not being his first language and all. Either way, "Ida" may have made it onto Netflix queues all across the nation after the big speech.
As the night dragged on, I kept waiting for something, anything to happen. Last year's proceedings had Ellen DeGeneres giving out pizzas and taking selfies. This year there was awkward chitchat with "seat fillers," you know, regular people like you and me! Why do they get the privilege to fill seats at the Academy Awards while I can only fill my stomach with Trader Joe's brand popcorn and weep for an evening lost? They must be well-connected, those seat fillers. Like everyone at Drexel tells you, it really does all come down to networking!
Patricia Arquette was rightfully crowned as best supporting actress for her work in "Boyhood." She got up on stage, whipped out a printed out speech and soap box, and proceeded to stump for equal rights and pay for women. I applaud her efforts, but it is a bit hard to take a wage equality talk from someone holding a gold-plated statue while getting cheered on by multi-millionaires like Meryl Streep.
This year the best animated film category garnered some controversy by failing to nominate the oh-so-popular "Lego Movie." I didn't really care at the time, but after seeing Tegan and Sara, the Lonely Island, Questlove and Mark Mothersbaugh (among others) perform the track "Everything is Awesome" from the "Lego Movie" soundtrack, I began to understand. They handed out Lego Oscars (where is the box set? I need it!) to celebs like Steve Carrell and Oprah mid-performance; it was so cool. Anyways, "Big Hero 6" walked away with the best animated film prize. What can you say, another year, another Oscars win for a big white guy.
"Glory" from the movie "Selma" was awarded best original song by Idina Menzel, who managed to continue her presentation after John Travolta grabbed her face a bunch of times. Great job by her just to let it go. The stirring speech by the co-writers of the song, John Stephens (also known as John Legend!) and Lonnie Lynn (the rapper Common!), brought the crowd to its feet and many a star (and reportedly even the fake baby from "American Sniper") to tears. Luckily, the camera caught the tears dripping down Chris Pine's face in what has to be the greatest performance of his acting career.
As 11 o'clock rolled around, not much else had been accomplished. The Academy recognized the genius of Wes Anderson by giving "The Grand Budapest Hotel" all of the awards no one really cares about. Joan Rivers and Harold Ramis were somehow left out of the "in memoriam" section of the evening. However, everything changed with a sudden celebration of the 50th anniversary of "The Sound of Music." Lady Gaga, wearing a regular dress in lieu of cold cuts, sang a pleasant medley of tunes from the film. Then, the crowd roared to its feet when that lady from "The Prince Diaries: Royal Engagement" came on stage! Turns out she was the main nun and singing lady in "The Sound of Music!" Who would have guessed!
Thirty-going-on-13-year-old Eddie Redmayne stole the best actor Oscar away from Michael Keaton. It was one of two awards that I deeply cared about and the outcome did not please me in the least. The immense displeasure I felt was almost immediately compounded by a terrible NPH bit with a magic locked suitcase. I swear, if his performance isn't the sort of thing to drive a man to live out the rest of his life in a secluded wooden cabin deep in the Minnesotan wilderness, I don't know what is. But then the Academy plunged a knife into my movie-loving heart as "Birdman" beat out my precious "Boyhood" for best picture. The faint, flickering flame of hope that I had for Richard Linklater's groundbreaking film to pull through were snuffed out by award presenter Sean Penn of all people.
Sometime after midnight, I groggily turned off my Oscars online stream, and retired to bed a weary and defeated man. The 87th Academy Awards were the biggest film-related disappointment I have experienced all year, and I saw "Wild" in theaters.