Born and raised in Columbus, Ohio, Drexel student William C. Lindsay (better known as W.C. Lindsay) is slowly but surely taking the world by storm.
Lindsay describes his music as "The Beastie Boys watching 'The Breakfast Club' at Warped Tour." On the outside, his songs are fun and easy to sing along to, but if you take a closer look at the lyrics, you can see the depth and messages lying beyond the surface.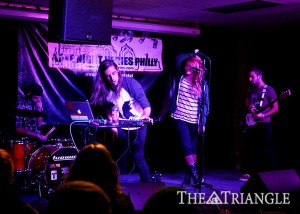 Lindsay has been performing for a few years now, but he has just recently added a lineup of live artists that truly change the experience of his performance. If you've seen W.C. Lindsay live, then you've seen George Legatos on bass, Lucy Stone as backup vocals and John Sepa on drums. This group setup started because they were close friends. "When it came time to build on my live performance, I didn't even really think about it. They were just the answer. They helped me turn a project into a real entity, and the live show isn't the same when it's just me," Lindsay said.
Musical inspirations can tell a lot about an artist. For Lindsay, The Rolling Stones and The Streets have had the greatest impact not only on his music but his lifestyle and the way he presents himself. "Very different, but both have had unbelievable impacts on me and the way I think about music, life, style and the way I carry myself in general. I also love big '80s synths and drums. Give me those and I'll probably like you," Lindsay said.
One of Lindsay's most memorable moments so far was performing in Yonkers, N.Y., on his last tour. Lindsay had expected a good turnout for this show simply because his live drummer grew up in Yonkers. But what Lindsay got at this show was far more than he expected.
"We played to a packed room, and every person there was screaming my lyrics back in my face. I almost lost it a few times. People tell me that my lyrics mean something to them, and it really blows me away. I know what music has meant to me in my life, and hearing someone tell me that my words mean something to them is honestly enough fuel to keep doing this forever," Lindsay said.
The title track of his last EP, "Hardly Youth, Hardly You," means a lot to Lindsay on and off the stage. The song itself has a large personal connection to Lindsay. But onstage the song brings everyone together with a sing-along at the end and leaves Lindsay in the crowd, screaming without his mic, hugging every person he can.
You can expect a lot in the upcoming future from Lindsay. To keep updated on new (and free) music, new shows, and news on his upcoming collaborations (Jack Deezl and Cal Scruby to name a few), check out wclindsay.com
"As for long term, I'm trying to give the world a cheese-free alternative to radio pop. They need one; I've got one," Lindsay said.