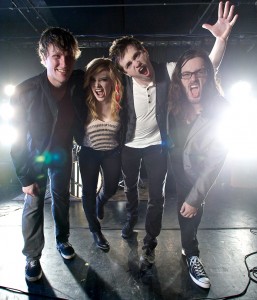 Soaring out of Drexel's own music industry program, June Divided is definitely a band to keep your eye on.
This rock band was formed when a Drexel professor suggested that Melissa Menago (lead singer, guitarist) and Chris Kissel (guitarist) create an album together for their senior project. Although both Menago and Kissel were songwriters and composers, neither one had the desire to be in a band at the time. After having a lot of fun with the record, Menago and Kissel decided to keep writing music together, and after a short amount of time, the duo decided to put an ad on Craigslist for a drummer, which led them to Keith Gill. After a year of temporary bassists, the final touch was added to the group when they decided to make Lenny Sasso, a Drexel entertainment & arts management alumnus and their manager, their permanent bassist. From this point on, June Divided started to take off.
In July 2012, June Divided released its first full-length album, "Backbone," which featured the songs "Backbone," "Secrets" and "Drive." This album showed off Menago's killer vocals and showcased their solid and catchy lyrics. Most of the songs have a rock-'n'-roll, in-your-face feel, with the exception of "Reset," which is an acoustic piece that is much calmer than the rest of the songs on the album. "Backbone" is a personal favorite off the album, which features very strong lyrics and vocals that sound similar to those of Hayley Williams of Paramore. June Divided loves to perform "Drive" live because of the 7/8 groove.
"I can always tell who's a musician in the audience when they come up to me after a show asking about 'that song in 7,' and then we bond over some music theory," Menago said.
June Divided shares a wide range of musical inspirations, such as Jimmy Eat World, Explosions in the Sky, Manchester Orchestra and many more. These inspirations tend to bleed through the music and lyrics in the songs on "Backbone."
Going back to January 2013 at Radio 104.5's third annual Winter Jam, June Divided proved to be talented not just in the studio but also live. Not only did they keep the crowd going, but the vocals coming from Menago were intense.
You can expect to hear a lot from June Divided in 2013. Their music video for "Secrets" will be released on March 5. They will also be performing March 14 at Big Picture Media's showcase in Austin, Texas, during South by Southwest, and they plan on touring excessively over the course of the year. To keep updated on tours, new music and more, visit the band's Facebook page.