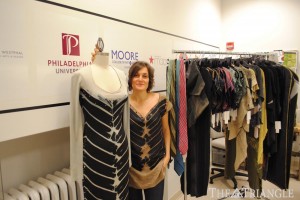 Tucked discreetly in the housewares department in Macy's Center City is a room that houses what has come to be called the Philadelphia Fashion Incubator, a nonprofit organization designed to support emerging Philadelphia-area designers. Elissa Bloom, a fashion industry veteran and executive director of the Incubator, helped launch the program as an incentive for emerging fashion designers from local schools to stay in the area by creating a 12-month designer residency program.
"There's all this great fashion talent graduating from local design schools, and once they were graduating, they were leaving the area and moving to New York or L.A. and getting industry jobs and then starting companies but not coming back to Philadelphia," Bloom said. "There were no incentives or resources supporting emerging fashion designers that wanted to stay in the Philadelphia area."
As a result, the incubator teamed up with Drexel University, Moore College of Art & Design and Philadelphia University, and, in exchange for their sponsorship, each school received a slot for one of its alumni in the program. The fourth spot was an open-call spot that any designer in the tri-state area could apply for. The chosen designers for the 2012 Incubator, which launched in March 2012, were Melissa D'Agostino from Moore, Kaitlyn Doherty from Philadelphia U, Autumn Kietponglert from Drexel, and the sister duo Latifat Obajinmi and Moriamo Johnson. The majority of the designers in the program already had businesses up and running, but in order to qualify, their business had to be less than three years old. As part of the program, they are required to come to the Macy's studio for 30 to 35 hours per week, working 20 hours on their businesses and 15 hours on their designs. Each designer in the residence is assigned a mentor, a fashion entrepreneur in the area, whom they meet with monthly to further develop their businesses.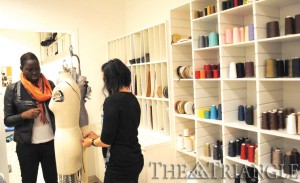 As executive director, Bloom creates a curriculum for each month that focuses on a main business topic and brings in a guest speaker who is a leading industry expert in his or her field. She also sets up office hours for the designers to meet with a lawyer from Meade-Smith and Denise Dahlhoff, the research director from the University of Pennsylvania's Wharton School. They give free business and legal advice, help designers with business resolutions, review their business plans, assist the designers with their contracts, and help set up their business entities. They have also partnered with Wharton, where students in the master's program there are working with the designers to develop their businesses.
Another valuable tool the incubator provides is a monthly retail critique. The designers meet with local retailers to hear about their merchandising and buying strategies and to find out what lines they're carrying and what the price points are. The designers also have the opportunity to show pieces from their current collection for feedback and critique, which has led to sales opportunities for the designers. As a result of these critiques, Kietponglert's hand-knotted scarves are now being sold at the Philadelphia Museum of Art, and all of the designers' pieces were picked up by Joan Shepp.
Bloom described the designers' meetings with local retailers, saying, "It's been really exciting, not only to see what Philadelphia retail is like and give them an opportunity to learn about that person's business model, but also to be able to sell to these stores that were always on their wish list." The 2012 incubator program will come to a close at the end of February to make room for a new set of designers March 1, 2013.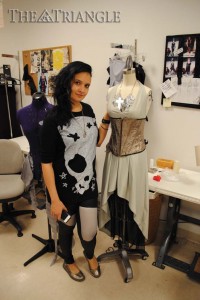 "Our main goal is that the four designers in residence will have sustainable and scalable businesses that they'll want to keep local in Philadelphia. … We are currently looking into ways of continuing to support them with some resources," Bloom said. "We're researching some possible co-working, shared retail and production space on Chestnut Street East for them at a discount rate. We will continue to support them with some of the mentors and the office hours and… [various] other ways we can continue to support them because 12 months is not a lot of time as you're developing a fashion business."
The Philadelphia Fashion Incubator at Macy's Center City is currently accepting applications from emerging Philadelphia-area designers through December 14for the 2013 residency program.