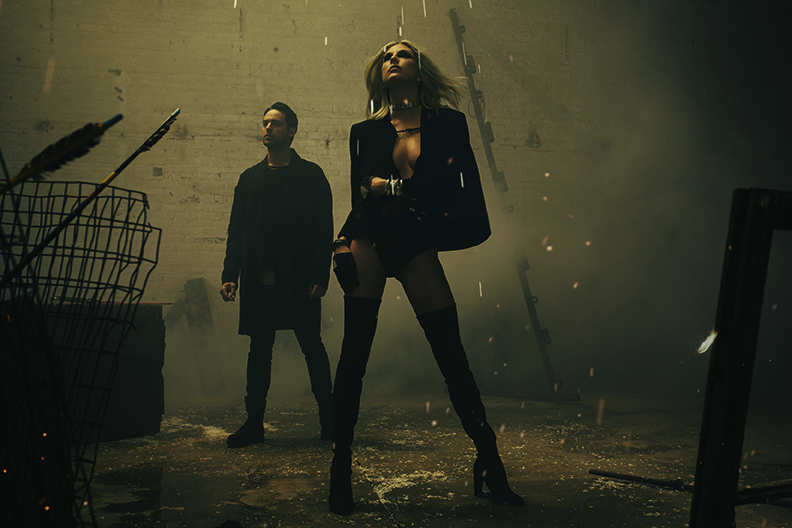 Phantogram recently came out with their new album "Three." Originating in Greenwich, New York, the electronic alternative-pop duo blew up after one of their songs, "Fall in Love," became very popular and was played constantly on the radio. I became a huge fan of their music after they released "Voices" in 2014, and have wanted to see them live since. To my luck, they came to the Fillmore this month, so I knew I had to go.
To begin the show, a sheer net-like covering dropped from the set and appeared in front of the stage. All of a sudden it began to display trippy lights and graphics. I had never seen a show with this setup; the lights were in front of the stage and along the back, which was unique and helped create an alluring ambiance to the stage. It fit well with Phantogram's style.
Sarah Barthel, the main vocalist, came out in a trendy, gothic-looking, black fitted dress, and started out singing the first track off their new album, "Funeral Pyre." After a somewhat slow start, they spiked up the energy an enormous amount and played my personal favorite, "Black Out Days."
This was by far my favorite song performed that night, because not only did Sarah kill it with her powerful lead vocals, but the band overall executed the live dynamics of the song on a whole new level. This combined with the mesmerizing light effects and graphics completely thrilled everyone and it felt like the crowd was feeding off of their energy. Watching this performance had me hypnotized and feeling like I was in another world; that's how exhilarated I felt.
They played "Don't Move," another one of the big hits coming from the album "Nightlife" that they released in 2011. One thing that hits home about this song is that it gives off such an enigmatic vibe and energy, but in a positive way. "Don't Move" portrays this particularly because of the innovative electronic sounds and synths mixed with the catchy horn hook at the end of the chorus.
Towards the end, they played "When I'm Small," a classic hit from their first 2009 album "Eyelid Movies." This is one of my favorite songs by them because it really portrays their unique combination of electronic and rock sounds and how they are able to incorporate the two in such an intriguing way unlike many other artists.
After they finished performing this song, they walked off the stage and acted as if they were done with the show. They didn't fool anyone though, because they had yet to play some of their biggest hits.
They walked back on stage just a few minutes later. Singer and guitar player Josh Carter began by explaining the song they were about to perform off "Three," "Barking Dog," and how it was dedicated to his sister who passed away. After he opened up to the crowd about this, we were all prepared for an emotional song. You could tell how much the song meant to him by the way that he sang it so beautifully, allowing his mournful performance to tremendously connect with the audience.
After this, they continued the encore with "Cruel World," and then "Fall in Love." "Fall in Love" was the song of the night that every single person in the crowd knew every word to. Everyone was rocking out relentlessly to the chorus and savoring every second of it.
To top off their set, they blew the audience away with their newest hit "You Don't Get Me High Anymore." The classic guitar hook in the chorus played an essential role in amplifying the energy that the band presented in this eerie but upbeat song.
Sarah's vocals combined with this were just incredible in every way. It was definitely a remarkable way to end the set, leaving everyone mesmerized by the show. Phantogram really exceeded my expectations. It was one of the most captivating shows I have ever attended.