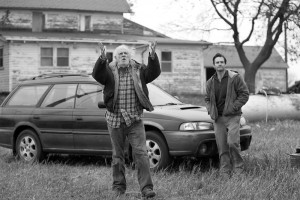 For a director who has only made six films, Alexander Payne has made a substantial impact on Hollywood and will surely be remembered in cinema as one of talent. His films are typically dark comedies whose protagonists find themselves stuck in ruts and try to break free from their mundane lives. These protagonists have been played by some of the most celebrated actors working today, such as Jack Nicholson, Paul Giamatti and George Clooney. His latest movie, "Nebraska," tells the story of a young man (Will Forte) and his father (Bruce Dern) who travel to upstate Nebraska to collect a lottery winning that may or may not exist.Indiewire
Payne, along with the cast of "Nebraska," recently visited Philadelphia to promote the film's opening at the annual Philadelphia Film Festival. He also took part in a conference call with several college students, including myself, across the country to spread the word about "Nebraska" and to talk about his present career and what he hopes to accomplish in the future. "You know, Michelangelo Antonioni, when he was doing his press tour for "Zabriskie Point" in 1969, only spoke to college press," Payne said at the start of the interview. "He said, 'I don't want to talk to any mainstream press, only college press.'"
Payne went on to discuss the struggle to get a black-and-white movie produced and why he fought so hard to get this project off the ground. "When I first read the script nine years ago, I only imagined it in black-and-white. The only reason I didn't make it nine years ago is that I was just finishing "Sideways" , and that's a road movie, two guys in a car. And this movie is two guys in a car. I didn't want to make two road trip movies right in a row."
Though the road trip element in "Nebraska" is similar to Payne's previous films, the atmosphere is not. While Payne typically shoots in bright, upbeat settings, like the California wine valleys or Hawaii, he decided to film this one entirely in cold, small Nebraska towns, one of which is the very town Payne was born and raised in.
"You never ask Woody Allen why he likes to shoot in New York or Paul Thomas Anderson why he wants to shoot in LA," Payne said when asked why he felt it necessary to shoot on location. "Somehow where you're from has an amazing gravitational pull over your life. Not for everyone, but for many."
Another big change for Payne is that "Nebraska" is the first time he decided to shoot with a digital camera. For years now, there have been heated debates between filmmakers about which medium, a film camera or a digital camera, is best in visual storytelling. Acclaimed director Quentin Tarantino vows never to shoot in digital and swears he will quit the business if there ever comes a day when movie theaters will no longer show movies shot on film. On the other hand, "Titanic" (1997) and "Avatar" (2009) director James Cameron says film is dead to him because he's interested in making 3-D movies.
Payne has a more neutral opinion on the matter: "My job is technology-proof. Regardless of film or digital, my job is still 'what's the story?'" However, he did have some pros and cons for digital camera on the technical aspect: "What I like about digital is that you can go 20 minutes before you reload the camera. … What I don't like about [digital] was too g–d— many cords at my feet." Payne later put to rest the rumor that shooting with digital is faster.
Granted, Payne is willing to try anything once. He knew it was a risk not to film "Nebraska" in color, but he said it was well worth it. Payne has even toyed with the idea of making a full-length silent movie. "I love the form [of silent movies]. I would love to do it, absolutely. I just haven't gotten that far yet." Payne went on to explain his belief that "talkies" in some way stunted the growth of silent film. "The usual line about silent films … is that talkies were inevitable, but they came too soon, because silents were really starting to do something spectacular," Payne said.
He complained that the output for modern silent films is too small and wished that audiences would take more of a chance on the art form of dialogue-free movies. "I found this script of '[The] Terminal,' which later became a Steven Spielberg film. A foreign man stuck in an airport, and I wanted to make that as a silent film. I went [to] Tom Hanks … and the producers, and they —well, let's just say they laughed me out of the office. … I'll bet it might have been a better film."
Now an active director for 17 years, Payne still has the ambitions of a newcomer; he sees a lot on his horizon. Silent film is only one of the different media he would like to experiment with. "I've only made six [movies], and I hope to make a lot more that will upset the average a little bit."
"Nebraska" premiered in theaters Nov. 15.