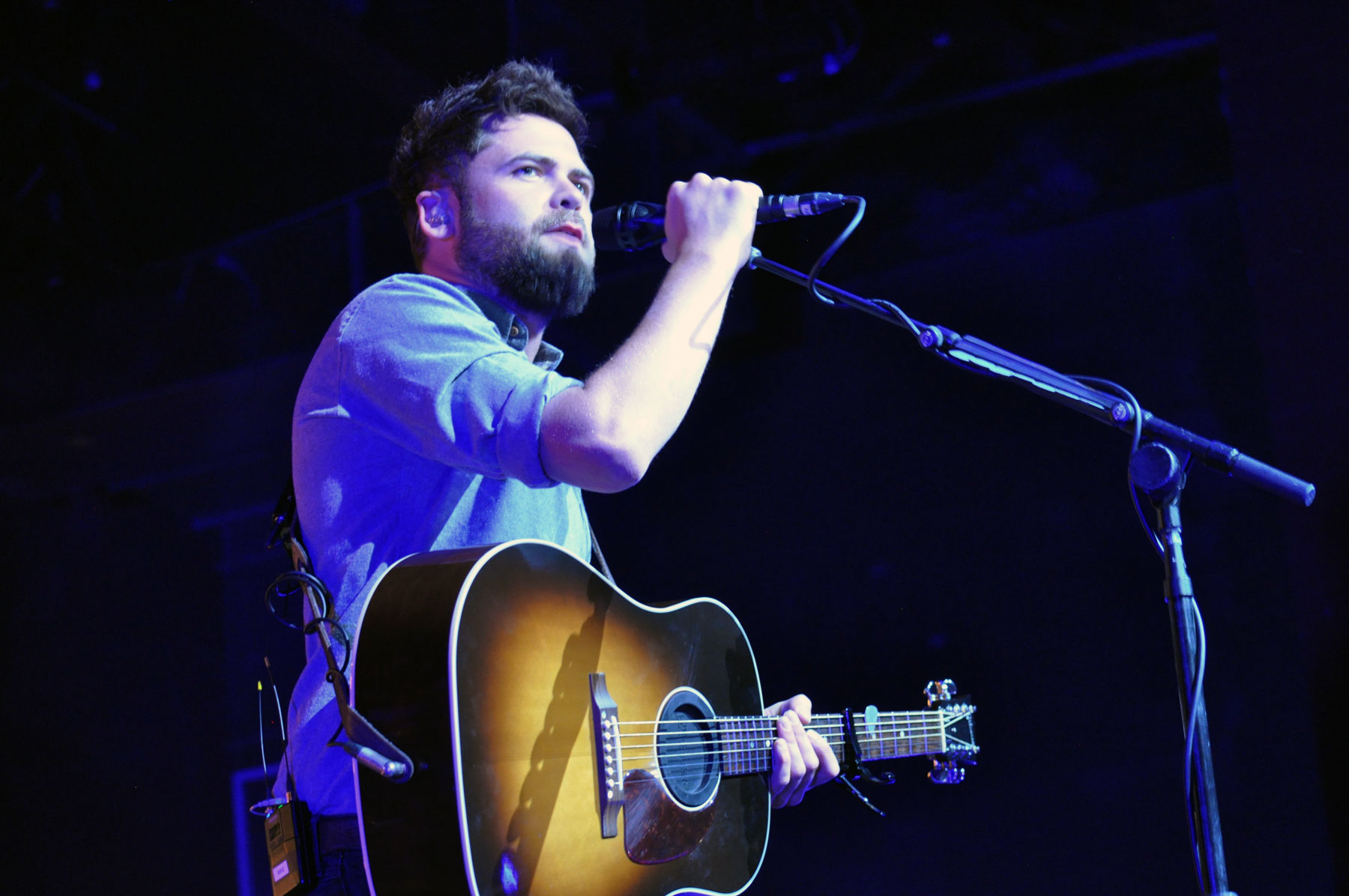 If I could live anywhere in Philadelphia, I'd live not in a house or an apartment, but at one of Philly's newest music venues, the Fillmore.
The 2,500-capacity, live-music club is big enough to hold larger music industry names yet intimate enough that you still feel a connection with the artists. A music junkie's paradise, this venue is known for having phenomenal artists spotlighted on their stage. March 8, the day The Paper Kites and Passenger performed, was no exception.
The Paper Kites is made up of Sam Bentley, Christina Lacy, Dave Powys, Sam Rasmussen and Josh Bentley, all from Melbourne, Australia. Friends in high school, the band organically started with Lacy and Bentley writing together and they soon asked the other three members to join them for their first gig in 2010. From the first show, they couldn't ignore their chemistry and the group has been together ever since.
Labeled an indie folk rock band, their sound is based on the intricate strumming of a guitar and three smooth voices that mesh together to create music that you cannot help but sway to. They mix classic rock vibes with a new indie perspective.
"Bloom," their top-played song on Spotify, is what launched the band into the public eye and is the epitome of their indie feel. The Paper Kites most recent album, "Twelvefour," features songs such as "Electric Indigo" that ventures into the band's rock aspect, with an essence of Echosmith and the 1975.
Their 30-minute set allowed the audience to experience a complete sampling of the music they produce and truly displayed the group's talent. Showcasing songs from both of their albums plus two EPs, the band gave the intimate audience everything they had.
When the stage lights dimmed and the roadies prepared for Michael Rosenberg (known by the moniker Passenger) to perform, the Paper Kites hit the merch table. At this time, only half of the crowd had arrived at the Fillmore so fans were able to easily interact and talk to each member of the band. Band members hugged and thanked many fans for coming out to see them play. I was impressed by the genuine appreciation the band had for their fans and the support they receive from them. They asked every fan's name and never rushed taking pictures or signing autographs, spending genuine time with each fan who approached them.
As soon as Passenger walked across the stage I felt a giddy energy move through the audience. There was no doubt we were about to see an amazing performance, and we were not disappointed. Opening with "Somebody's Love" from his newest album "Young as the Morning, Old as the Sea," he captivated the audience with the bond between him and his guitar.
After opening the set he joked about how he only has one hit and not to get it confused with "Let it Go" from Disney's "Frozen." He continues to state that Disney is his worst nightmare and apologized if anyone came to hear Disney songs.
The rest of the night was filled with witty commentary from the artist that had the audience laughing along with him. For someone who is known for writing "sad songs" he had a surprisingly great sense of humor and upbeat spirit. How can you not laugh at someone swearing in an English accent?
For almost every song, Passenger gave his audience details and explanations about the song, adding a new perspective and deeper meaning to his beautiful set. His fourth song in the set was "27," in which he sings, "Write songs that come from the heart/I don't give a f— if they get into the chart, or not." If I had to choose just one lyric to sum up Passenger, it would be this one.
He writes songs about his experiences, the good and the bad, and the people he comes across along the way. Talking in depth about his song "Traveling Alone," he explained how it's based on a true story about a man Passenger met in his travels. The man was traveling the world alone on a trip his recently deceased wife had planned for them to go on together.
"I couldn't get this man out of my head and I figured it was just so depressing I had to write a Passenger song out of it," Passenger said. The song then changes focus to a woman he later met who told him she had been in a 10-year relationship when her boyfriend left her for a younger woman. There was a unified laugh in the crowd from the female viewers when he sang the lyrics, "Men are all assholes."
Towards the end of the set Passenger played his most popular song, "Let Her Go." "I feel very grateful for this song. Many people write lovely songs but people don't get to hear them — it is an amazing and humbling feeling that I can come back to Philly and play for over 1,000 people," he commented.
Before he ended his set he spoke words that seemed very fitting for the world we are living in today: "We don't have to put up with this bullshit. We don't have to start blaming each other. Whatever you believe, sing it out with me."
The audience hummed the tune of "Scare Away the Dark" until Passenger came on stage for his encore. Being his first tour with a full band playing behind him, it is obvious that Passenger is continuing to grow as a musician and writer. Ending the show with "Holes," the audience was left with an upbeat song with lyrics that encourage listeners to carry on through the hard times they face.
The Paper Kites and Passenger will continue to tour the United States providing audiences with hope that in the age of autotune, there still are talented artists in the music industry who care more about music than fame.