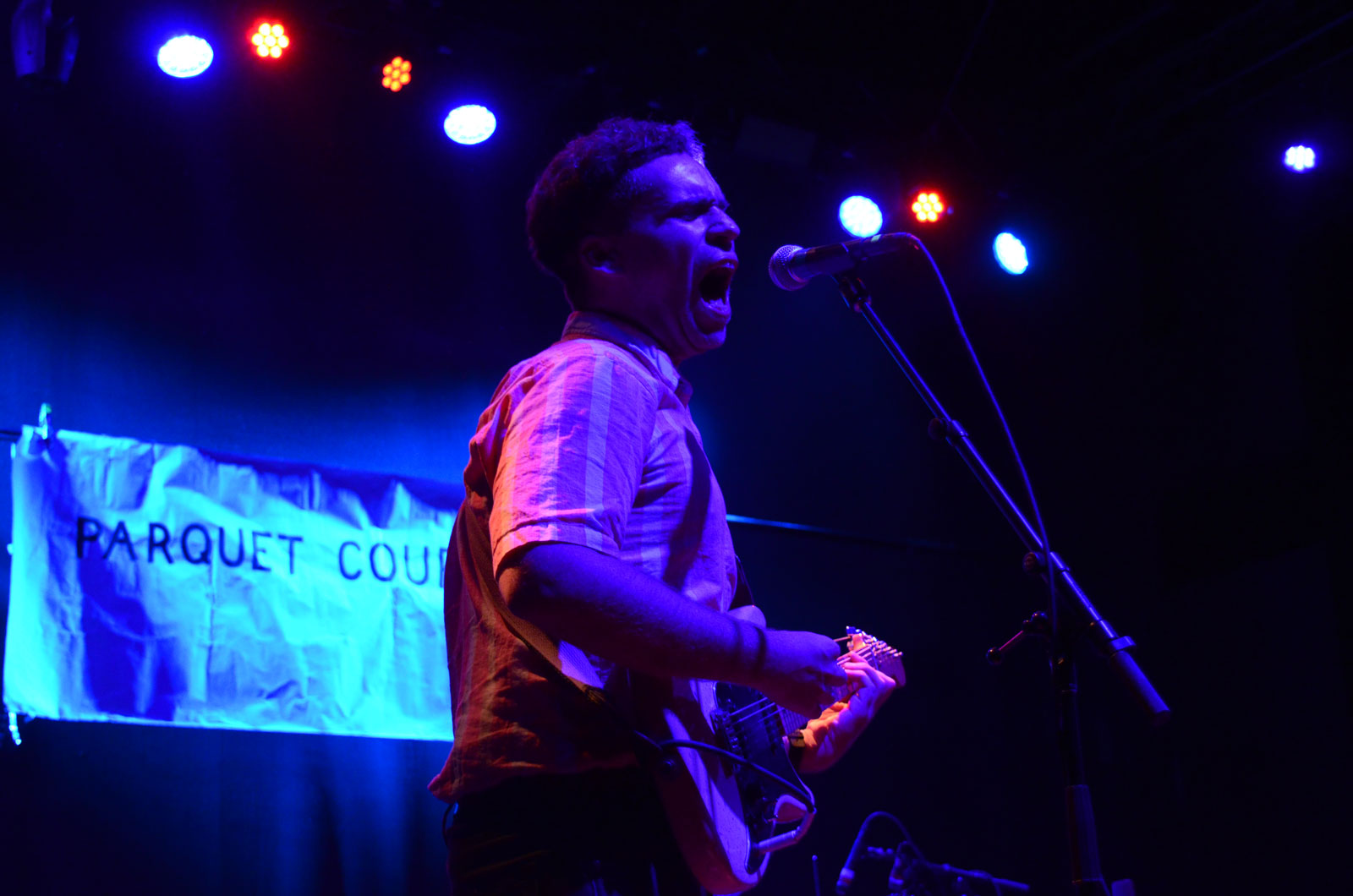 New York-based punk band Parquet Courts played a jam-packed Union Transfer May 11. Touring in support of their latest album "Human Performance," Parquet Courts put on a solid show with songs spanning their entire discography.
Parquet Courts has made a niche for themselves as a punk-y, noise-y band whose verbose and critical lyrics are geared towards the thinking man's rocker and the head-banging punk fan alike. "Human Performance" is my favorite of Parquet Court's three albums. It features songs that show a little less of their punk side while still having meaningful and thoughtful lyrics. It was the songs from this album that I was looking forward to hearing the most and Parquet Courts did not disappoint.
Brooklyn-based three-piece B Boys opened up and played a decent set. Their sound reminded me a bit of the Cars. Soon after some roadies hung a sparse white banner proclaiming "Parquet Courts" in block letters, the four bandmates came on stage. Andrew Savage and Austin Brown split vocal and guitar duties. Brown played keyboard for a bit as well. For a reason he didn't disclose, Brown had a bad ankle that left him confined to playing from a stool. Bassist Sean Yeaton settled in the center of the stage with drummer Max Savage behind him.
The band opened up with four straight songs from "Human Performance." "Paraphrased" is a favorite of mine and it offered the crowd gathered at the foot of the stage their first opportunity for moshing, slam-dancing and other barbaric concert behavior. I've never understood the appeal of throwing yourself into strangers for an hour straight but hey, different strokes for different folks. It also astounds me that if you strum a guitar fast enough, it'll flip on some switch in a guy in the front row that just causes him to fling himself with reckless abandon into others. The beat of Savage's floor tom had the same effect, its tribal cadence driving the Union Transfer natives into a frenzy.
In between songs, the band engaged in some banter with the Philly crowd. Brown recalled how last time the band came through town, he proclaimed his intent to be a Philadelphia Eagles fan and how he should have warned everyone what happens when he's the fan of a team (the Eagles missed the playoffs). While tuning his guitar, Savage commented how Yeaton resides in Philadelphia and how every fan should say hi next time they see him. It was nice to see a band interact with the crowd as so many usually run through their setlist with nary a word said.
There were plenty of stand out tracks throughout the night. "Stoned and Starving," one of the songs that got Parquet Courts on the map, was awesome. The perfect combo of "Master of my Craft" segueing seamlessly into "Borrowed Time" gave the show an infusion of energy halfway through the set. Hearing those older songs was great but for me pretty much every track from "Human Performance" played sounded great. "Outside," "Captive of the Sun" and "Pathos Prairie" were top notch but it was the last two songs of the night that sealed the deal for me.
"Human Performance," to me, is one of the best songs Parquet Courts have ever released. Savage starts out by singing "I knew exactly where I was when I, first saw you the way I see you now, through these eyes," and it only gets more introspective and melancholy from there. That doesn't exactly sound like a ringing endorsement, but believe you me, this song kicks ass. Then the band closed with "One Man, No City." It features a real earworm of a guitar line played by Savage as Brown intones the lyrics. Soon enough the song devolved into some class Parquet Courts noise making as Savage and Brown fiddled with their guitars and amps until they created this cacophony of sound that you just wanted to end. Then, it did! The band left without playing an encore which was fine, those last two songs were plenty.
The show wrapped up just before midnight. The mosh pit people shook hands and hugged, oddly thanking each other for the experience, maybe swapping contact info, who knows. Parquet Courts put on a tight show and the addition of songs from "Human Performance" took their act to a new level. Try to check them out next time they come through town.