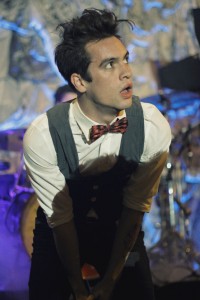 Teeny Boppers and emo band groupies came in droves from the Philadelphia suburbs to the Trocadero Theater to see Panic! At the Disco on Nov. 3. The show opened with electrifying rock/soul band Foxy Shazam.
Lead singer Eric Nally blasted on stage and proclaimed, "Rock and roll may be dead, but we can still party with its ghosts," before whipping the microphone stand around his small frame. His stage persona encompassed the spirit of Freddie Mercury, David Bowie and oddly, Steve-O. Every song led in with a metaphorical, and often confusing, life lesson. The crowd almost forgot who they had paid to see that night, as Foxy Shazam performed like seasoned vets.
Next was Fall Out Boy frontman Patrick Stump, performing songs from his solo effort "Soul Punk." Stump, whose father had come out to see him perform that night, was sporting a very different look than what Fall Out Boy fans would be expecting: spiked blonde hair and a bright blue tuxedo. Don't expect to hear anything similar to Fall Out Boy either, as this new music is soul and funk based. Although his passion and enthusiasm was thrilling for fans, Stump's vocals at times were not — but that didn't stop the die-hards from singing along with his new music. The opening acts were more than enough to liven the crowd before Panic! took the stage — even Brendon Urie had to commend Foxy Shazam for the thrilling performance before beginning their set.
The stage looked like it was designed by Nikola Tesla with giant, old-fashioned light bulbs hanging above the band and 19th-century electrical boxes designed around the equipment. Despite what seemed like an hourlong wait for the band to get onstage, as soon as the first chord was played, the audience's feet never stopped bouncing.
Starting the show with crowd favorite "Ready To Go," Panic! performed a set of fan favorites from all three of their popular albums. The band also covered Phil Collins' hit "In The Air Tonight," and Foster the People's "Pumped Up Kicks." Despite their incredible success since landing in the top 10 with "I Write Sins, Not Tragedies" in 2005, the Las Vegas natives were humble and shared their gratitude for the support of their fans, even dedicating one of their songs to fans they had met on tour.
If the loss of two original band members had negatively impacted the group's spirit, they were incredible at hiding it. Panic! was as excited to be performing as everyone in the audience was to see them, which made for a surprisingly intimate show in such a crowded theater. Each member had a moment to shine and connect with the audience, a sentiment which the audience returned with deafening screams of fangirl adoration.