Local band The Wonder Years released its third album, "The Greatest Generation," May 14 via Hopeless Records.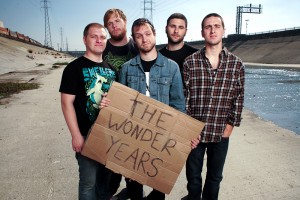 The band consists of Dan "Soupy" Campbell (lead vocals), Casey Cavaliere (guitarist), Matt Brasch (guitarist), Nick Steinborn (keyboardist and guitarist), Joshua Martin (bassist) and Michael Kennedy (drummer). Although they started out as a joke, they definitely proved themselves with their newest record.
The first song on the record, "There, There," starts out calming but leads into the normal almost-yell from Campbell. This song not only shows the new, polished side of The Wonder Years but also connects the song to each person who listens to it with its intense and meaningful lyrics. This song quickly became my favorite.
In the album's first single, "Passing Through a Screen Door," we return to the pop-punk band fans know and love from "The Upsides" and "Suburbia I've Given You All and Now I'm Nothing." This song is a perfect example of how the band can take everything great from its previous material and bring it to a newer and greater level.
The album continues with other favorites such as "We Could Die Like This" and "Cul-de-sac," both of which have catchy riffs and killer lyrics to prove that pop-punk isn't going stale.
Although the album is indeed excellent, I think it would have done best without the stripped down and acoustic "Madelyn." The lyrics are beautiful, but it was quite difficult to stay focused enough to listen to the song fully because it lacked something musically.
The album ends with "I Just Want To Sell Out My Funeral." This song brings the entire album together seamlessly by playing clips of each song and giving listeners the entire story of "The Greatest Generation." This song gives the album the absolute perfect close with the final lyrics, "We all want to be great men. There's nothing romantic about it. I just want to know that I did all I could with what I was given."
I think the band put it best by stating, "We know that this is unequivocally our strongest, most honest and most heartfelt work to date. We can't wait to show everyone what we have in store."
If you're interested in seeing what The Wonder Years have coming in the near future, check out the album on iTunes and make sure you stop by the main stage for their set during Warped Tour 2013 as it rolls through Camden, N.J., July 12.